New Red Nose resource for dads who've lost a baby or child launched with video series featuring footballer Rory Sloane, musician Paul Field, Red Nose Chairman Craig Heatley and more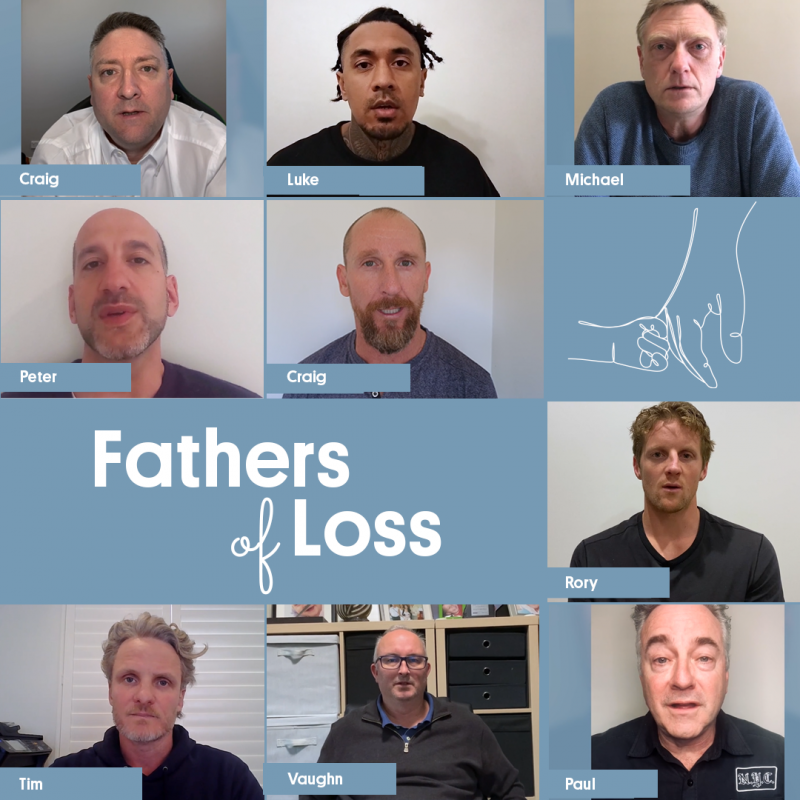 While Father's Day is often a cause for celebration, it can also be an extremely painful experience for many Australian dads whose baby or child has died.
Every year in Australia, thousands of dads are devastated by the sudden and unexpected death of their baby or young child. In 2020, more than 3000 babies, toddlers and pre-schoolers died from stillbirth, SIDS and other causes, while 1 in 4 pregnancies ended in miscarriage.
Over the past year, Red Nose Australia has delivered more than 5300 counselling sessions and helped many more grieving families through our 24/7 support services, yet only around one in five of those who contact us for counselling are men.
Just in time for Father's Day, Red Nose Australia has launched 'Fathers of Loss' - a new resource created especially for bereaved dads who may not reach out to us for help.
'Fathers of Loss' features a series of 10 short online videos filmed with dads who lost a baby, including Adelaide Crows captain Rory Sloane whose son Leo was stillborn not long before Father's Day 2018.
Acknowledging the important role of mates, some videos are dedicated to providing advice for friends and family on how to best support a grieving dad. Some advice from the dads filmed includes:
Acknowledge our child was here and born, say their name
It might be very uncomfortable for you, but try to get past that and reach out
Say 'I want to do this for you, would that be ok?'
The videos can be accessed by grieving dads and their mates anywhere, anytime via the Red Nose Grief and Loss website or YouTube channel. Each explores a different topic based on feedback from grieving dads who told us they often feel they need to set aside their grief to support their partner, while feeling like their own world had collapsed. The videos provide advice about what worked and what didn't in a bid to help others going through the same pain right now.
'Fathers of Loss' has been funded by Sydney 2 CAMberra, an annual bike ride which was created by Sydney couple Graham and Nadine Belfield, who lost their son Cameron through stillbirth. Now in its 10th year with a special edition virtual ride next month, Sydney 2 CAMberra has raised more than $1.5 million to provide support for families affected by stillbirth and SIDS.
We urge any grieving dad feeling upset this Father's Day to contact our 24/7 Grief and Loss Support Line on 1300 308 307
Quotes from Fathers
"My son Leo was stillborn in August 2018, just days before what would have been my first Father's Day, and I was completely shattered. Since then, Bel and I have committed ourselves to do what we can to help other families experiencing this same devastation.
Rory Sloane – dad of Leo and Adelaide Crows Captain
"The contrast of this is some people avoid you. It makes them uncomfortable. I've heard people say I don't like going to funerals. Nobody likes funerals. If you're a mate, a friend or family, you have to be there. If you don't know what to say, just being there can help. Just say sorry. It's thirty-three years since my daughter died, but having someone call and ask how I'm going makes a difference. There's nothing like hearing from someone."
Paul Field – dad of Bernadette and musician
"In the early stages of loss and grief, find a trusted friend or family member to be your gatekeeper. Let them make the painful calls and be your protectors until you are strong enough to protect yourself. We found that the friends who allowed us to fall apart were the friends who were essential for our recovery."
Tim – dad of Phoebe
"Feel all the feelings and don't be scared to do so, especially in front of your partner. Allowing them to see your emotions will bring you closer together and help you realise that you are in this together. To friends and family it's not just the mums that need support, Dads need just as much support. Some times we don't say it, but we need it just as much."
Pete – dad of Skye and Angel
"We stayed with him as long as we could. We took lots of photos and we were ready to move to the ward. The ward was where other families go. I still remember the nurse saying to us that we might want to cover our baby as he might make people feel uncomfortable. That was a bit of a shock. That was our son, our baby, our beautiful son. We told her 'no' it's ok. We walked Koa out proudly as any other parent would."
Luke – dad of Koa
If you're a friend or family member of someone who has lost a child, be there. Don't fill in the uncomfortable silences, just be there. Let them know that you know they've done everything they could. There's no blame.
Craig Heatley – dad of Charlotte and Cameron and Red Nose Chair
"I want other fathers who are going through this to know that you don't need to be a big strong, stoic man. These days being strong is allowing ourselves to feel our emotions and feelings. I made a real point not to hide my tears in front of my other children."
Craig Christie – dad of Sarah
"Some of our friends were and continue to be a great support, but there were others who seemed to so quickly and easily forget about Nathan – which is incredibly hurtful."
Vaughan – dad of Nathan
"Find something to be grateful for each day – even if it's just that the sun is shining. And make sure you get out of bed. The pain never really goes away, but over time you learn to live with it, and now I feel like the future is a little brighter."
Michael – dad of Hope
"Dads who've lost a baby have told us they are less likely to reach out for help than their partners, so this resource is all about bringing the help to them.

"Fathers of Loss is all about showing grieving dads they're not alone, offering practical advice about getting through each day and providing hope for the future.

"Red Nose would like to thank Rory Sloane, Paul Field and all the dads who have so honestly shared their stories in the hope it will help other men, both now at Father's Day and also over the future."
Keren Ludski - Co-CEO Red Nose
For interviews and case studies, media contact:
Fiona Jordan
Mobile: 0402 846 867