Red Nose's six safe sleep recommendations are based on the latest scientific evidence to reduce the risk of SIDS and SUDI.
But do you know why they are so important?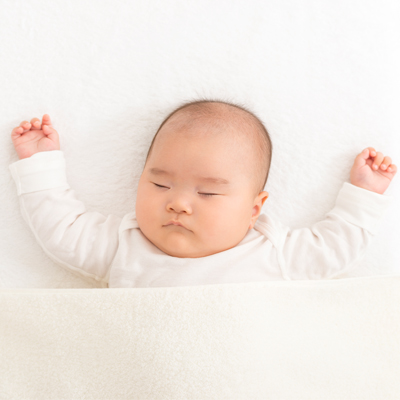 What are our six safe sleep recommendations?
Red Nose recommends six key steps to sleep your baby safely to reduce the risk of sudden infant death.
Always place baby on their back to sleep

2. Keep baby's face and head uncovered

3. Keep baby smoke free, before and after birth

4. Safe sleeping environment, night and day

5. Sleep baby in their own safe sleep space in the parent or caregiver's room for the first 6 months

6. Breastfeed baby
Why is baby safest on their back for sleep?

Sleeping baby on their back reduces the risk of SIDS and SUDI. The risk is increased when baby is slept on their stomach or their side.
When babies sleep on their back, their airways remain clear and open, preventing suffocation and overheating.
Why shouldn't baby's head or face be covered?
Covering baby's face or head increases the risk of SIDS or SUDI, again because it could block their airways or cause them to overheat. Babies regulate their temperature predominately through their face and head, so keeping baby's face and head uncovered will protect against overheating.
This include beanies and hats, even in cooler weather. Sheets should be firmly tucked in so baby can't pull them up over their face.
What is a safe sleeping environment?
A safe sleeping environment refers to where baby sleeps day and night, and what's around them. Some things to keep in mind are:
Keep baby smoke free before and after birth. Even smoke on clothes increases the risk of SIDS and SUDI.
Baby should sleep in a safe cot, with a safe mattress and bedding. This also means there should not be any additional items in the cot, like pillows, bumpers, lambswool, toys or doonas.
The safest place for the cot is in the parents' room, next to the bed. This is so you can monitor baby's sleeping and be close in case something does go wrong.
Breastfeed baby as it helps to support their immune system. If you don't breastfeed, following the other guidelines will still help to keep baby safe.
Red Nose Safe Sleep Advice Hub

Red Nose is always here to support you and answer any questions you might have.

Call our Safe Sleep Advice Line on 1300 998 698 between 9am and 5pm Monday to Friday or email us at education@rednose.org.au

Last modified: 9/8/23