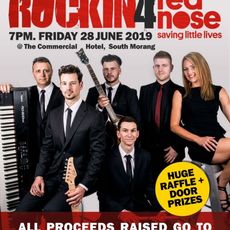 When

28 June 2019
Chris and Kayla's story:
We recently lost our baby during pregnancy and we are wanting to do something to help make a difference. Red Nose Australia are a foundation whose vision is to see a future where no child dies suddenly and unexpectedly during pregnancy, infancy or in childhood.
We are putting together a local charity event at the Commercial Hotel in South Morang. We are hoping to get a huge number of people from our local area extending out to South Morang and surrounding suburbs to come to the event which will feature live music as well as raffles, door prizes and hopefully be a big get together to celebrate and honour all little lives who have been lost in such tragic circumstances. We are hoping to make a small difference so that we can see the vision of Red Nose Australia in our lifetime and hopefully work toward a future where no one else has to suffer this heartbreak.
Date: Friday 28 June 2019
Location: Commercial Hotel, South Morang
Time: 8pm-11pm
Cost: Entry by gold coin donation. Raffles and door prizes on the night
Donations welcome at: https://give.everydayhero.com/au/rocking-for-red-nos e