Red Nose recognises Aboriginal and Torres Strait Islander Peoples hold rich and diverse histories and have a deep connection with Country, which is central to their spiritual identity, and we are committed to advance reconciliation through continued learning from our First Nations People.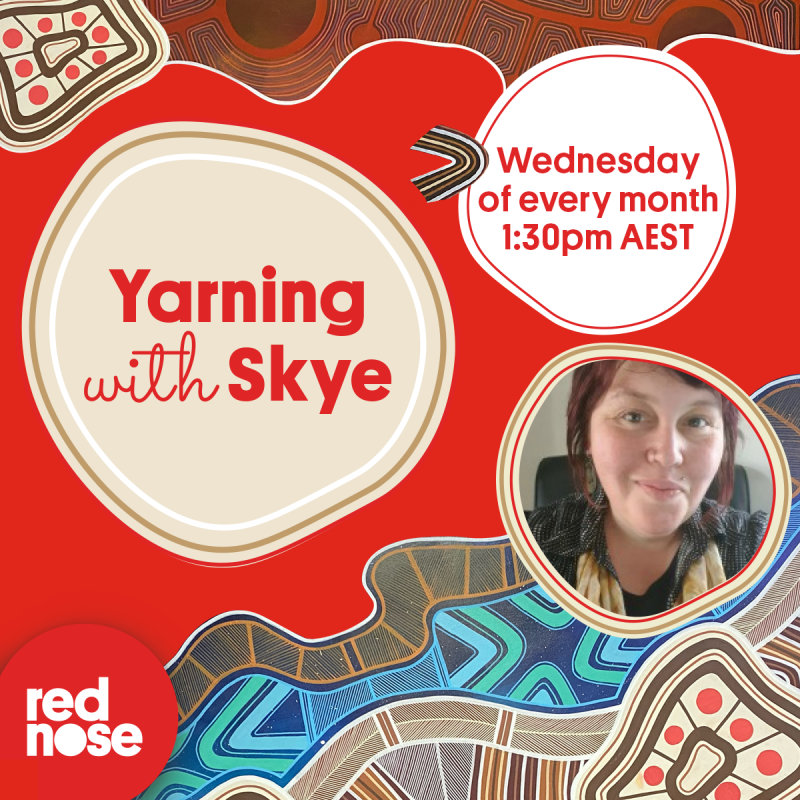 When

7 June – 6 December 2023
1:30pm
Skye Stewart is a proud Wergaia and Wemba Wemba woman from Mallee Victoria, a beautiful Country of red dirt and stark starry skies. Skye has a long-standing history of working with Aboriginal and Torres Strait Islander communities and is passionate about improving health equity and outcomes for mob through nurturing safe communities and safe environments for our people to thrive in.
A Registered Midwife, Skye works at Red Nose as an Advocacy Projects Specialist and creates content that is culturally safe and appropriate for Aboriginal and Torres Strait Islanders families. This content focuses on safer pregnancy, safe sleeping and bereavement care. Skye also works with healthcare professionals and others who work with Aboriginal families to ensure cultural safety and considerations are at the centre of the care they provide.
In our next educational forum, join us for Yarning with Skye.
Share Stories
We all learn from each other. sharing stories connects us, gives us new ways of understanding and makes us feel good.
Connect with Mob
It's good for well-being to connect with other parents. It can help to not feel so alone on the parenting journey.

Culturally Safe Space
We know that culture keeps us strong, grounded and proud. This space celebrates and respects all mobs from across Australia.

Learn More
Skye will share their knowledge about safe sleeping for bub and safer pregnancy. It's a safe space to ask questions too.
Held on the first Wednesday of every month at 1:30pm

Online - free event!

Registrations essential
UPCOMING SESSIONS
Wednesday, 7 June 2023
Wednesday, 5 July 2023
Wednesday, 2 August 2023
Wednesday, 6 September 2023
Wednesday, 4 October 2023
Wednesday, 1 November 2023
Wednesday, 6 December 2023