November is National Sibling Month and a chance for bereaved siblings to tell their stories about the loss of their brother or sister.
Red Nose staff member Lacey shares her story of the tragic death of her brother Glenn to SIDS in 1977 and provides her advice for other siblings who are grieving.
(Lacey is the daughter of Kaarene and Kevin Fitzgerald, the founders of SIDS and Kids Victoria).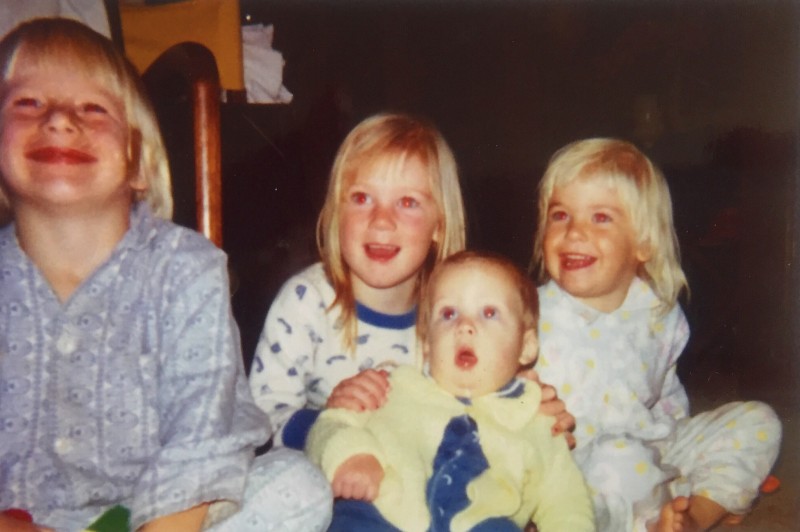 Losing a sibling
To lose a sibling is an awful experience. Glenn's death is my earliest childhood memory – my saddest, but also my most cherished memory.
My older sister, Anita and I shared a bedroom with Glenn and on June 10, 1977, I woke up early and was feeling scared, so I went into Mum and Dad's room for cuddles.
Somehow, my Mum knew something was wrong. She went and checked on Glenn and then shrill screams followed.
Being so young, all I remember is being scared, confused, and frightened – I couldn't go to sleep for many years afterwards without a light on.
I clearly remember us all saying goodbye to Glenn at the back of the ambulance. We each gave him a kiss and a cuddle and bid him farewell.
I also remember being allowed treats – sugar on our rice bubbles! And all the visitors who were kind to us.
Sadly, this tragic event supersedes all the memories I have of Glenn when he was alive. I only remember his death - I do not remember him alive.
Advice for other people who are grieving a sibling
My advice for other people who are grieving a sibling is to continue to talk about your brother or sister. Say their name and cherish your memories.
One thing I do struggle with still today, is how to answer the question: "how many siblings do you have?" I will quickly take in my surroundings and judge – is this person ok to hear that I am one of five kids but that my baby brother died?
As I am getting older and possibly, because I work at Red Nose, I'm more comfortable saying that I am one of five kids. This also gives me an opportunity to talk about my baby brother Glenn, something that our parents always encouraged us to do.
Also remember that if you need them, the wonderful counsellors at Red Nose are available to talk to you 24/7, free of charge.
The impact of Glenn's death
Glenn's death transformed our family's life. Our Mum went from being a stay-at-home mum to running a charity from our home – to many years later being awarded an Order of Australia for her work establishing SIDS and Kids, galvanising the international SIDS research community, raising awareness and fundraising for the Safe Sleep public health campaign to reduce sudden death in infancy.
My siblings and I are extremely proud of our Mum and honoured to have been involved in many aspects of her work, having the privilege of meeting many wonderful and generous people along the way.
It is quite humbling to think Red Nose has grown from its genuine grass root beginnings, with our home phone being the first bereavement support line, literally operating from our living room. Then expanding to SIDS and Kids and now Red Nose, Australia's leading charity for preventing sudden death in infancy, which continues to serve the community in unique and heartfelt ways.
My work at Red Nose
Over the last eight years I have worked at Red Nose as the Executive Assistant and more recently as the Prevention and Research Manager, a job that I love. But I've had many jobs at Red Nose over its proud history. When my siblings Karl, Anita, Mike and I were younger, we would volunteer in the office during school holidays. We have many fond memories of sitting around our dining table at home in a production line, folding letters and sticking address labels on envelopes for the various supporter mail outs. Many great conversations and laughter would ensue.
We volunteered at fundraising events such as the Paper Aeroplane Championship and Red Nose Day. In the 1990s, I assisted on the reception desk during the busy Red Nose Day months, answering the phones and helping where needed.
In the 2000s, I waitressed at fundraising events, modelled for Red Nose Day advertisements, helped sell auction prizes at the many Balls, and helped sort raffle tickets. My sister, Anita worked alongside Mum at SIDS and Kids running the various balls and events. We cherish these times volunteering and working together with our Mum, as it helped us to feel connected as a family and to our brother Glenn.
I feel privileged to now be working at the organisation that began from the tragic death of my brother Glenn and continues our parents' vision of finding answers to why babies die suddenly and unexpectedly, providing free bereavement support and educating new and expecting parents on safer pregnancy and safe sleep.
I am proud to say that I truly love my work and working at Red Nose. Many of my colleagues are bereaved parents or want their work to contribute to making others' lives better; needless to say, the work is very rewarding as I know we are making a difference to people's lives,
This sibling's day I remember my brother Glenn and am immensely proud of the history of the organisation along with the important work and programs we are running to make a difference to Australian families lives.

Red Nose Grief and Loss Helpline is available 24/7. Call us on 1300 308 307 or visit our website for more resources.
2019 and updated in 2023