I am writing this letter to you all from my office in the University Pathology Department, to say a very big thank you to everyone who has supported Red Nose over the years. Whether you have made a donation, volunteered at an event, supported another parent or helped share Safe Sleeping information – thank you.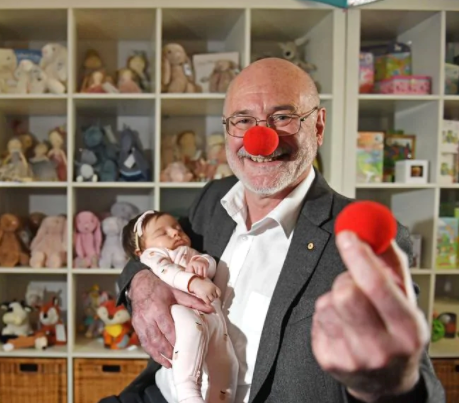 Like you, I believe that no parent should ever have to see their child die and say that final heartbreaking farewell to their little one taken suddenly and way too soon.
I remember my first paediatric autopsy patient very well. It was 1984 and her name was Genevieve.
Genevieve was so small when her little life was cut short and her parents had to say their final goodbye.
The experience of Genevieve and knowing the grief that her family were going through had a profound impact on me, as it does for everyone in our community.
For over 30 years now, I have been part of Red Nose as a researcher, pathologist, advisor, and counsellor to families – dedicating my career to understanding and helping to prevent babies and children like Genevieve dying.
And the thing that keeps driving me forward, is the desire to stop little lives being cut short once and for all. I do it for Genevieve and her family, and all of the families who have lost treasured babies.
But this year, 3,000 more families will be devastated by the sudden and unexpected death of their baby or child.
As you know, Red Nose has been working tirelessly for the last 40 years, funding vital research and delivering life-saving Safe Sleeping education – all with the goal of saving little lives.
Every day, we are working towards our goal: a future where no baby or child dies suddenly and unexpectedly during pregnancy, infancy or early childhood.
Your past support has already helped fund over $18 million in research into sudden infant deaths and stillbirth – saving over 11,357 babies' lives.
As well as reducing SIDS by over 80%, we have also made great headway in understanding and preventing stillbirth, by identifying many of the risk factors that now inform our life-saving education programs – all thanks to your support.
But with nine Aussie babies and children still dying every day, there's a lot more important work to do to stop little lives being cut short.
Your generous donation will help fund:
Ground-breaking new research into SIDS and stillbirth, to help stop little lives being cut short
Life-saving Safe Sleep education to help keep every baby safe today
Free Bereavement Support Services for any family devastated by the loss of their baby or child, for as long as they need it
I cannot thank you enough for all the support you have given in the past, which has directly helped to save thousands of babies' lives.
But building a future where no child dies suddenly and unexpectedly during pregnancy, infancy and childhood requires ongoing research, education and support.
Our mission to stop little lives being cut short starts and ends with each one of us stepping up and coming together to support this life-saving vision.
As we start a brand new year, I'm asking you to please join us in building a future where no family experiences the devastation of burying their child.
Or you can phone our fundraising team on 1300 998 698 make your donation over the phone.
Together we can spare families the heartache of never seeing their precious child grow up.
On behalf of babies and their families everywhere, thank you for your ongoing support and commitment to helping save little lives.
With grateful thanks,
Roger
Professor Roger Byard AO PSM
Red Nose National Scientific Advisory Group
Chair of Pathology at the University of Adelaide
You can help fund lifesaving education and research to save little lives, by donating here.