On September 5th 2023, The Australian Competition and Consumer Commission (ACCC) announced updates the mandatory standard for toys designed for children up to and including 36 months of age.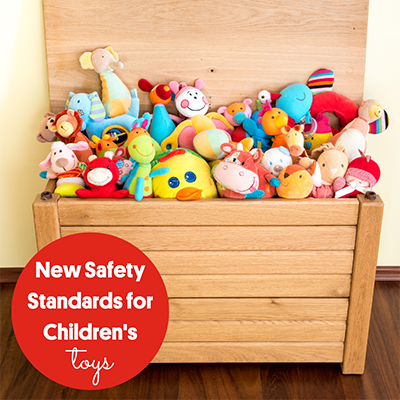 Red Nose has collated the key points of what parents and care providers should know.
1. Increased Safety Measures: The updated standard focuses on enhancing the safety of toys by reducing the risk of small parts detaching during play or after reasonable wear and tear. This significantly lowers the chances of choking, suffocation, or other serious accidents.
2. What's Covered: The standard applies to various toys, including rattles, toy dummies, teethers, push and pull toys, bath toys, dolls, games, and more, designed for young children.
3. Exclusions: Some items are excluded from this standard, such as balloons, marbles, and certain materials like playdough. While these items are not covered by the standard, it's crucial to be aware that they can still pose a choking hazard to young children. Balloons and marbles, for example, can easily be swallowed, leading to serious health risks.
Even playdough, despite being a favourite among kids for creative play, should be used under adult supervision to ensure it isn't ingested or used inappropriately. Additionally, toys made entirely from highly porous materials are exempt, except for those with pompoms. These exclusions highlight the importance of diligent supervision when children are engaging with items that are not specifically regulated for safety.
4. Compliance Options: Manufacturers can comply with the standard by adhering to specific international, European, or American standards related to mechanical and physical properties.
5. Battery-Operated Toys: Toys containing batteries must have a secure battery compartment accessible only with a tool to prevent potential harm to children under 36 months. All batteries are a choking hazard, and button (or coin) batteries in particular can be incredibly dangerous if ingested. For more information on battery standards you can find out more information here.
6. Labelling Matters: Even if toys may seem marketed for older children, the mandatory standard may apply if they are considered suitable for children under 36 months. Appropriate age labels are crucial for consumer awareness. Make sure you check products for their labels to see if they comply and are suitable for your child.
7. Transitional Period: Suppliers have until March 4, 2025, to transition to the new standard. During this period, they can choose to comply with the previous standard or the updated one. Red Nose encourages parents to do research on any products before purchasing them.
8. Recent Recalls: Red Nose encourages parents to stay updated on product recalls related to children's toys. Some recent recalls include wooden rattles and baby spoons. Ensure the safety of your child's toys by checking for recalls. You can see recalled items here.
The full announcement with additional detail is available at the ACCC website. Red Nose encourages parents to stay informed, check for recalls, and make informed choices when purchasing toys for young children. For more details, refer to the ACCC website or the Federal Register of Legislation website for the complete standard requirements.
For more information on providing a safe environment for play – and sleep – for your little one visit our safety hub Baby & Young Children Safety Environment | Red Nose Australia