Follow our top tips below and enjoy some special bonding experiences with your baby.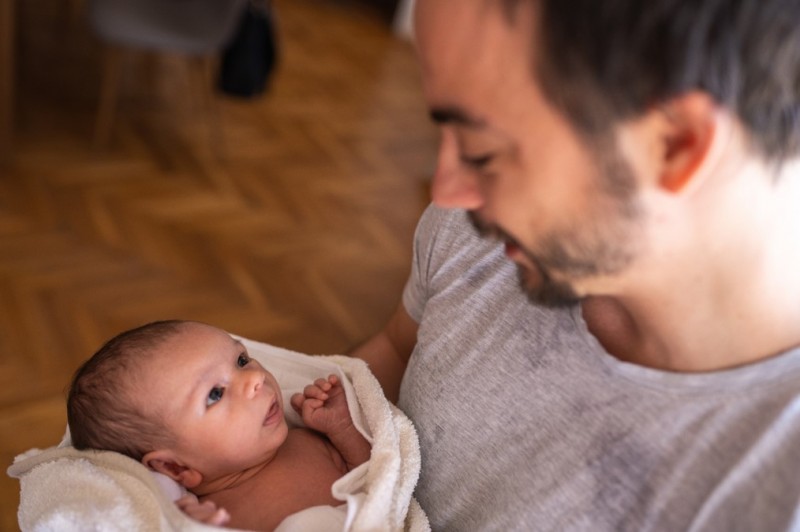 Are you a new or expectant dad?
This is such an exciting time and we hope you enjoy many special moments interacting with your new bub!
Interacting with your baby is a wonderful way to bond, and helps to support their learning and development, Red Nose's National Manager of Health Promotion Dr Bec Thornton explains. "Spending time with your baby, playing, singing, talking and even just holding them close so they can focus on your face can help you to bond," Bec says.
In particular, tummy time is a fantastic way to spend time with your baby. "Tummy time allows your baby to see you as well as hear your voice. Not only that, but time spent on their tummy while settled and awake helps babies develop muscle tone and coordination and even stimulates brain development," Bec explains. Developing stronger neck, chest and arm muscles during tummy time also helps keep bub safe in their cot.
Enjoying day-to-day activities with your baby can also support bonding. Taking bub for a walk in the pram and being hands-on during bath time and nappy changes provide important ways to bond.
Cuddles are also incredibly important. "Touch helps young babies to settle, helps build trust, and helps support healthy bonding." Bec explains.
Finally, don't forget to talk to your bub. "Even new babies respond to language and talking to your baby regularly supports language development," says Bec. Your baby will recognise your voice from when he or she was in utero and will quickly begin to listen when you talk. Older babies even learn to "take turns" as they move from cooing to babbling, stopping to listen when you talk, and then "talking" back!
Playing with your bub, talking to them and enjoying everyday care activities can help you to create a wonderful bond, can assist with your baby's social, emotional and physical development, and importantly, help you enjoy your new role as a Dad.
Click here to read our Tummy Time Brochure.
REMEMBER: Parents and carers are often very tired and can fall asleep easily during the day. Make sure baby is in a safe place before baby or caregiver falls asleep. Never leave baby alone or unsupervised on the tummy, as it is dangerous if baby falls asleep or their airways become covered.


Top tips for bonding with baby:
Tummy time – allows bub to see

your face and develop strong muscles
Bathing, changing and feeding – being hands on allows you to enjoy precious moments

Cuddles and kisses – a great way of building a close bond with bub

Talking – as baby gets older, he or she will start responding

Play time – enjoy activities such as reading, singing, and games such as "peek-a-boo".

How to sleep your baby safely
Red Nose recommends six key steps to reduce the risk of sudden infant death:
Always place baby on their back to sleep
Keep baby's face and head uncovered
Keep baby smoke free before and after birth
Safe sleeping environment night and day
Sleep baby in a safe cot in your room for the first12 months
Breastfeed baby.
Follow these steps for all sleeps, night and day.
Learn more Safe Sleeping and Parenting tips in our Advice Hub.