November is International Bereaved Sibling Awareness Month, providing an opportunity for siblings to talk about their dearly loved and missed brothers and sisters.
Caitlin was very kind to share her story about her baby sister Hannah and reflect on experiencing the death of a sibling.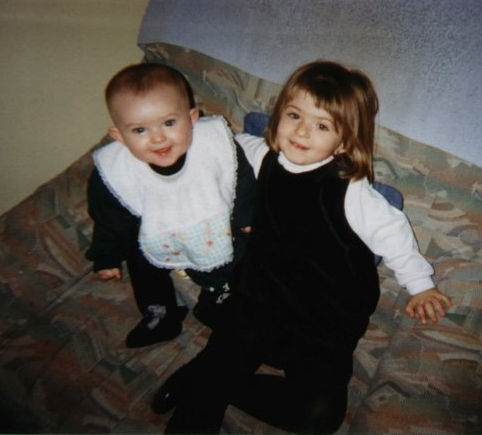 Being a big sister to Hannah was the best thing in the world. We were so close. But in 2002, only eight months after she was born, our beautiful Hannah passed away because of SIDS.
Losing Hannah hit our family like a bombshell. I was only three years old so I didn't understand much about it at the time but I realised that from that day on everything was different. My mum Michelle and dad Troy reached out to SIDS and Kids (as Red Nose was known back then) and were able to get really important support at a time when they most needed it.
It was wonderful when my sister Jasmine came along, and we were also incredibly close. But our family will never forget Hannah, and she'll always be our sister and daughter.
After our family first received support from Red Nose when Hannah died, we didn't have much contact until about three years ago. I decided to volunteer to raise money for Red Nose Day in memory of Hannah, and then my other family members also got involved. We helped on street stalls, Bunnings barbecues and also volunteered at the Red Nose office.
Mum and I came along to the end-of-year party for volunteers in 2017, which was the first time that Mum had been back in the Red Nose office since she visited for bereavement counselling all those years ago. I know that this was a very moving experience for Mum, with all the memories that the visit reminded her of.
There's a memorial quilt on display at the Red Nose office which Mum had signed many years before. We found Hannah's name on it which was really touching.
Through Red Nose, our family has received further counselling and we attend the Remembrance Service to honour Hannah. We also still volunteer.
I remember Hannah by visiting the cemetery on her birthday, Christmas and anniversary of her death. We honour her by posting her photos on social media on her anniversary and birthday too.
It is important for us to support Red Nose because they have been our rock since Hannah's passing.
For information about Red Nose bereavement services, call our 24/7 Support Line on 1300 308 307 or visit rednosegriefandloss.org.au
Further reading and resources on supporting children through sibling bereavement