Marnie and Nik sadly lost their beautiful little boy Lukas Joseph Petkovski to Sudden Unexpected Death in Childhood (SUDC) in 2012. He was just 18 months old. This is Marnie's story.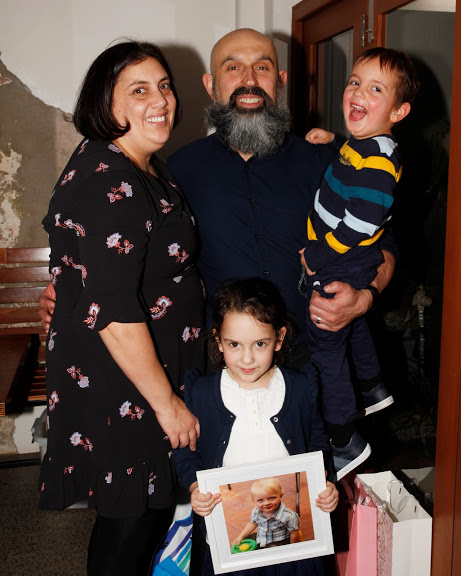 On the 9th of February 2012 Lukas passed away peacefully in his sleep. He was healthy, meeting all his milestones and bought great joy and happiness to our family and friends.
I remember this day like it was yesterday. I am a teacher and that morning I was doing yard duty with the new prep students after Christmas break.
Some of them cried and walked with me and I remember thinking that I hope a teacher would do this when Lukas began school, if he was upset and overwhelmed by this new experience.
That night we went through our normal night time routine: bath, book, bed and Lukas went to sleep easily.
My sister had also come to stay that night because she was looking after him the next day.
A couple of hours after he'd gone down, I went to check on him. I took one look at him and I knew something wasn't right.
We called the paramedics and my sister performed CPR – there are no words that could say how much we appreciated this selfless act.
I am not sure how long it took for the paramedics to arrive – it seemed like forever, though I know that it probably wasn't.
They worked on him too, before pronouncing that there was nothing they could do.
The rest of the night went by in a blur. We went into shock.
The police were called, they spoke with us and took photos of his bed and bedroom. They bagged his blanket and pillow, as well as what he was wearing.
We wrapped him in a quilted blanket my sister had made.
We went to the Royal Children's Hospital in Melbourne to give Lukas to the Coroner. We were in a room where we all got to spend time with Lukas and say goodbye.
There was a nurse and counsellor with us who were amazing. They cut some hair and gave us a memory book we could keep. They also got a foot and hand print. They were kind and gentle.
Leaving him at the hospital alone was the most horrific moment for me. This broke my heart as it was my job to look after him, yet I had to leave him by himself.
Ringing people the next day and telling them that Lukas had died was horrific. I hope I never have to do this again.
Sometime throughout the day Red Nose rang to offer their condolences and talk about the services they offered. They were very kind. I have attended a counselling session (one on one), a group session and a Remembrance Walk with my family.
We have been very blessed with the love and support we have received from our family, friends and work places.
Surviving the first year without Lukas was painful.
I remember just going through the motions to get through each day - this is how I was able to deal and cope with our loss – but it was exhausting.
I hated going home and being at home. It was so silent.
I had to drive past Lukas' child care centre every day to get to work. Every morning I would tear up, then stop the car and pull myself together, before continuing driving to work.
The first anniversary of Lukas' death was awful.
We went on a train ride because Lukas liked trains and another family sat in the same carriage. Their little son, about the same age as our Lukas, was with them and his name was Lucas as well.
Nik and I sat in silence. I'm sure the family thought we were fighting – it was awful.
In hindsight, I'm sure it was our Lukas' way of letting us know he was still with us in spirit.
Being pregnant after losing Lukas was challenging.
We suffered some miscarriages before successfully having Jessica in 2014 followed by Samuel in 2016.
When pregnant you don't have any control of what is happening inside the womb. I was very lucky that I had a very understanding obstetrician who listened and offered support when needed.
Both Jessica and Samuel have 'Lukas' as their middle name. Jessica has Lucia which is a feminine form of Lukas.
I remember one day Nik, Jessica, Samuel and I were all lying in bed together and I remember the feeling of "my family is complete".
And like a jolt of lightning, I still remember the stabbing pain, I felt Lukas missing from my family. I felt that hole in my heart that people talk about.
Even though Jessica and Samuel have never met Lukas, they know him and we talk about him all the time.
Jessica once drew a picture of her and Lukas playing. It is really important to us that Jessica and Samuel know they have an older brother.
We have a shelf in our living room with pictures of him and a picture of Jesus with the children.
I have been comforted by my faith – for me personally, I feel reassured that Lukas is being looked after, and his spirit is still with us. When we got our kids christened the priest also blessed Lukas.
We celebrate his birthday with a cake, and we always buy and donate a present for a child without at his birthday and for Christmas.
We also sign birthday cards from all of us and include Lukas' name as he is part of our family.
Each member of our family has photos of Lukas in their house – he may not be with us in person but his spirit is alive all around us.
Everybody grieves differently – there is no right or wrong way so don't judge, just let people be.
Message and ring them, and don't stop if they don't answer, even after a year. Just knowing you are there is all that is needed. They will answer - when they are ready to talk and be with people.
I worked, and work, with amazing people. They don't make me feel guilty for laughing, they listen when I talk about Lukas and they offer support when I feel vulnerable.
Not everyone needs the same support, so work with them and let them guide you with what they need.
This month Lukas would have celebrated his 10th birthday.
In just a few weeks it will be Red Nose Day and we plan to donate and purchase merchandise to support Red Nose in Lukas' memory.
The childcare centre where Lukas went, and now Jessica and Samuel go to, also run a Red Nose Fundraiser each year.
Supporting Red Nose helps fund research to find a reason for why this happens to some children, so that it may one day be something we read about, not something families have to go through.
Not everyone is blessed with the support and love we receive from our family and friends. It is important to support Red Nose, so that all families can access support if and when they need it.
Red Nose Grief and Loss 24/7 Support Line 1300 308 307.