After the death of their first daughter Kiera just hours after she was born, parents Victoria and Danny were looking for a way to remember and honor their baby. Last week they officially opened Kiera's garden, a safe space within the hospital for grieving families to spend time with their lost little ones.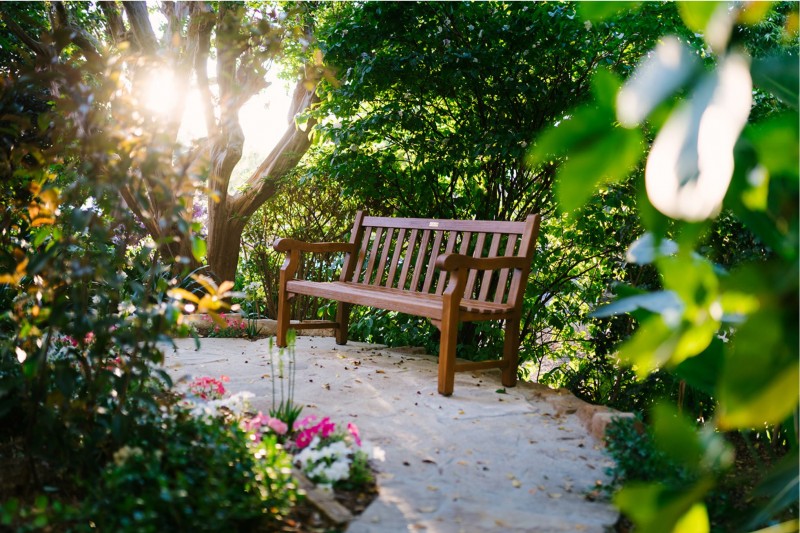 Born at 40 weeks and 6 days, Kiera was perfect and pink. She had chubby cheeks, long fingers and toes, and a full head of hair.
But tragically, she passed away at 9:47pm that same day.
In the few days between Kiera's passing and her funeral, Victoria and Danny were able to spend precious time with their daughter in a quiet garden at the Mater Hospital in Sydney where Kiera was born.
After raising money through a GoFundMe page they decided to use a portion of the funds to upgrade the garden and make it a dedicated grieving and reflection area for other parents who suffer the loss of their child, receive a bad diagnosis or need space to spend a final moment together.
Victoria says "We had set it up for family and friends to donate in lieu of flowers, with the goal of donating all the funds to charity.
The fund generated more money than we anticipated, and with this large amount of money, we knew that we wanted to make our contributions meaningful and so we put it towards a few special things, one being renovating the garden.
We were glad to have been able to take her outside in a quiet and safe place.
We want to rejuvenate the garden so that it can be the same safe space for other families saying goodbye to their babies."
Victoria and Danny worked closely with Mater Hospital and landscape gardener, Daniel Di-Leo from Vision Gardening Sydney to ensure the area is a special place for years to come.
Heidi Bayliss, Chief Executive Officer at Mater Hospital said, "Like many families before them, Victoria and Danny carried Kiera into the garden to be greeted by a bush turkey and the low autumn sky.
We took many photos of them as a family, surrounded by the camellias, azaleas and the towering trees. It was a peaceful, precious, sad and beautiful time.
Danny and Victoria recognised that beautifying the garden for other families to spend time in privacy with their baby, or to visit while making sense of uncertain days, was one of many ways to express their love and pride in their beautiful Kiera, a lasting legacy to her life."
The garden was officially opened on 15 October – International Pregnancy and Infant Loss Remembrance Day, a day that acknowledges the loss of a baby and the ongoing love and grief that parents have.
In a small ceremony, Victoria and Danny were joined by four other bereaved couples, along with hospital CEO Heidi and their amazing social worker Deb.
A bereaved mother played the harp as the sun went down over the bench dedicated to Kiera, that Danny and Victoria had restored themselves.
As the darkness grew, candles were lit as part of the international wave of light, remembering all the babies who have left too soon.
Victoria said, "It was an emotional day and night but it felt good to be able to do something so special with people who we have met on this journey.
The garden is going to continue to evolve and as some of the plants grow taller, it will look even nicer and offer more privacy.
In the coming months we will add a water feature and a plaque dedicating the garden to all families who are missing a piece of themselves."
Read Victoria's full story of losing Kiera here.

Victoria and Danny have since set up a fund in Kiera's honour called Kiera's Contribution, a sub-fund of Sydney Community Foundation, in the hopes of continuing to raise money to raise awareness for newborn infections and support bereaved families.
Photography credit: Sarah Hulme from Harlly & Co.