An international study co-funded by Red Nose Australia shows that going to sleep on either side in the last three months of pregnancy, can more than halve the risk of stillbirth.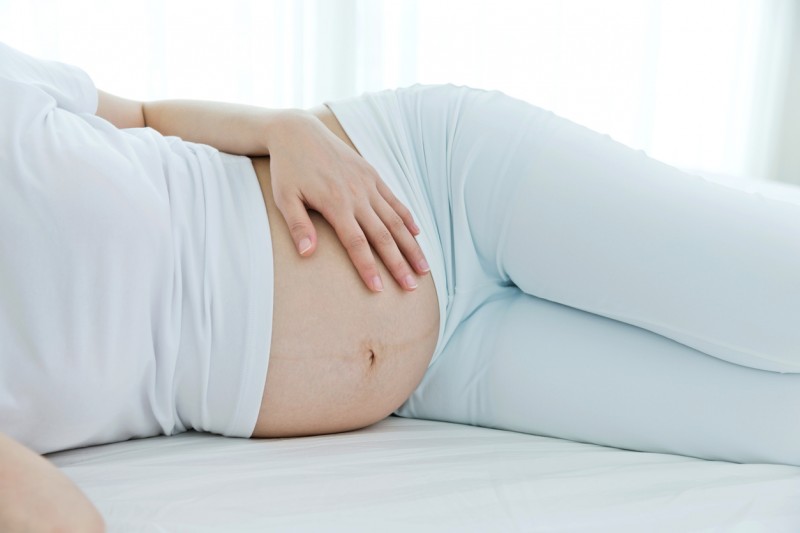 The study, put together from five datasets from across the world that assessed risk factors for stillbirth, has been published today in a prestigious Lancet group journal.
Red Nose Australia's National Scientific Advisory Group Deputy Chair Dr Adrienne Gordon, is one of the principal investigators of the CRIBBS project (collaborative IPD in sleep
and stillbirth), and also led the Australian stillbirth study which is included in the mega-study individual participant data meta-analysis.
The meta-analysis– co-funded by Red Nose Australia and Cure Kids New Zealand and led by Professor Lesley McCowan and PhD candidate and midwife Robin Cronin from the University of Auckland, included 851 bereaved mothers and 2257 women with on-going pregnancies.
Dr Gordon, who is also a neonatologist and Neonatal Staff Specialist with the Royal Prince Alfred Hospital's Centre for Newborn Care and an NHMRC Early Career Fellow at the University of Sydney's Charles Perkins Centre, said the study has confirmed that the risk of stillbirth associated with going to sleep on the back applies to all pregnant women in the last trimester.
"This is a huge break-through for the prevention of stillbirth, which remains one of the greatest challenges in modern obstetric practice," Dr Gordon said.
"Stillbirth is a national tragedy, which has devastating and far reaching psychosocial impacts on women, families, caregivers and communities; as well as a wide-ranging economic impact on our health system and society.
"This study shows conclusively that something as simple as going to sleep on your side can reduce the risk," Robin Cronin from the University of Auckland said.
"And we know that women report they can and will change the position they go to sleep in without difficulty, if this is better for the baby."
Red Nose Chief Executive Officer Keren Ludski welcomed the publication of the research findings.
"Stillbirth is a heartbreaking and devastating tragedy that affects 2200 families in Australia every year," she said.
"That's six babies every day. Red Nose Australia made a commitment to Australians impacted by the death of a child that we would find the answers, and research findings such as this is a huge breakthrough."
Advice on sleep position is included in the recent NHMRC funded safe baby bundle program led by the stillbirth CRE and the best ways to support side sleep are being investigated in the Red Nose funded SLIPP Trial (Sleep in pregnancy pilot trial)
"The funding of research such as the safe baby bundle and the Sleep in Pregnancy Pilot Trial is incredibly vital, and as shown today, has the potential to save hundreds of Australian babies each year," Ms Ludski said.
"This research has provided us with essential evidence that will inform public health campaign messages recommending sleeping on the side during late pregnancy.
"By ensuring all pregnant women in Australia, and the clinicians providing their care, are aware of this evidence, and aware of the risks, will in turn save so many babies' lives."
Professor Lesley McCowan said the increased late stillbirth risk is related to decreased blood flow to the baby by up to 80 per cent, if a pregnant woman sleeps on her back, compared to her side.
"This is due to a major vessel in the mother's abdomen, the inferior vena cava, being squashed by the womb, when a woman lies on her back" she explains.
"The mother's aorta is also partly compressed when the mother lies on her back."
The researchers in this international collaboration are from the University of Sydney Australia; the University of Auckland New Zealand, the University of Manchester and the University of Huddersfield in the UK; and the University of Michigan, US as well as representatives from bereaved parent groups.
Key findings
Going to sleep lying on the back from 28 weeks of pregnancy increased the risk of stillbirth by 2.6 times


This heightened risk occurred regardless of other known risk factors for stillbirth


Going to sleep on the back adds to other stillbirth risk factors, for example a baby who is growing poorly in the womb


It does not matter which side they chose to settle to sleep on– both left and right sides appear equally safe.