Melinda is the mum of five children. Her fourth child, Jacob, had a severe and rare congenital heart defect called Hypoplastic Left Heart Syndrome and died just days after he was born.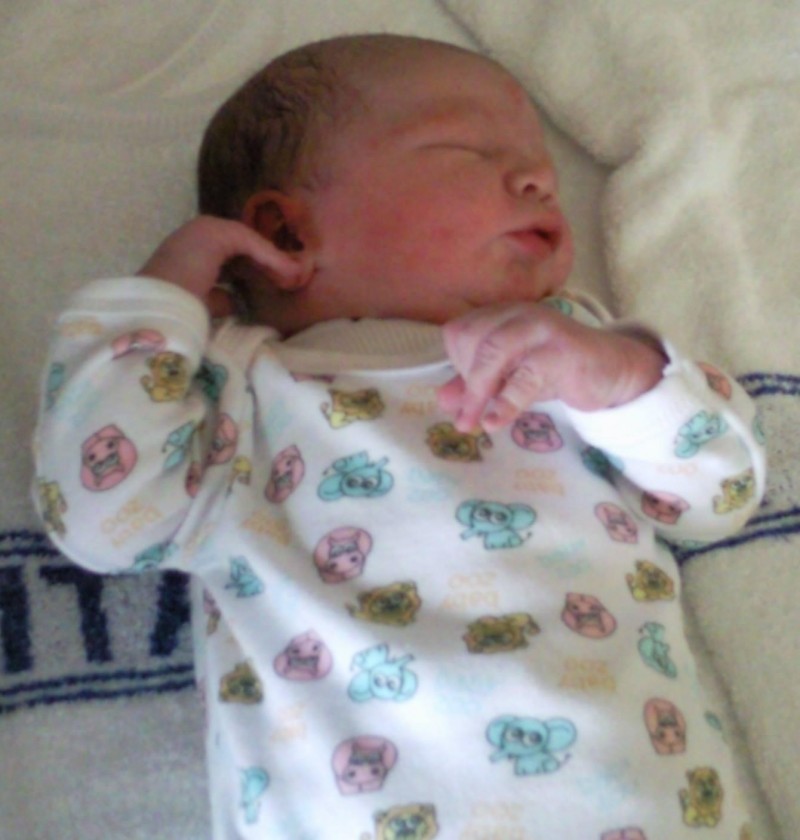 For the past nine years I have hated the 1 September. For the rest of my life I will hate it. Before 2009 I loved it, I loved that it was the first day of spring, I loved the beautiful blue skies, the warmer weather, and promise of new beginnings. Since September 1, 2009 it is a day full of tears and heart-breaking flashbacks. It is a day of shutting everyone else out and just doing the bare minimum to get through the day. It's the day my son died and my life changed forever.
Participating in PAIL is one of the very few things I can do to 'mother' Jacob. It's very important to me that I acknowledge his existence and keep his memory alive.
The day after Jacob was born, I'd hardly had any sleep during the night. I didn't know why I couldn't sleep but I just lay on my side and watched my newborn son. We'd named him Jacob Mitchell. Jacob was in honour of his Pa (Anthony, my partner's dad) who had died nearly a year before. Mitchell was after my dad Michael. He'd only come earth side at about 11:30am the previous day so I was still in awe of this beautiful little boy.
He was showing very little interest in feeding which the staff put down to low blood sugars due to my pregnancy induced diabetes. During the night he had been fed small amounts of colostrum and formula through a syringe. I remember a midwife commenting that his feet were absolutely freezing so she wrapped him up nice and warm and put on extra layers of blankets.
At around 9am, Jacob vomited everywhere. I called a midwife to my room to help me clean him up. She picked Jacob up and commented that his colour wasn't right, he was looking a bit "dusky". She said that she was going to take him down to the special care nursery to check him out. I said okay and indicated that I would join them soon.
When I walked in he was lying on a bed, still quite unsettled and unhappy. The nurses were trying to get his temperature but none of the thermometers seemed to be working, they couldn't get a reading. A nurse commented that the way his chest was moving (due to the way his heart was beating) didn't look "right". I spent some time sitting and talking to him trying to soothe him and calm him down. I was worried about my son but confident that he would be okay.
When my sister in law, who had come to meet Jacob and I went to see him in the nursery, the door was shut. When I went to open it, I realised that it was locked. This is the exact moment that the dread began. I knocked on the door a few times and eventually a staff member opened it. I asked how Jacob was and said that I'd like to see him. The midwife replied that everything is fine but Jacob has had some issues and the paediatrician is with him right now. She wouldn't let us in but assured me that he was fine, that he was going to be fine and we'd be able to see him son.
As Julz and I walked back to my room, my head and my heart started to spin.I told the two grandmothers, who were waiting in my room, what had happened. At this point Julz offered to ring Anthony who was at home with a then 5-year-old Hayden. When Anthony and Hayden arrived, I broke down a little bit and confessed to Anthony that I was scared that Jacob was going to die. He assured me that everything was going to be okay, saying he's a healthy weight, it was a full-term pregnancy and all the scans had come back clear. The grandmothers and Julz left taking Hayden with them.
Now it was just Anthony and I. We were worried sick but trying to reassure each other that he was going to be fine.
After a while the paediatrician came to talk to us. They told us that Jacob was very sick but stable. They weren't sure what was wrong. The doctor said that they suspected either blood poisoning or a heart defect. The small suburban hospital didn't have the equipment or medicine to diagnose and treat Jacob, so an emergency transport team was coming to transfer him to the city hospital. It would take some time but they'd get here as soon as possible.
When we saw Jacob again, everything had changed. He was sedated, had tubes, which were attached to machines, all over his tiny body. I stroked his arm and talked to him. The doctor talked us through how they were monitoring him and said his condition was stable. We just had to wait until the transfer team arrived.
Just after 5pm, a staff member came into my room, knelt down next to me and said that she needed to take some of my blood. I was like, "Okay". As she started to draw the blood she said to me in a low voice, "If you're praying people, I'd start praying really hard." It didn't really sink in at first and Anthony was on the phone to Julz so he didn't hear her. When she left, I repeated to Anthony what she had said to me. We both started freaking out! The dread ramped up a bit.
The same staff member came back with another doctor. The doctor knelt beside my bed and told us that at 5pm Jacob suffered a heart attack and he was now in cardiac arrest and that they were performing CPR to try to resuscitate him. The doctor left. Anthony starts crying and I just keep saying over and over, "He's going to die. Oh my god, he's going to die." We cannot believe what is happening to us and to our child.
The doctor comes back and tells us that we are needed in the special care nursery. When we walk in we see Jacob lying still on the bed and someone is doing CPR on his chest. It's nearly 5:30pm. They tell us that they have been working on him unsuccessfully now for half an hour. They cannot bring him back and need our permission as his parents to stop CPR. His little chest is all bruised.
We give our permission for these medical professionals, whose job is to save lives and who did everything they could for our son, to stop.
He was gone.
Thirty hours after arriving Jacob left this earth. We ask them to take out all the tubes, disconnect him from the machines, wrap him up in a blanket and bring him back down to our room. Our beautiful little boy.
We stumble back down the hallway in shock, broken and devastated. Our loss is incomprehensible. Just the day before we joyfully welcomed our fourth child. A beautiful, healthy little boy. Now we have to face the rest of our lives without him. We kept asking how can life continue without him? How can this world keep spinning? How are we supposed to keep going?
As we waited for Jacob to be returned to us we realised that we wouldn't be bringing him home. We'd have to say goodbye and leave him here. We have to tell our children that their brother had died, tell our families and friends. There would now be two Jacob H's in heaven. Our son and his Pa.
An autopsy a few days later confirmed that Jacob had a severe and rare congenital heart defect called Hypoplastic Left Heart Syndrome. It basically means that the left side of his heart, which sends oxygenated blood to all parts of his body did not develop. This defect is fatal but is usually detected during the 20-week scan. Treatment begins with open heart surgery very soon after birth. Sadly, for whatever reason, Jacob's heart defect was not found. While children with HLHS certainly do not live a trouble-free life, Jacob never had the chance to try.
Jacob's funeral was held on the 9/9/09 and we chose to have him cremated. His ashes are sealed inside a treasure chest and he'll be with us forever.
I still take time out to remember Jacob, especially on his anniversaries. You never get over the death of your child, but in time you learn to live with the pain. I will continue to share my story to raise awareness of pregnancy and infant loss. It's more common than you think. It also helps me to express my love for my son and help keep his memory alive.
October 15 is International Pregnancy and Infant Loss Remembrance Day.

Reach out to our 24/7 support line on 1300 308 307 or visit our support library

This year to acknowledge International Pregnancy and Infant Loss Remembrance Day we are sharing the moments of silence affecting bereaved parents to encourage conversation about pregnancy and infant loss for the month of October.