There are many dedicated staff, volunteers and supporters who together make the work of Red Nose possible. This is Michele's story.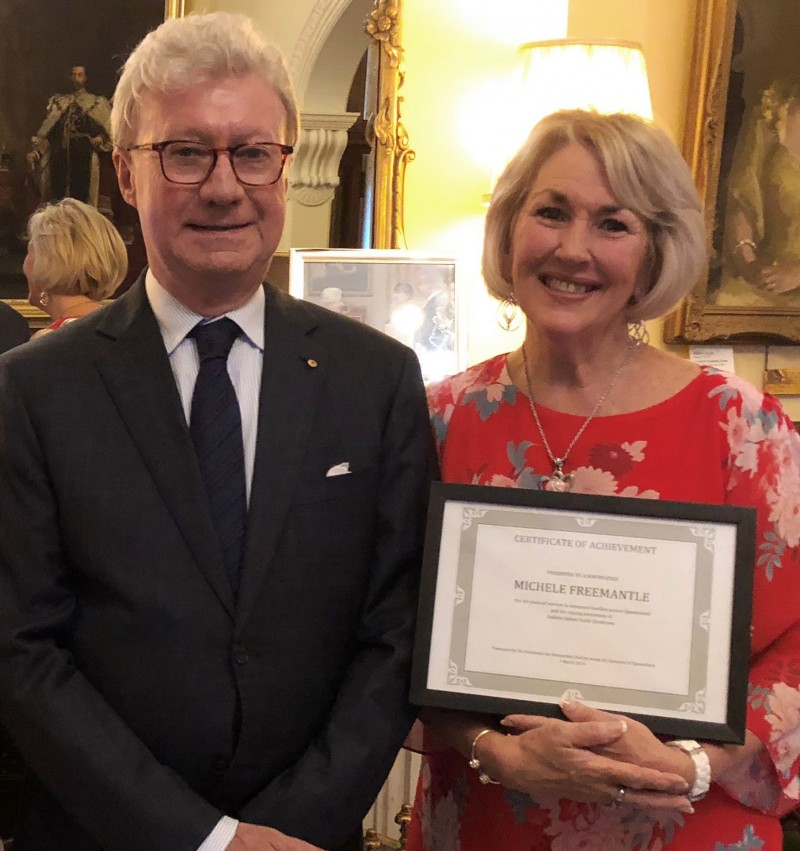 I have been supporting families who have experienced the death of their beautiful child for over 42 years since having my own beloved son Todd, die suddenly and unexpectedly from SIDS in July 1977.
Todd Matthew Freemantle was our firstborn child and only son. He was absolutely perfect – handsome just like his Dad, and loved food just like his Mum!
Todd was with us for just 45 days, during which he bought joy to our entire family. We loved every moment with him – his smiles, his gurgling noises, singing to him in the bath and watching his little face light up when he heard our voices.
Todd dying suddenly and unexpectedly (despite being a perfectly healthy baby) was devastatingly heartbreaking and incredibly isolating. Very little was known about SIDS at that time, and I can still vividly remember the police officers coming to our home to collect his bedding to investigate his sudden death, and subsequently experiencing young social workers visit us to hastily drop off pamphlets on grief. It was incomprehensible to us that authorities could think we had anything to do with the death of our beautiful boy. It was never explained to us that this was a matter of law. We saw it as being considered responsible for his death.
We felt abandoned by many of our friends, some family and the general community. Nobody knew what to do to help us, and I was made to feel like an incompetent and incapable mother. I felt very alone.
The year following Todd's death, in 1978, I was relieved (and incredibly anxious) to become pregnant with our second child, Brooke. Our rainbow baby. During this pregnancy, I was so fortunate to have an opportune meeting with Vilma Ward (another pioneer of SIDS research and fundraising in Queensland), so I decided it was time to put an action in place to create a shared vision.
I established the Queensland Sudden Infant Death Research Foundation with the tremendous help and support of Vilma and others in the Queensland community, to find the reasons why Todd, and so many other precious babies were dying suddenly and unexpectedly. This organisation would later go on to merge with other similar like-minded States in Australia to become Red Nose.
There have been many challenges in my 42 years of working as a volunteer with SIDS. In the early days, getting myself out of bed was a challenge enough. On other days it was fighting wholeheartedly the many misconceptions surrounding Sudden Infant Death, to provide factual information to the general public, whilst advocating for parents and babies across Australia to help ensure that hopefully, no other child had to die, and their families and friends feel forgotten and ignored.
I found immense comfort in helping others, knowing they would not have to feel the judgement, isolation and hopelessness my husband Morrie and I felt when Todd died.
In the decades since Todd's death, I've remembered and thought of him every single day. It's easy. Because he was .
I've always encouraged other bereaved parents to speak their child's name openly with love. Our Todd is always in our hearts and minds, and always will be. That's where he now lives.
For any parent who has been through this, I plead to you, please be kind to yourself. You are not alone. Ask and reach out for help, and please grieve in your own way.
Talk about your gorgeous child to keep them with you, and surround yourself with supportive people who allow you to proceed through your journey without judgement, nor have any time constraints on when "you're over it". You will never be "over it". Fact.
Our beautiful community is full of people who understand your experience firsthand regarding the complexities of dealing with the devastating death of your adored child or are moved to help in any way they can. Most times people don't know what to do to "help". Just ask. Reach out and you will be supported for as little or as long as you need. There's no expiry date.
I am honoured to have had the opportunity to share the impact of Todd's sudden and unexpected death with you all, and how it changed my life. I was able to keep his memory alive by reaching out to others who were in their darkest time.
My family and other close friends all became champions of my vision.
My beautiful husband Morrie, who was with me every step of the way.
Our 2 incredible daughters Brooke and Shae, who lovingly sacrificed much of their childhood knowing their mother was leaving their family home to help other families in turmoil at all hours of the day and night.
My Todd's loving Nan, my beautiful Mum Keanie, who was caring for him when he died, and had to face the worst nightmare of her life by telling her daughter that her precious and adored son had died.
My incredible sister Jan, who patiently nurtured me through my horrific experience.
I thank you all for supporting me with unconditional love.
I hope Todd would be proud to see how his short time on earth so inspired his Mum to try to make a difference in the lives of others impacted by Child Death.
He was my everything. And I'm incredibly proud to be his Mum. Xx
As always, my message is to be kind to yourself.
Red Nose Grief and Loss services are here for anyone affected by the death of a baby or child. Call our 24/7 Support Line on 1300 308 307 or visit our Support Resource Library at rednosegriefandloss.org.au