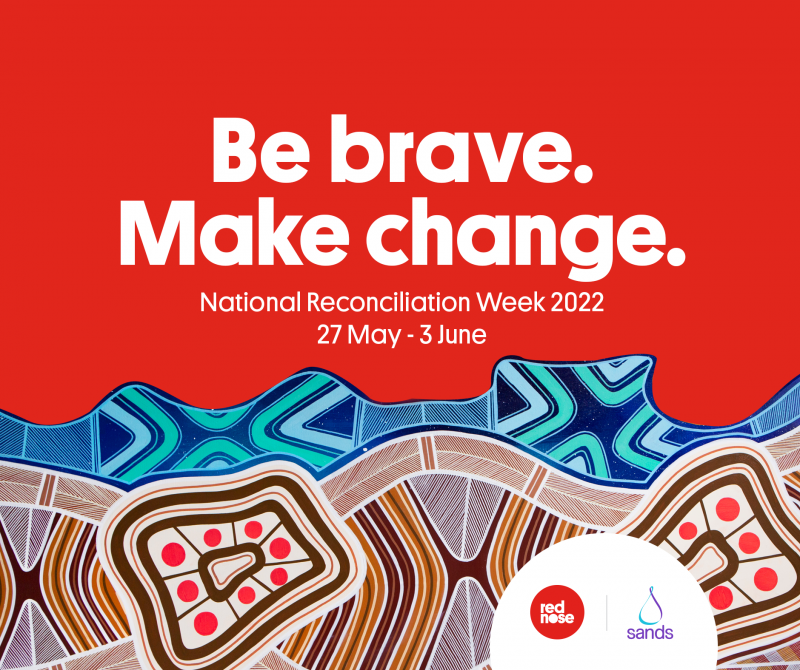 Be Brave. Make Change. National Reconciliation Week 2022
Red Nose recognises Aboriginal and Torres Strait Islander Peoples hold rich and diverse histories and have a deep connection with Country, which is central to their spiritual identity, and we are committed to advance reconciliation through continued learning from our First Nations People.
This Reconciliation Week we are proud to move into the Innovate phase of our Reconciliation Action Plan. Over the next two years, Red Nose will gain a deeper understanding of our influence to make change and develop further opportunities within our services to improve health outcomes for Aboriginal and Torres Strait Islander Peoples and their bubs.
In 2021, Red Nose launched the first stage of the plan, Reflect, and developed relationships with Aboriginal and Torres Strait Islander stakeholders to shape our vision for reconciliation. Over the year, we commissioned Indigenous artist, Tom Day, to create an artwork that encompasses our commitment to reconciliation.
We have also launched the Safe Sleep for Bubs brochure, a new resource that promotes safe sleeping practices to better support the Aboriginal and Torres Strait Islander community and provided education sessions for professionals working with families. Our resources are codesigned in consultation with community and we are working on developing a full suite of Red Nose resources.