The Red Nose Remembrance Service was held on Red Nose Day Friday 14 August, offering an opportunity to acknowledge, honour and remember the babies and children we have lost, but who are forever in our hearts. For the first time the Service went digital, livestreaming over Zoom, so that every Australian family, could connect together in their grief whether in locked-down cities or in regional and remote areas.
Red Nose Bereavement Counsellor Jo, shares her experience of this year's special Service.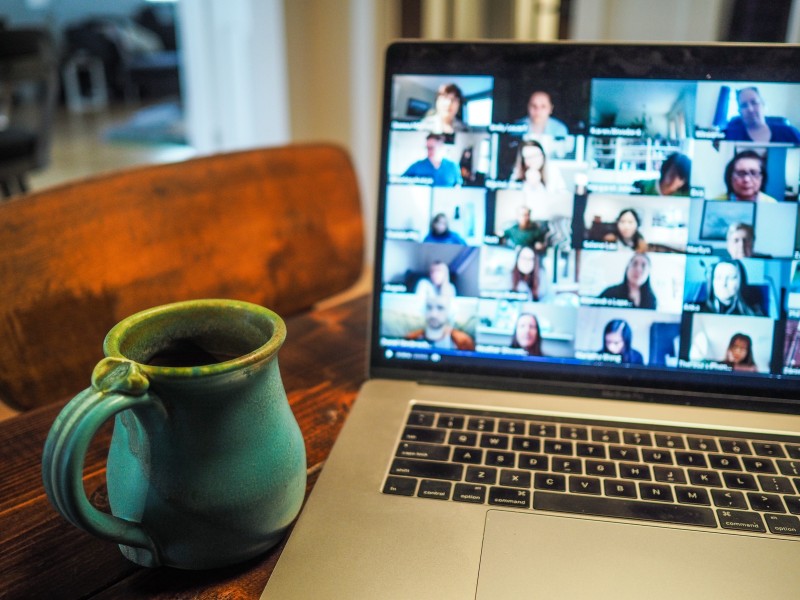 As a bereaved mother and a Counsellor at Red Nose, I wanted to say a heartfelt thank you to our supporters for ensuring our grief and loss services have been able to adapt to the challenges of COVID-19 and run throughout 2020.
Memorial and remembrance services are a vital part of the grieving process for many families. These events form a safe space to express love for a child and connect with other bereaved families helping everyone to feel less alone in their pain.
With COVID-19 restrictions fluctuating across the country and the general uncertainty of trying to plan an event during a pandemic, many of our annual in-person memorial services were simply not possible this year.
But thanks to your generous support, we were able to go virtual for the first time, livestreaming a National Remembrance Service on Red Nose Day.
Going digital this year was different that's for sure, but it was equally as special. It was beautiful to be able to connect to more grandparents and to see some of our families from rural areas. We had a few technical glitches as we got used to the technology but overall the service was beautiful and connecting.
The Service opened with a beautiful acknowledgment of country by Cherisse Buzzacott from our Red Nose National Scientific Advisory Group, who spoke in memory of her daughter Senna Bartlett. It was an incredible way to open the service and set the intent to honour and hold each other in this online space.
Red Nose CEO Keren continued by welcoming families and reading a poem titled The Cord in honour of her son Ben. The reading of The Cord denotes the link that will always exist between families and their baby or child. An invisible cord connects and pulls on the heart, sometimes that cord pulls taunt and feels unbearable, but at other times the cord keeps you grounded, it keeps you connected to the love you have.
Megan McMillan did a beautiful reading of His poem which was written by her sister Lena Moses and read at her son Byron's funeral. This poem is about the development of love from pregnancy and beyond.
In a truly touching moment, Stacey Searle sang Fix You by Coldplay. I had goosebumps and felt so connected to everyone in the service. Stacey created some magic in those moments.
Rachel Kleinman, Red Nose Bereavement Counsellor, read Meditations before Kaddish in memory of her brother Dave. It is so special to have so many different family members speak at the service, sibling love is so very special.
TK Hess spoke about a father's love in memory of his daughter, Jasmin Hess. I doubt there were many dry eyes as TK shared with us a small part of his experience of connection to his much-loved daughter Jasmin. TK created a powerful reflection on, and an appreciation for, the ever-changing nature of connection.
Benn Lockyer spoke in memory of son, James Lockyer, reading a poem titled Tiny Footprints. Benn spoke with such love, you could see the invisible cord pull again as Benn explored the theme of connecting through nature.
Stacey then sang The Scientist by Coldplay. She has this incredible gift to tell a story, almost as if she is singing to you alone. She then shared a beautiful quote from the latest Cinderella movie "have courage and be kind", reminding us all that being kind to yourself is courageous.
Tracey Paech, Red Nose Bereavement Counsellor, read The Mother Cheetah who cried in memory of her daughter, Ariel Gowlett. This poignant share was both personal and beautiful. Tracey shared images of cheetahs showing their forever tear lines as she read the poem.
Kate Cowmeadow, Sands National Manager Community Engagement, read a piece by an anonymous Sands community member titled A Couple's Grief. Such an incredible piece, I can imagine many couples could resonate with the idea that you grieve for your child alone, yet also together. This shared experience is not always easy and it was a beautiful reminder of the power of healing, kindness to self and to others.
Then began the reading of over 300 children's names, spoken aloud by a special group of bereaved parents.
Laura Martinello read in memory of her daughter Abigail. Jay Stuhmcke read in memory of his daughter Daisy. Megan McMillan read in memory of her son Byron. I'm always struck by this moment, there are no words. I just sit, listen and feel the love. Thank you for reading the names Laura, Abigail and Jay. It's such a crucial moment in the memorial, and the reason we are all here.
We then held a moment of reflection whilst listening to You raise me up by Secret Garden. Families lit candles and shared some quiet time together. Families remember their child in so many different ways and it was bittersweet to see everyone lighting their candle, holding each other and lifting up photos, teddies or mementos.
Donna Campbell read I heard your voice in the wind today in memory of daughter, Larissa. Such a beautiful reading that connects the inner experience of loss to nature.
The formal part of the service ended with a song by Gurrumul titled Bayini. It is a described as a spiritual love song and is performed in Yolngu Matha, an Indigenous language of Northern Australia. Such a beautiful way to close, with connection and love.
Families were then invited to stay on for a cup of tea and a chat about the service in smaller virtual groups. During the Service the online chat space allowed for all families to write memories of their babies and children, it was lovely to see so many families sharing their loss, supporting each other, and extending virtual hugs.
Though rather different than previous years, this Remembrance Service was once again an important moment of connection. If for one moment each of us was a little bit less alone in our grief, then that's deeply rewarding.
It was an honour to be with all the families today and it was far more special than I had imagined. Thank you again, for making all of this possible.
If you missed the Service, you can request a copy of the recording by emailing laceyfitzgerald@rednose.org.au.
Did you attend the Service? We would love your feedback. Please complete this brief survey to tell what us you liked and anything you would like to see done differently next time.
Red Nose Grief and Loss services are here for anyone affected by the death of a baby or child. Call our 24/7 Support Line on 1300 308 307 or visit our Support Resource Library at rednosegriefandloss.org.au