Australians donating to Red Nose Day this Friday 12 August will help fund a vital new $100,000 SIDS research grant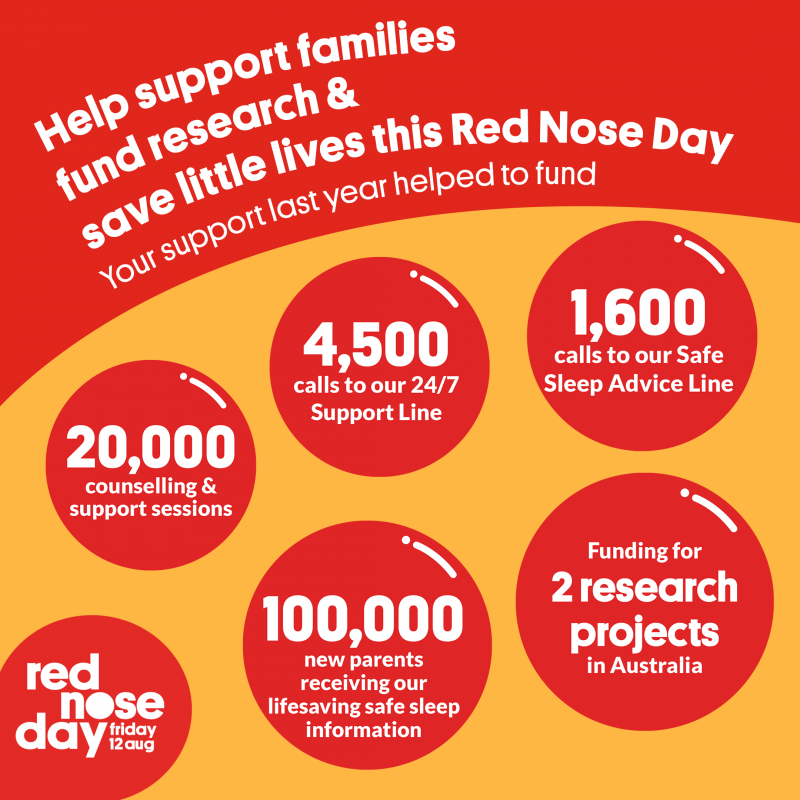 New data released by the Australian Government shows there has been an increase in stillbirths in Australia but a reduction in the number of neonatal and SIDS deaths. The new data shows 2,997 babies aged under one died in the year, up 51 compared to 2,946 deaths over the previous year.
The new data shows that of the 2,997 deaths:
• 2,183 were stillbirths – up from 2,116 the previous year
• 714 were neonatal deaths* – similar to 718 the previous year
• 100 were SIDS and unexplained deaths in infants – compared to 112 the previous year.
The new data is for the year 2019, and the previous year is 2018. There is a lag in the release of data by both the Australian Institute of Health and Welfare and the Australian Bureau of Statistics to allow time for autopsy reports and coronial inquests.
Today, we launched a new $100,000 research grant – the Red Nose SIDS Biomarker Development Grant. This grant will help fund research into the development of a SIDS biomarker that it's hoped one day can produce a test to determine a baby's vulnerability to SIDS – the ultimate goal in the fight against SIDS deaths reducing the number of SIDS losses even further. Australian researchers have been invited to apply.
Australians can help fund this grant by donating to Red Nose Day, this Friday, 12 August at: rednoseday.org.au
*Neonatal deaths are those that occur in the first 28 days of a baby's life and include congenital abnormalities, infections and prematurity.
Quotes from Amy Hinton-Kench, mum to Ayla who was stillborn in 2021
"Amy and partner James of Melbourne received Red Nose counselling and Hospital to Home support after their daughter was stillborn. Amy created a fitness challenge and raised more than $10,000 for Red Nose Day last year – she was one of Victoria's top fundraisers. See photos below.

"We were lost when we came home to an empty house without our baby girl. All the emotions and then physical planning you are expected to manage is overwhelming. Red Nose's Hospital to Home program supported us through the transition back into some sort of normality. It provided us with a lifeline, a safe space to talk about Ayla and also guidance on how to navigate our grief, between ourselves but also with the wider community.

"By supporting Red Nose Day, you know that your contribution will help thousands of parents in your community and help reduce the little lives lost each year. Please help bring some light back into grieving families' lives, this is invaluable."
Quotes from Keren Ludski, CEO, Red Nose Australia
"This latest release of Australian Government data shows why we continue to need Red Nose Day now more than ever. It is simply heartbreaking to see the number of Australians experiencing the death of a baby going up. Whilst the numbers of SIDS and neonatal deaths have decreased, we need to continue the fight to get this number even lower.

"A really practical way Australians can help turn this around is by donating to Red Nose Day this Friday, 12 August and helping fund our new SIDS research grant.

"Please donate to Red Nose Day if you can, because every dollar makes such a difference."
More information:
• Get involved: Make a donation, host an event or buy a red nose: rednoseday.org.au
• Media kit (new statistics, facts, hi-res images, video, social media tiles): www.rednoseday.org.au/media
• AIHW stillbirths and neonatal deaths report (released 22/7/22)
www.aihw.gov.au/reports/mothers-babies/australias-mothers-babies/contents/about
• ABS causes of death including infant mortality:
www.abs.gov.au/statistics/health/causes-death/causes-death-australia/2019
For interviews and case studies, media contact: Claire Bonnieux I 0451 020 503 I claire@upstride.com.au