Red Nose (formerly SIDS and Kids) has partnered with Australian Radio Network (ARN), its digital entertainment platform, iHeartRadio and Little Rockers Radio to encourage childcare centres around Australia to purchase an entry pack online, with 100% of proceeds going to Red Nose, and host a Red Nose Day fundraising disco this June. Over 50,000 children across the country are expected to take part, making a significant impact in helping reduce the current child death rate of nine children a day, down to zero.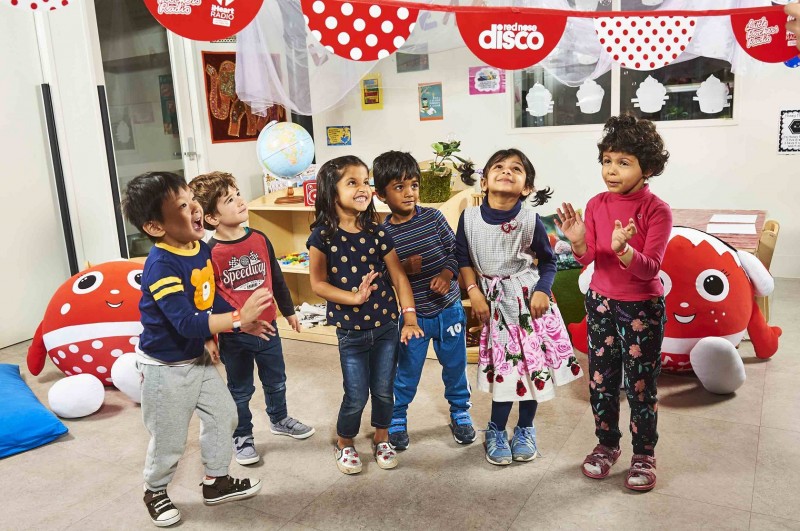 Now in its 29th year Red Nose Day is fundamental in raising awareness and critical funding for Red Nose's research, education and bereavement programs for sudden and unexpected deaths in infancy. Each year in Australia over 3,200 babies and children still die suddenly and unexpectedly - with causes including stillbirth, SIDS and fatal sleep accidents.
Following a successful partnership in 2016, this year Red Nose, ARN, iHeartRadio and Little Rockers Radio will again develop a dedicated digital Red Nose Day radio station for the month of June, called Little Rockers Red Nose Disco, presented by iHeartRadio.
Little Rockers Radio is a popular pre-schoolers radio station already available on iHeartRadio, but it will run specific Red Nose Day Disco programming from June 1 - 30. With content curated especially for the pre-schooler audience, the station will feature music from The Wiggles, Justine Clarke, Play School, Sesame Street and more, as well as other much-loved children's presenters, ARN on-air personalities from the KIIS, Pure Gold and The Edge networks, and other celebrity supporters of Red Nose Day.
Childcare centres across Australia can purchase an entry pack online and then use this station to host their own fundraising disco event. Including disco event props and decorations such as posters, bunting, bubble blowers, plush toys and activity sheets, these packs are sure to create a focal point amongst little disco guests across the country.
Childcare centres can purchase this entry pack online now at rednoseday.com.au, with 100% of proceeds going back to Red Nose to support their life-saving work. Children are also invited to bring a gold coin donation for participation in the event, further helping raise funds. With both Little Rockers Radio and ARN's KIIS FM, Pure Gold and The Edge radio networks supporting the campaign significantly via on-air and digital promotion, the message is clear: Come have a dance, raise funds, have fun, and, in doing so, help Red Nose make a difference in saving children's lives.
And of course, Red Nose are urging the Australian public to get involved with Red Nose Day 2017 as this support is crucial in their mission to reduce the number of deaths of Australian children from nine per day to zero. Ways to get involved include by purchasing a red nose or other Red Nose Day product, making a donation, hosting a children's fundraising disco or setting up an online fundraising page.
Of the charity's collaboration, Yvonne Amos, GM Marketing and Communications at Red Nose says: "We're so excited to again be working with ARN, iHeartRadio and Little Rockers Radio on what is set to be a really fun day for pre-school children all over Australia, but one with an extremely worthy cause - aiding us in our work towards reducing nine children's deaths a day to zero."
Founder of Little Rockers Radio Sarah Morrissey agreed: "After losing my precious nephew to SIDS at 16 months of age, I experienced first-hand the amazing support Red Nose offer for bereaved families, and became aware of their work in research and education. Working on these discos has been a highly personal decision for me, and I'm proud to help raise critical funds for Red Nose while garnering great national media exposure for their work via Little Rockers and all our partners."
Equally happy to be supporting Red Nose in their work is Rob Atkinson, CEO of Australian Radio Network: "We are proud to be working alongside Red Nose on their Red Nose Day campaign for the second year running. We respect their work whole-heartedly and are honoured to be able to use our resources to help them in their mission to save children's lives."
ARN's on-air talent including Kyle & Jackie O, Hughesy & Kate, Jonesy & Amanda, Jo & Lehmo, Monty, Yumi Stynes & Bec Judd, Bianca, Terry & Bob and Carmen & Fitzi will be using their profiles to support Red Nose Day this year, along with other celebrity supporters including Zoe Foster-Blake, Michelle Bridges and Steve 'Commando' Willis, Georgia Love, Natalie Bassingthwaighte, Kyly Clarke, Barry Du Bois, Paulini Curuenavuli, Joe Hildebrand, Brad Fittler, Tiffany Scanlon, Cameron Cranley and Lucy Durack, with more added every week.
Key details on how to get involved with Red Nose Day 2017:
What? Red Nose Day 2017
When? Friday 30 June 2017, with campaign activity running throughout June
Where? Australia wide
How?
Why? To raise money for Red Nose so it can continue to provide safe sleeping education and fund vital research to save the lives of babies and children
#rednosedayoz
#ninetozero
www.instagram.com/rednosedayaustralia
www.twitter.com/RedNoseDay_Aus
https://www.snapchat.com/add/RedNoseDay_Aus
About Red Nose:
In October 2016, SIDS and Kids launched its new name, Red Nose, and new remit – to reduce the incidence of sudden and unexpected death in babies and children in Australia to zero.
Red Nose provides vital safe sleeping education to expectant mothers, their families and healthcare professionals all around Australia. They also conduct world-class research into stillbirth and sudden and unexpected death in infancy and provide crucial bereavement support to those affected by the death of a baby or child, receiving more than 10,000 calls for support and education every year.
Since Red Nose's inception, over $16.7 million has been devoted into researching stillbirth, neonatal death, Sudden Infant Death Syndrome (SIDS), and other causes that contribute to the 3,200 unexpected infant deaths that devastate Australian families each year.
For further information please contact:
Shaheeda Chelat
PH: 0423 450 345
E: shaheeda@thecommsdepartment.com.au
Kylee Pryor
PH: 0423 106 598