"What would they have sounded like?" "Why does nobody call on their anniversary?" Parents share pain of silence in lead up to Pregnancy and Infant Loss Awareness Month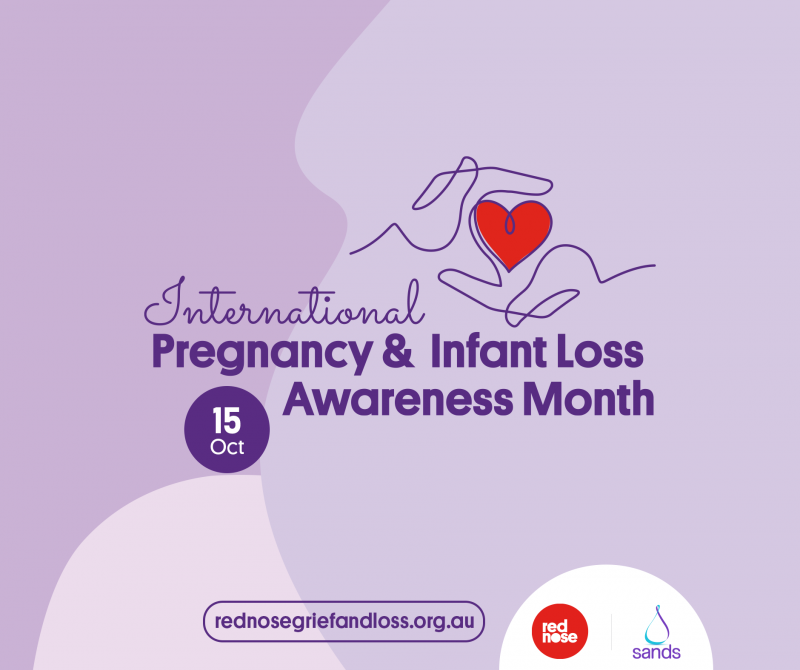 Every year, around 110,000 Australians have a miscarriage. 2,200 more endure the pain of stillbirth, 600 lose their baby in the first 28 days after birth and many more face the grief of termination for medical reasons.
October is a time for Australia to break the silence and acknowledge the heartbreak happening too often right now
With October marking International Pregnancy and Infant Loss awareness month, hundreds of Australian parents are sharing what's hurting them right now – silence.
From now until the end of October, families are sharing their silence stories with Red Nose in a bid to get Australia talking about this too-often taboo topic.
Mums describe quiet delivery suites where a newborn baby should be crying but isn't, a stethoscope that doesn't detect a heartbeat on a pregnant belly, phones that don't ring on baby's first anniversary.
Dads outline the pain of feeling unable to talk about their loss with their mates.
Pregnancy and Infant Loss awareness month events are happening right around Australia and online throughout October, giving families an important opportunity to publicly remember their much-loved babies.
• Friday 15 October: Light a candle at 7pm to join the wave of light for International Pregnancy and Infant Loss Remembrance Day. Take a photo and upload to social media with #pail and #standingsilent
• Sunday 17 October: Virtual Walk to Remember online event. Register here.
• 10 - 17 October: Walk to Remember events in Perth, Brisbane, Gold Coast, Adelaide and regional Queensland. Learn more
Red Nose provides vital 24/7 support and services to thousands of Australian women every year who lose a baby to miscarriage, via termination for medical reasons, in early infancy or through stillbirth or SIDS.
We urge anyone impacted to contact our 24/7 Grief and Loss Support Line on 1300 308 307.
"Countless times things were said to us that discouraged us from speaking about our loss 'oh we able to have another one', 'I guess it was good she was so small and you weren't further along'. Knowing how to approach people who have lost is such an important thing, we as a community need to know how to respond to loss in an appropriate way." Kelly , NSW, whose daughter Leila was stillborn in September 2020
"This year saw the second anniversary of my loss, only a handful of people remembered. Also, I don't feel like anyone acknowledges Leo's birth as actually giving birth. There is no space to share my birth story." Amy, NSW, whose son Leo was terminated for medical reasons at 24 weeks in September 2019
"Pregnancy and Infant Loss Awareness Month is all about providing recognition for the hundreds of thousands of Australians who suffer in silence every year when they are experiencing often what is the worst moment of their life. Red Nose events around Australia and online throughout October are a place for Australians to come together to acknowledge their babies and to help break the stigma that continues to exist around pregnancy and infant loss." Jackie Mead, Co-CEO, Red Nose Australia
For interviews and case studies, media contact:
Fiona Jordan
Mobile: 0402 846 867