Babies right around Australia sleep safely every day thanks to 30 years of research, funded by Red Nose Day.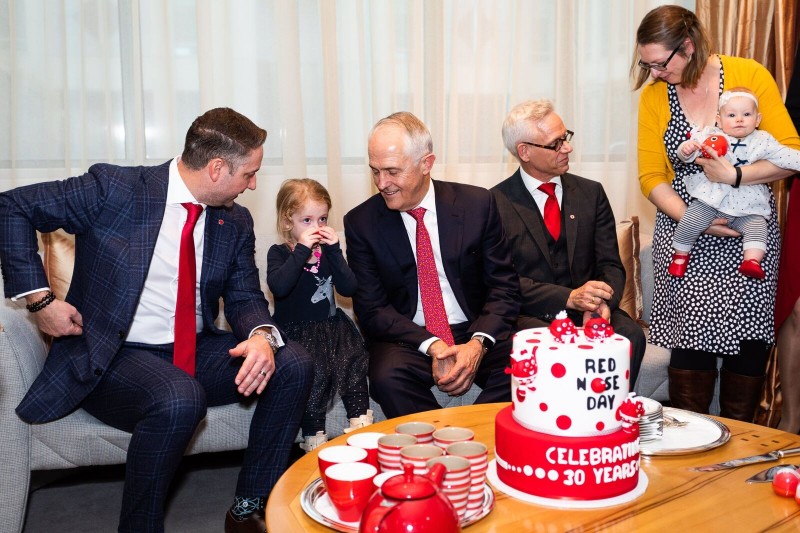 With about 330,000 babies born in Australia each year – 108,000 to first-time parents – the Red Nose safe sleeping messages being taught to parents in hospitals are helping to eliminate accidental infant death while sleeping.
To mark this significant milestone and celebrate the lives that have been saved through the safe sleeping education program, Red Nose met with Prime Minister Malcolm Turnbull at Parliament House yesterday afternoon.
Today, Friday 29 June, is the national charity's 30th Red Nose Day and its flagship fundraising event.
All funds raised through the sale of merchandise go towards funding vital and lifesaving research into sudden and unexpected death in babies and infants, including SIDS and stillbirth.
Central to the celebration was a two-tiered cake representing the two grassroots services offered by Red Nose – Safe Sleeping Education and Bereavement Support.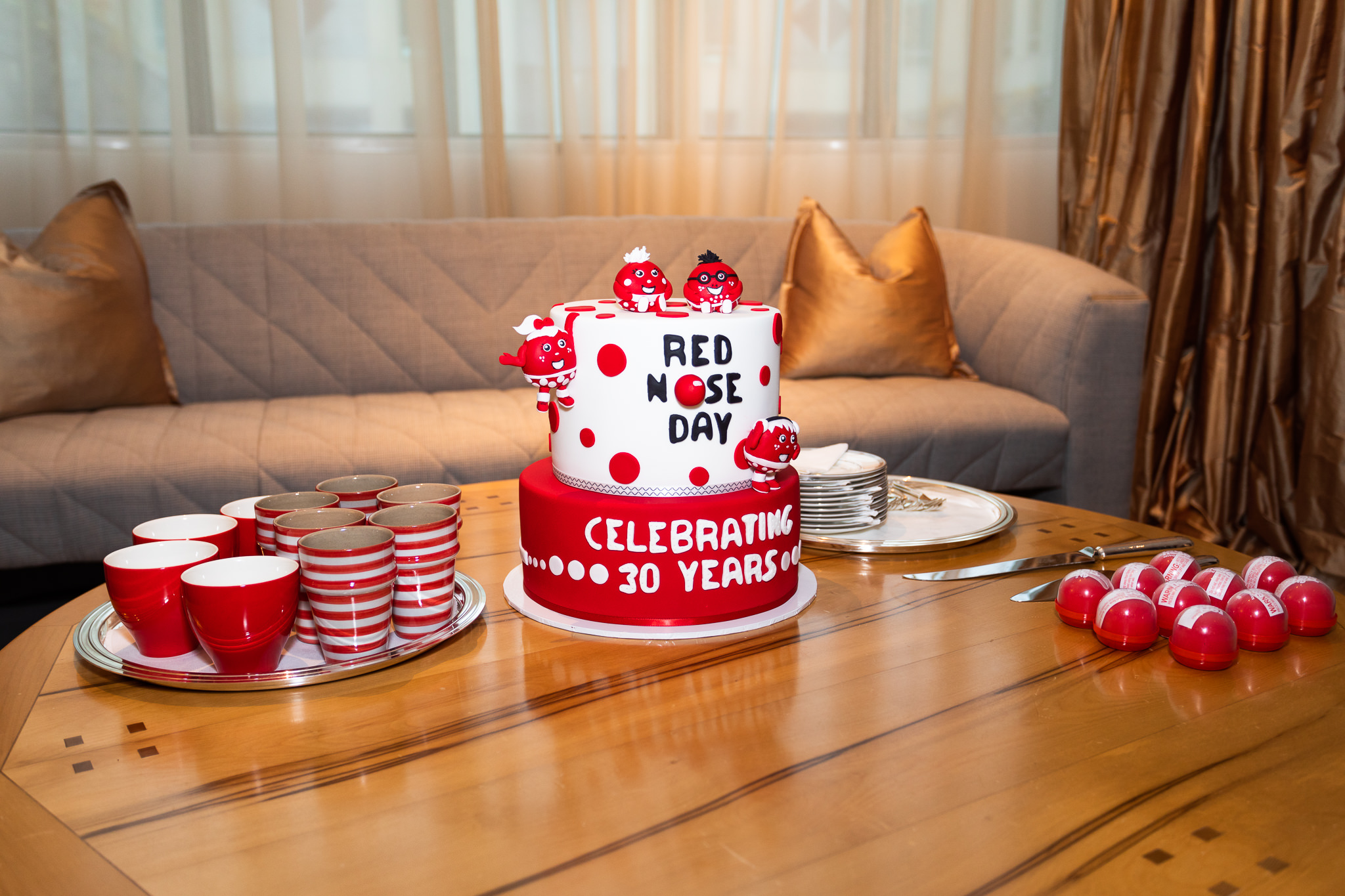 Mr Turnbull was joined in the cake cutting by Red Nose Board Chair and Partner at PwC Craig Heatley, Red Nose Head of Health and Advocacy Jane Wiggill, and Red Nose National Scientific Advisory Group Chair Professor Craig Pennell.
He was also joined by parents and children from a Canberra-based Red Nose support group for bereaved parents, and Red Nose ACT-based community fundraising staff.
Prime Minister Malcolm Turnbull said he was delighted to be able to celebrate the occasion.
Mr Heatley said the meeting was an important way to acknowledge the meaning of Red Nose Day.
"Over the past 30 years Australians have dug deep to donate to Red Nose Day, and this has allowed Red Nose to significantly support research into SIDS and stillbirth, deliver safe sleeping education to all new parents in Australia, and provide bereavement support services to families touched by the death of a child," he said.
"As an organisation, we receive limited Government funding, and we really rely on the generosity of the Australian community to fund ongoing bereavement support services, vital research, and education projects such as eLearning programs for new parents and childcare educators."
Mr Heatley said that almost 10,000 babies' lives have been saved, thanks to Red Nose education and research.
"We have come a long way. Through research we have developed evidence-based education practices, such as sleeping baby on its back, that have contributed to reducing the risk of sudden and unexpected death.
"But still, nine deaths a day – six from stillbirth – are too high, which is why we welcome the Government's involvement in our research area with the establishment of the Senate's Select Committee on Stillbirth Research and Education," he said.
This Red Nose Day, 'A Little Give, For A Little Life', is all it takes. People are encouraged to visit www.rednoseday.com.au to make a donation and help save little lives.
Funds raised through Red Nose Day fundraising activities go to Red Nose's advocacy and research programs into the causes of all sudden, unexplained and preventable childhood death, educating the community on safe sleeping practices, and supporting families who have been devastated by the sudden and unexpected death of a child.
About Red Nose:
In October 2016, SIDS and Kids launched its new name, Red Nose, and a new remit – to reduce the incidence of sudden and unexpected death in babies and children in Australia to zero. This includes all incidences of sudden and unexpected death from 20 weeks gestation to four years of age, such as SIDS, stillbirth (which currently attributes to six deaths a day), and fatal sleeping accidents.
Red Nose provides vital safe sleeping education to expectant mothers, their families and healthcare professionals all around Australia. They also conduct world-class research into sudden and unexpected death in infancy and provide crucial bereavement support to those affected by the death of a baby or child, receiving more than 10,000 calls for support and education every year.
About Craig Heatley – Chair, Red Nose Board and Assurance Partner, PricewaterhouseCoopers (PwC)
Craig is an Assurance Partner with PricewaterhouseCoopers (PwC) and has been with the firm for over 20 years both in USA and Australia. Craig is also a bereaved parent, having lost his first daughter Charlotte who was stillborn at 35 weeks, and then his son who passed in his sleep at 22 months of age.
Craig is passionate about making a difference in both his work life with his staff and clients, home life with his family and specifically his three children, and in the community which is why he became involved with Red Nose, so that hopefully he could prevent other from going through the same pain.
About Jane Wiggill – Red Nose Health and Advocacy and Registered Nurse / Midwife
Jane is a registered practitioner of nursing and midwifery, Jane has a keen interest in high-risk antenatal and intrapartum clinical settings, perinatal medicine and bereavement support. Her appointment to the position of Manager Health and Advocacy will ensure our current advocacy position is improved and marshalled in conjunction with Red Nose's continuing evidence-based health expertise.
About Professor Craig Pennell – Chair, Red Nose National Scientific Advisory Group
Professor Craig Pennell is Chair in Obstetrics and Gynaecology and the Professor of Maternal Fetal Medicine at the University of Newcastle. He works clinically as a subspecialist in Maternal Fetal Medicine at the John Hunter Hospital in Newcastle and is a principal researcher at the Hunter Medical Research Institute.
Craig has managed high risk pregnancies as a subspecialist for over 15 years in Canada, Perth, and now Newcastle. His clinical work focuses on preterm birth prevention and pregnancy after stillbirth; he has managed more than 1500 women's pregnancies after stillbirth.
Media Contact:
Kasey Brunt, Marketing and Communications Manager, Red Nose. Phone: 0400 103 570