With the 30th anniversary of Red Nose Day approaching on Friday 29 June, Australia's national carrier Qantas joins Red Nose in the fight to reduce sudden and unexpected infant deaths. The airline has joined other corporate partners to all work together to raise critical funding and awareness to save babies' lives.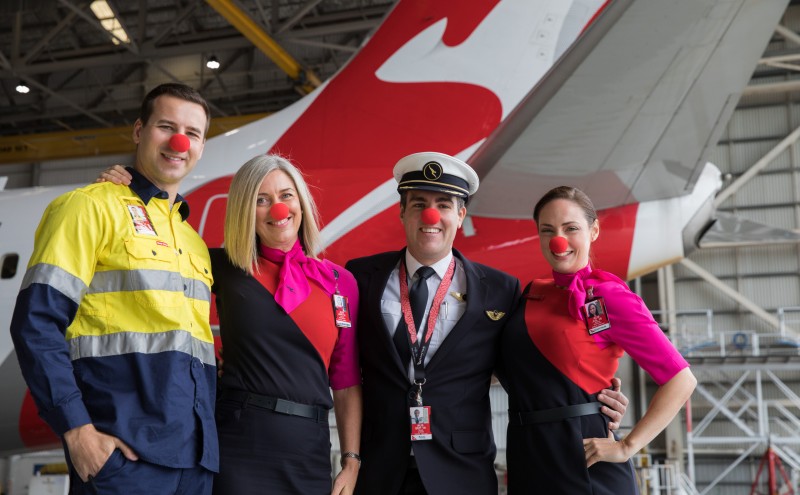 Qantas team members from across the business rallied together to show their support – from pilots to cabin crew, ramp staff and engineers - wearing the iconic red noses in support of Red Nose Day.
With nine Australian children still dying suddenly and unexpectedly every day, Red Nose's mission is to reduce this number to zero – but they rely on donations from the public to fund their critical research in the areas of stillbirth, SIDS and fatal sleep accidents.
On Red Nose Day, Qantas will be offering their customers the opportunity to help make a difference, when the airline hosts a "Red Nose Day" pop-up in Qantas Club Lounges in all five Australian capital cities on Friday June 29.
All Qantas Club guests travelling through Sydney, Melbourne, Brisbane, Adelaide and Perth on that day will have the opportunity to purchase a red nose or other Red Nose Day item or make a donation to help save babies' lives.
Of the partnership, Ms. Jane Wiggill, Red Nose Manager – Health and Advocacy said: "We are honoured to have the support of Qantas this Red Nose Day, as Red Nose celebrates 30 years of reducing sudden and unexpected infant deaths.
"With Australia's biggest airline offering our volunteers access to their Qantas Clubs right across the country on Red Nose Day, we are able to reach a much greater audience with our message."
Funds raised through Red Nose Day fundraising activities go to Red Nose's advocacy and research programs into the causes of all sudden, unexplained and preventable childhood deaths, educating the community on safe sleeping practices, and supporting families who have been devastated by the sudden and unexpected death of a child.
'A Little Give, For a Little Life' is all it takes. People are encouraged to visit www.rednoseday.com.au to make a donation and help save little lives.
#rednosedayoz
#ninetozero
#alittlegiveforalittlelife
www.instagram.com/rednosedayaustralia
www.twitter.com/RedNoseDay_Aus
ENDS
About Red Nose:
In October 2016, SIDS and Kids launched its new name, Red Nose, and a new remit – to reduce the incidence of sudden and unexpected death in babies and children in Australia to zero.
Red Nose provides vital safe sleeping education to expectant mothers, their families and healthcare professionals all around Australia. They also conduct world-class research into sudden and unexpected death in infancy and provide crucial bereavement support to those affected by the death of a baby or child, receiving more than 10,000 calls for support and education every year.
Since Red Nose began in 1988, over $18 million has been devoted into researching stillbirth, neonatal death, Sudden Infant Death Syndrome (SIDS), and other causes that contribute to the 3,200 unexpected infant deaths that devastate Australian families each year.
About Qantas:
Founded in regional Queensland in 1920 – as Queensland and Northern Territory Aerial Services – Qantas is one of Australia's most iconic brands and has played a central role in the development of the Australian and international aviation industry.
Today the Qantas Group is a diverse global aviation business, comprising Qantas Domestic, Qantas International, the Jetstar low-cost carrier group and Qantas Loyalty.
In total, the Qantas Group operates more than 7,300 flights each week and, together with its codeshare andoneworld partners, offers flights to more than 1000 destinations around the world.
The Qantas Group's fleet numbers almost 300 aircraft with an average age of around seven years – the youngest in two decades – including the acclaimed Qantas A380 and the Jetstar Boeing 787 Dreamliner.
Qantas is ranked the world's safest airline by AirlineRatings.com, and holds many major awards for service, food and wine, technology and innovation.
The Qantas Group carries over 50 million passengers each year and employs around 30,000 people.