We are pleased to announce that Red Nose and peer support organisation Sands Australia will be merging operations, coming together under one roof.
The merge is expected to take effect in late November, at which time Sands will be become part of Red Nose.
This exciting next step in our journey means that together, we will be able to help even more families than ever before and ensure that all families receive the care and support they need.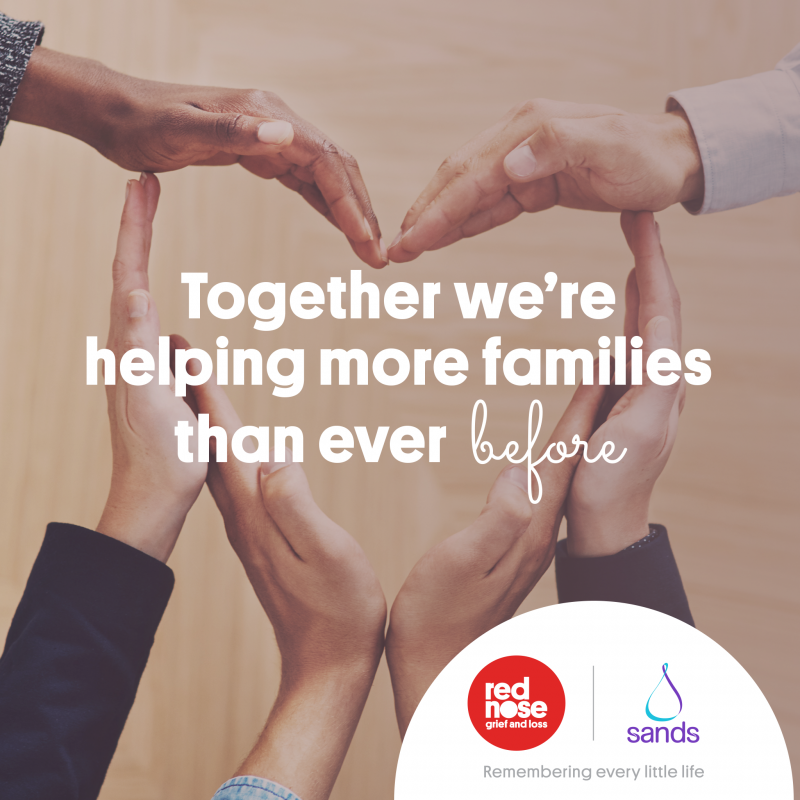 The new organisation will continue to be called Red Nose, but the peer-to-peer support services will be delivered under the Sands brand.
Red Nose and Sands have for some time been exploring the idea of joining forces to create a single organisation that will deliver high quality bereavement care and work towards preventing all sudden and unexpected deaths during pregnancy, infancy and early childhood.
Both Sands and Red Nose were founded by bereaved parents who wanted to make sure families received support following the death of a baby.
We share a long history, similar values, and a shared vision for the future – to provide parents with the best possible bereavement support services, and research and education to prevent babies and children from dying suddenly and unexpectedly.
The Sands model of care is grounded in peer support, which will complement our professional counselling services. Coming together as a single organisation will also simplify the process of seeking support and ensure families receive the right help on their grief journey.
As a joint organisation, we will have an even greater capacity to provide high quality bereavement support services and to invest more of our community funding into programs to support Australian families.
Once the current administration activities are completed, we expect that our day to day operations will remain largely unchanged. Sands staff and volunteers will continue doing their important work. We will continue to run our local offices and support groups focused on the local community.
There will be a considered process to bring our existing services and teams together that will take place over the next twelve months. Our supporters will have the opportunity to be involved in this process.
We are excited about the next chapter for Red Nose and are sincerely grateful for your continued support of bereaved families across Australia.
For more information please contact us on 1300 998 698 or visit sands.org.au