Press Release
28 JULY 2023
Red Nose Australia, a leading organisation providing pregnancy education, support and services to families affected by the loss of a pregnancy or child, is pleased to announce the appointment of Nick Xerakias as its new Chair. Nick assumes this position after the resignation of Craig Heatley, who served as Chair for 10 years.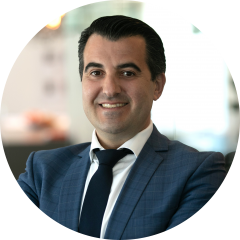 Nick brings a wealth of experience and dedication to his new role. Having joined the Red Nose Board in late 2020 following a merger with SANDS, Nick has been actively involved in the organisation's mission. His personal connection to the cause and his profound understanding of the challenges faced by bereaved families make him a passionate advocate for Red Nose's work.
Nick's journey began in 2017 when he and his wife Elena experienced the heartbreaking loss of their firstborn child Angelo at two weeks of age.
"We were fortunate to have an abundance of ongoing support from family and friends, but it was at the point of attending that first (SANDS support group) meeting that I realised that we are not alone…we all speak the same language due to our experiences,"
said Nick.
Of his appointment Nick says,
"I am extremely grateful for the opportunity to serve as Chair and am looking forward to continuing the important and impactful work that we do here at Red Nose."
Keren Ludski, CEO of Red Nose, says
"we are so fortunate to have Nick as Chair of the Red Nose Board. He brings with him a wealth of knowledge, skills and expertise as well as a true understanding as to the difference our organisation can make for so many families."
Red Nose Australia looks forward to continuing its vital work with guidance from Nick Xerakias, and other board and committee members. Red Nose remains dedicated to saving little lives and providing compassionate support to anyone affected by miscarriage, stillbirth and the death of a baby or child.
About Red Nose Australia
Red Nose is Australia's leading authority on safe sleep and safer pregnancy advice, and bereavement support for anyone affected by miscarriage, stillbirth and the death of a baby or child.
Those affected by miscarriage, stillbirth and baby or child death can contact the Red Nose 24/7 Grief and Loss Support Line 1300 308 307 or visit www.rednose.org.au for more information.