While Red Nose Day may have looked a little different this year, the support of the Australian community was stronger than ever – together we raised over $760,000 to fund research, support Aussie families, and save little lives. What a wonderful thing to do!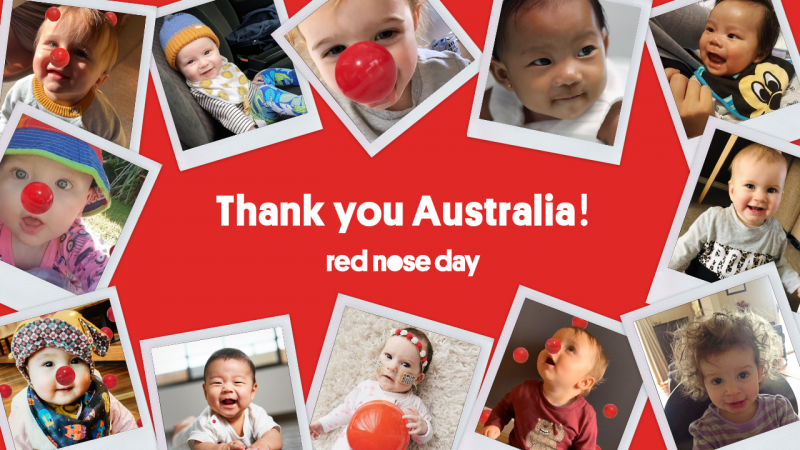 Over 1 million Aussies got involved in Red Nose Day this year, by buying merchandise, making donations, volunteering, telling their story, supporting each other, and raising funds to help end the devastation that is nine little lives lost every single day.
Red Nose CEO Keren Ludski said, "This year we called on all Australians who could, to join us in getting silly for a serious cause and we've been overwhelmed by the generous response.
COVID-19 presented all of us with many challenges, but just imagine what it's been like for the thousands of Australian families who have lost a baby during this time.
Red Nose is there, providing much-needed virtual grief support around the clock thanks to the generosity of Australians who dig deep each Red Nose Day."
New Red Noses
This year, the iconic red nose evolved into a brand new digital red nose and a reusable face mask, and we were absolutely blown away with the amazing videos and photos you all sent in wearing your virtual red noses.
From dancing children to playful puppies, our community really jumped on board and helped share the Red Nose Day message – showing that despite coronavirus isolation and restrictions, we are all here for each other.
A special thank you to every family who submitted a photo to become a Face of Red Nose Day. Your stories, warm wishes, and donations made all the difference and we loved showcasing your support on our billboards, social media channels and website.
Volunteers
While our amazing army of volunteers mostly weren't able to hit the streets shaking their donation tins like they usually would, thanks to new technology we hosted our first ever telethon!
Enthusiastic volunteers from across the country tuned into the call centre from their own homes, spending the day chatting to supporters and taking donations.
Volunteer and bereaved mother Naveen said it was so wonderful to come together with Red Nose volunteers and staff members to engage in an activity like the virtual telethon.
"So much of Red Nose Day is based around community connection and we were so grateful to be able to do something that could join together supporters from all across the country, " said Naveen. "The spirit of Red Nose Day was very much alive and it is thanks to the dedication and passion of our volunteers and long-standing supporters, who adapted to the circumstances with a smile on their face!"
Ambassadors
Red Nose Day was once again a star-studded event with long-term supporters The Wiggles and proud father of twin boys Jimmy 'Giggle' Rees jumping on board as ambassadors to help raise awareness and funds across Australia.
A very heart-felt thank you to our family ambassadors who bravely shared their stories of loss so that no bereaved parent feels alone. These are the stories of our community and the reason we are all here supporting Red Nose Day. You can read their stories here.
Partners
A big thank you to our major partner BIG W for their generous support and for ensuring that traditional Red Noses were available at their stores across Australia.
David Walker, Managing Director of BIG W said, "in 2020, BIG W is proud to be the official Red Nose Day retail partner and provide Red Nose with vital support it needs so it can continue to deliver lifesaving safe sleep support to all Australian families.
"Together we will continue progressing towards a future where no child dies suddenly and unexpectedly during pregnancy, infancy and childhood."
We are truly humbled by the support of the business community this year, we couldn't have done it without this amazing group of partners:
Major Partners
Supporting Partners
Sheridan
VTech
Little Rockers Radio
Savers
Media Partners
Nova
Channel 9
JCDecaux
Phoria
Upstride
Campaign Partners
Red Dot
nextra
Capital Chemist
NewsXpress
Pharmacist Advice
Soul Pattinson
Club Premium
PRD Nationwide
Shout For Good
YOUR IMPACT

Thanks to your incredible support this Red Nose Day, we raised over $760,000. Every dollar raised on Red Nose Day directly helps to fund research, support families, and save little lives.
These donations have already been put to work, enabling us to continue supporting Australian families by providing vital support for bereaved parents, and in our Safe Sleep Advice Hub where our Educators are helping mums and dads keep their babies safe each day, ensuring no calls for help go unanswered.
The funds raised from this year's Red Nose Day will help to fund:
One new research project to help prevent babies dying suddenly and unexpectedly – look out for an announcement early next year about this existing project.
One-on-one counselling and support for 1,200 newly bereaved families.
500 phone calls to our Safe Sleep Advice Line by anxious parents seeking advice about how to keep their baby safe – helping to save little lives.
Together we are working towards a future where no baby or child dies suddenly or unexpectedly, and to ensure that support is always available for those families who experience the unimaginable tragedy of losing a baby or child. None of this is possible without you!
Thank you again for your amazing support this Red Nose Day!

If you haven't made a donation yet, there is still time to give what you can. Visit rednoseday.org.au/donate or call us on 1300 998 698.