Fundraising appeal launched today to help stop alarming rate of 3,000 Aussie babies dying suddenly and unexpectedly each year.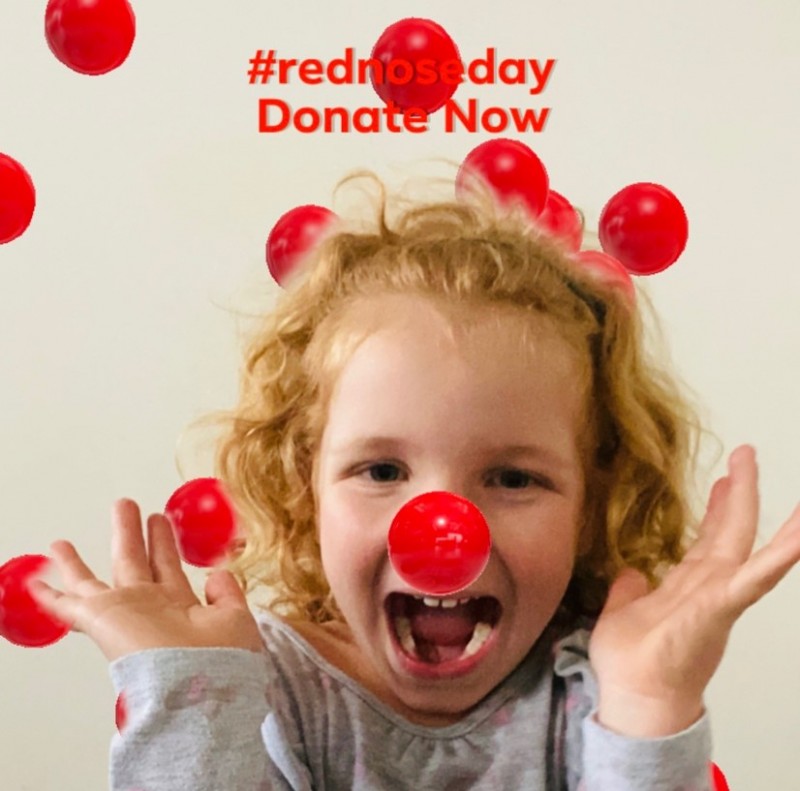 Australians are being 'mobile-ised' to raise vital funds this Red Nose Day and help curb the devastation of 9 little lives lost every day to stillbirth, sudden infant death and fatal sleeping accidents.
At Prince of Wales Private Hospital in Sydney today, Red Nose Australia launched the 32nd iconic Red Nose Day fundraising appeal, unveiling two fun new Digital Red Nose filters to help turn social distancing Aussies into social media fundraising stars.
Aussies are encouraged to screenshot themselves wearing our Digital Red Noses in Instagram and Facebook, make a donation, and submit their photo to become a Face of Red Nose Day – to be featured in our billboard ads and online.
Thanks to our major campaign partner BIG W, traditional Red Noses will be available at BIG W stores across Australia. Every dollar raised helps to save little lives and support grief-stricken families.
A recent study of 3,300 new parents from Queensland found 1 in 3 had not always put their babies to sleep on their backs – a key risk factor for sudden infant death. The number of sudden infant deaths in Australia has also jumped by 9 over the past year.
3,000 families - whose grief is compounded by the current COVID-19 restrictions - need Australia's help right now:
$45 can help save a baby's life by funding a parent's call to the Red Nose Safe Sleep Advice Line.
$80 provides immediate support for a grief-stricken family in crisis.
$128 funds a hospital discharge pack, with all the tools a new parent needs to keep baby safe at home.
$250 helps fund ground-breaking prevention research into the reasons why babies die from sudden infant death and stillbirth.
Quotes from Keren Ludski, CEO, Red Nose Australia
"We're calling on all Australians who can, to please join us in getting silly for our serious cause this Red Nose Day.
"COVID-19 has presented all of us with many challenges, but just imagine what it's been like for the thousands of Australian families who have lost a baby during this time? Red Nose is there, providing much-needed virtual grief support around the clock thanks to the generosity of Australians who dig deep each Red Nose Day."

Quotes from David Walker, Managing Director, BIG W
"In 2020, BIG W is proud to be the official Red Nose Day retail partner and provide Red Nose with vital support it needs so it can continue to deliver lifesaving safe sleep support to all Australian families. Together we will continue progressing towards a future where no child dies suddenly and unexpectedly during pregnancy, infancy and childhood.
All products sold at BIG W this Red Nose Day will fund vital research, education and bereavement support."
Access our Digital Red Noses (on your phone only):
• Grow your Digital Red Nose:
https://www.instagram.com/ar/3035323536516386/
https://www.facebook.com/fbcameraeffects/tryit/291150092085164/
• Bouncing Digital Red Nose:
https://www.instagram.com/ar/195555005223224/
https://www.facebook.com/fbcameraeffects/tryit/692073091646014/

More Information:

Social Media:
Main hashtag #rednoseday
Tag us on Facebook: @RedNoseAus
Tag us on Instagram: @rednoseaustralia

*Note: Hospital discharge pack includes Red Nose Safe Sleeping brochures (safe sleeping, safe wrapping, tummy time and cot-to-bed) plus a temperature tool.
Media contact:

Fiona Jordan

Mobile: 0402 846 867

Email: marketingrequests@rednose.org.au