Red Nose is holding a public safe sleeping workshop designed to help parents and carers understand the safest way to sleep their baby.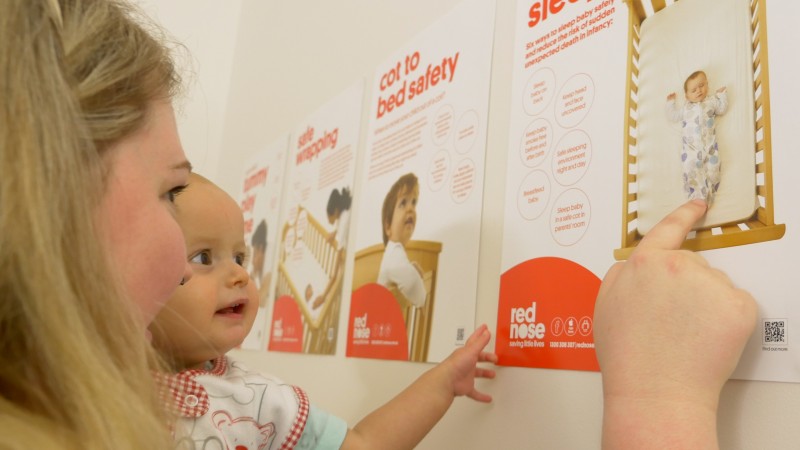 The practical workshops, to be held in North Ringwood and Avondale Heights in July, and Geelong, Point Cook and Wantirna, in August, are open to all parents, expectant parents, grandparents and carers.
Red Nose Manager of Health and Advocacy and registered nurse and midwife Jane Wiggill, said the workshop will provide participants with practical advice and easy-to- understand information on sleeping baby safely to reduce the risk of SIDS and fatal sleeping accidents.
"Sudden and unexpected death in babies and children is a parent's biggest fear, but luckily there are several things parents and carers can do that will significantly reduce the risks," she said.
"There's a lot of advice and information out there that can be very overwhelming. The information we cover in our workshop is based on our evidence-backed safe sleeping recommendations that have been developed in consultation with major health authorities, researchers, and paediatric experts."
The workshops will be led by qualified Red Nose safe sleeping educators, with information presented in an easy-to-understand and accessible format.
Mrs Wiggill said all parents and carers would benefit from the workshops. "We urge all mums and dads, carers and expectant parents to come along," she said. "Grandparents, relatives and friends are also welcome, as the information covered in the course is valuable to everyone who looks after a child."
The course costs $15 per person (excepting Wantirna) and bookings are essential.
North Ringwood:
It will be held at North Ringwood Community House, 35-39 Tortice Drive, Ringwood North, on Tuesday 24 July from 11.30am-12.30pm.
Bookings can be made via the following link: www.trybooking.com/WQNI
Avondale Heights:
It will be held at Avondale Heights Library and Learning Centre, 69-79 Military Rd, on Thursday 19 July, from 6.30pm-7.30pm.
Bookings can be made via the following link: https://www.trybooking.com/WYJL
Geelong
Eastern Hub Geelong, 285A McKillop Street, Geelong on Tuesday 7 August from 1pm to 2pm.

Bookings can be made at http://www.trybooking.com/WZYT
Point Cook
Jamieson Way Community Centre, 59 Jamieson Way, Point Cook on 16 August from 1pm to 2pm.
Bookings can be made at http://www.trybooking.com/WZYZ
Wantirna
Knox Civic Centre, Function Room 4, 511 Burwood Hwy, Wantirna on 24 August from 1:30pm to 2:30pm.
Bookings can be made at http://www.trybooking.com/WZZF. This is a free event, sponsored by Knox City Council.
About Red Nose
Red Nose (formerly SIDS and Kids) provides vital, evidence-based safe sleeping education to families and healthcare professionals all around Australia. They also conduct world-class research into sudden and unexpected death in infancy, including SIDS, accidental death and still birth. Red Nose also provides crucial bereavement support to those affected by the death of a baby or child, receiving more than 10,000 calls for support and education every year.
Since Red Nose's inception, over $16.7 million has been devoted into researching stillbirth, neonatal death, Sudden Infant Death Syndrome (SIDS), and other causes that contribute to the 3,200 unexpected infant deaths that devastate Australian families each year.
All education and information provided by Red Nose is evidence based and guided by Red Nose's National Scientific Advisory Group (NSAG), a committee made up of experts in research, health care, and midwifery.
The tireless work of Red Nose has reduced sudden and unexpected deaths by 85 per cent since 1990, saving 9,967 babies' lives.
For further information please contact:
Kasey Brunt
Marketing and Communications Manager - Red Nose
E: kaseybrunt@rednose.org.au
P: 0400 103 570