Red Nose has supported International Pregnancy and Infant Loss Awareness Month events held across the country this October, in remembrance of babies lost from causes including miscarriage, stillbirth, SIDS, and newborn death.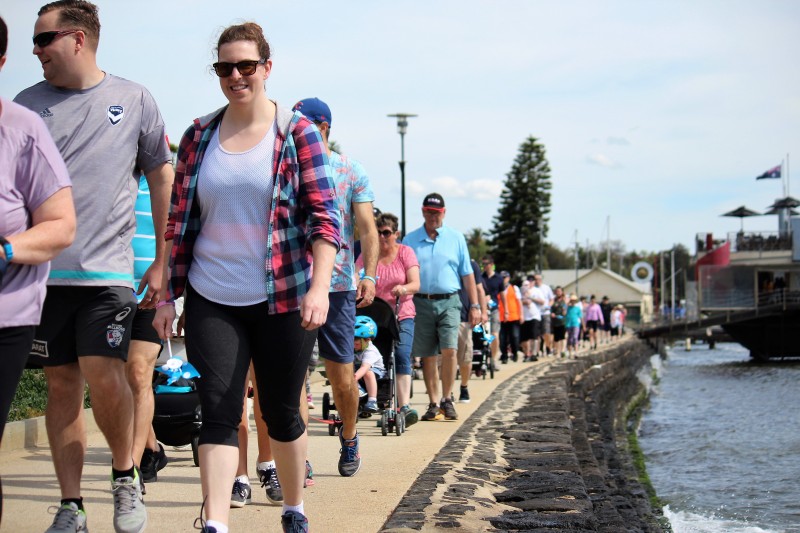 In the Illawarra region of New South Wales more than 150 parents, grandparents, family and friends walked the Seacliff Bridge in support of the Illawarra Baby and Child Loss Support group, which is run by Red Nose Peer Supporter Siria Thomas.
In Geelong about 250 people took part in the 'Walk of Hope', a four kilometre walk from Rippleside Park to Cunningham Pier and back.
Red Nose Grief and Loss bereavement counsellors spoke at a morning tea for hospital staff at Sydney's Westmead Hospital, and attended services at Eastern Suburbs Memorial Park and Woronora Memorial Park.
At Red Nose's office in the Perth suburb of Kensington, a special evening event was held at which parents could light a candle to honour their baby.
Pregnancy loss and infant death affect thousands of Australian families every year, and many turn to Red Nose Grief and Loss for support through our range of bereavement support services. Red Nose has been supporting grieving individuals and families for over 40 years, and we understand the sudden unexpected death of a baby or child is one of the most difficult experiences any person will face.
If you have been impacted by the death of a baby or child and need support, please reach out to us by calling our 24-hour bereavement line on 1300 308 307.
Support articles and information about our bereavement support services are available at rednosegriefandloss.com.au.
To make a donation in support of Red Nose Grief and Loss bereavement support services, visit rednose.org.au/donation.