Red Nose today announced that Red Nose Day fundraising efforts on 30 June 2017 are expected to surpass 2016 results by close to 10% – having raised an anticipated $1.1 million nationally.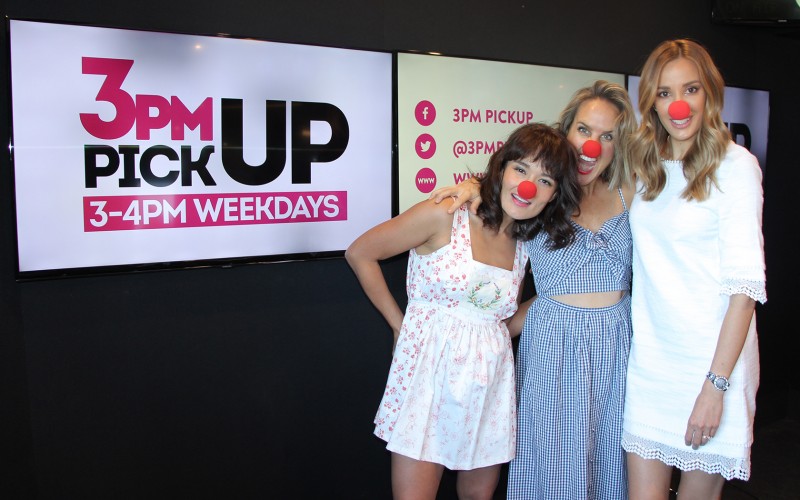 This milestone is largely due to support from the Australian public, along with that of Red Nose Day's major partners this year including Target, Big W, CUA, Australian Radio Network (ARN), iHeartRadio, Little Rockers Radio and more, and will make a significant impact in helping reduce the deaths of nine children a day to zero.
Red Nose and its partners urged Australians to support Red Nose Day this year by purchasing a red nose or other Red Nose Day product, making a donation, hosting a children's fundraising disco or setting up an online fundraising page.
While an official final figure won't be known until all fundraising packs nation-wide have been returned, it is estimated that collectively these Red Nose Day initiatives raised over $1 million for Red Nose's critical work in research, education and bereavement support. This includes the sale of over 400,000 Red Nose Day items.
Having just celebrated its 29th year, Red Nose Day is fundamental in raising awareness and funding for Red Nose's research, education and bereavement programs for sudden and unexpected deaths in infancy. Each year in Australia over 3,200 babies and children still die suddenly and unexpectedly - with causes including stillbirth, SIDS and fatal sleep accidents. It's Red Nose's relationships with the Australian public, along with key corporate, retail and media partners that enable them to work towards their target of reducing these nine deaths a day to zero.
Following a successful partnership in 2016, this year Red Nose reunited with Australia's leading commercial radio network, ARN, and its digital entertainment platform, iHeartRadio along with Little Rockers Radio - utilising their media channels to create a dedicated Red Nose Day radio station and further strengthen the reach of Red Nose Day's message and fundraising potential across the country.
Other Red Nose Day 2017 partners included long-standing major retail partners Target and Big W who, thanks to generous support from the Australian public, have together raised several million dollars for Red Nose since coming on board in 2008. Both retailers carried product boxes and merchandise in stores nationally throughout May and June 2017.
CUA are Red Nose's mission partner, working with them to explore new ways of increasing awareness and education for new and expectant mothers around how to sleep their baby safely and reduce the risk of SIDS and fatal sleep accidents. They provide corporate volunteering throughout the year for all Red Nose activities, as well as internal fundraising and participation on Red Nose Day via selling products in branches and head offices.
Terry White Chemmart, Best Buys, Pharmacist Advice, Soul Pattinson, Spotlight, Anaconda, Nextra, NewsXpress and Clark Rubber have all been national retail partners for almost a decade, selling Red Nose Day merchandise through their stores each May and June. Collectively these organisations have raised over $1 million combined for Red Nose Day to date. And in 2017, for the first time, Sheridan boutiques across Australia sold Red Nose Day merchandise. Sheridan are the official bed linen partners of Red Nose.
The Wiggles have been supporters of Red Nose Day for over 20 years, and supported the campaign again in 2017 through the development of CSAs for broadcast media, retail store announcements and advertising materials, donating prizing for fundraising activities, and conducting media interviews and appearances.
Other celebrity supporters for Red Nose Day this year included ARN on-air talent Kyle & Jackie O, Hughesy & Kate, Jonesy & Amanda, Jo & Lehmo, Monty, Yumi Stynes & Bec Judd, Bianca, Terry & Bob and Carmen & Fitzi as well as other celebrities including Zoe Foster-Blake, Michelle Bridges and 'Commando' Steve Willis, Georgia Love, Natalie Bassingthwaighte, the Sydney Swans, the St. Kilda Football Club, Sarah Harris, Kylie Gillies, Larry Emdur, Kyly Clarke, Barry Du Bois, Paulini Curuenavuli, Joe Hildebrand, 'Ranger' Stacey Thomson and Lucy Durack.
Communications agency Dentsu Mitchell provided pro bono advertising opportunities this year across broadcast, print and digital media for Red Nose Day.; Toll provided Red Nose Day-branded satchels plus discounted freight to enable products to be moved across the country cost-effectively, and Border Express also offered pro bono support to move large quantities of merchandise.
And of course, the Australian public showed massive support of Red Nose Day 2017, contributing significantly to the $1.1 million Red Nose expects as the final figure raised.
Yvonne Amos, Red Nose's General Manager of Marketing, Communications and Income Development says: "We are thrilled with the fundraising result for Red Nose Day this year. The anticipated $1.1 million raised is testament to the support of Australians and the strength and reach of our partnerships. All of this support is absolutely crucial in our mission to reduce the number of sudden and unexpected deaths of Australian children from nine per day to zero."
Rob Atkinson, CEO of Australian Radio Network says: "We are proud to have worked alongside Red Nose on their Red Nose Day campaign for the second year running.
"The result of the campaign this year is inspiring. We respect Red Nose's work whole-heartedly and are honoured to be able to use our network across the country to help them in their mission to save children's lives."
Laura Tomé, Sustainability Advisor Corporate Affairs for Target says: "Target have been a proud supporter of Red Nose Day for the past nine years. It's incredibly rewarding to be involved with our customers and get behind such an important cause."
While Red Nose Day 2017 has now passed, people can still make a donation or host a fundraising event. Go to rednoseday.com.au to learn more.