Spring cleaning has never been easier with Red Nose's pre-loved clothes and household items FREE pick up now launched in Sydney and surrounds.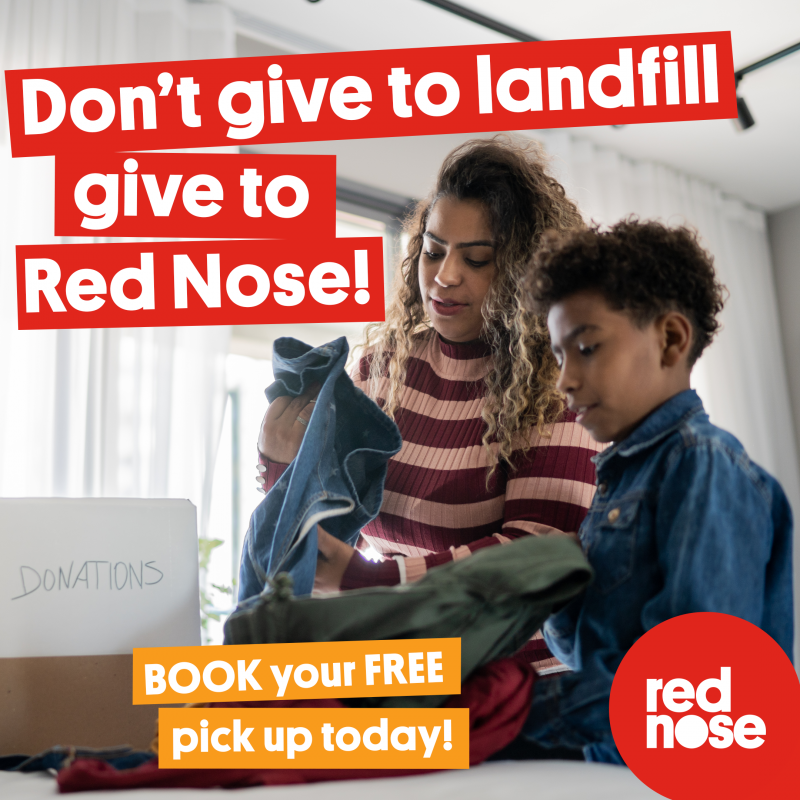 Last year our Victorian and South Australian program saved 2.45 million tonnes of items from landfill. Adding Sydney and its surrounds to the Red Nose Clothing Collections program will help save even more items from landfill. All money raised helps to save little lives and support grieving families.
Red Nose CEO Keren Ludski said, "Our mission at Red Nose is to help save little lives and support grieving families, whilst also helping the environment. Our Red Nose Clothing Collection program provides the opportunity for pre-loved items to find new homes, rather than ending up in landfill. It also provides funds to ensure we continue to provide our vital services."
Funds raised from the Red Nose Clothing Collections program last year, helped provide:
20,0000 counselling and support sessions
4,500 calls to our 24/7 support line
1,600 calls to our Safe Sleep Advice Line
100,000 new parents receiving Red Nose's research-backed safe sleep information
Funding for two research programs
Book your free pick-up by visiting rednose.org.au/recycle or call 1300 473 366.
Be a Clothing Collection Champion!
Help save even more lives by getting together with friends, neighbours and co-workers to champion our program and create a central drop-off point for one pick up for our team. Less pick up points for us, means more money to be invested into our programs.
Media contact: Ariana Kim – 0420 905 007 – arianakim@rednose.org.au