Our little bubba was only 10 weeks, when heaven gained a new angel. We decided to name them Scout.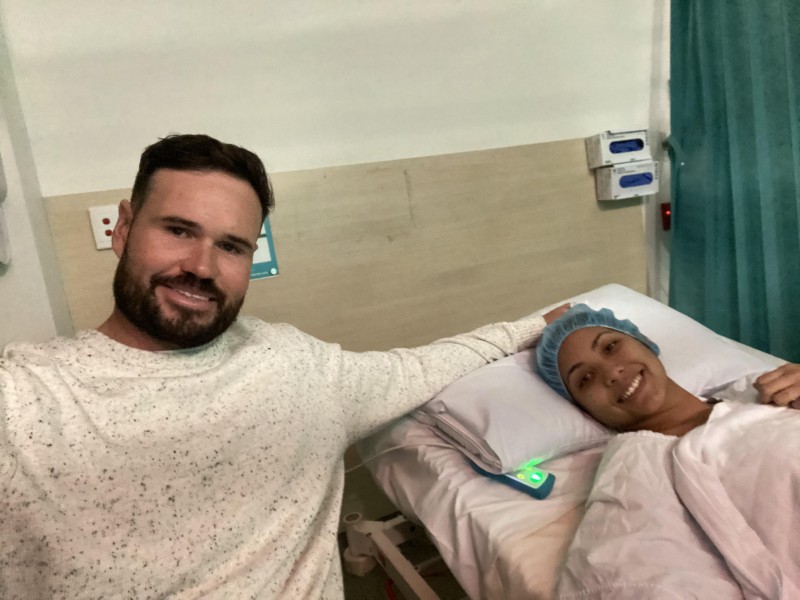 In April 2021, we found out we were pregnant with our first. It was everything we dreamed of when we saw that "positive" on the pregnancy stick.
At our first scan our world was turned upside down. The sac and yolk were measuring to size but the embryo was not. We were told to come back in 2 weeks.
That two weeks felt like the longest most painful weeks of our lives. At our second scan – we were told that the embryo was measuring but there was no heartbeat.
No heartbeat and our hearts breaking.
After being ushered into a small back room at the ultrasound place, the doctor on site recommended getting blood tests and coming back in a week – but we knew
After two blood tests that week, a phone call from my Dr confirmed the news. I was told to book in for a D&C the next day as my body wasn't recognising that the pregnancy wasn't progressing. Instead I actually went to work. I sat in meetings, led presentations – all before I called the obstetrician. When I did finally book, it hit me. I went to work that day before being able to process it all. It wasn't because my place of work wasn't supportive but I just thought I'd be fine and could manage this. When in reality I really needed time to digest it all and allow myself to feel all the emotions.
At 10 weeks exactly, we said goodbye to our little one.
Not only did I have to heal mentally, but now also physically. Miscarriage is such a damaging process and unless you go through it – it's really hard to understand the grief and pain you feel.
I took a week off work, which for me felt like it was enough time but coming back to the office was its own challenge in navigating how to respond to colleagues.
It made the situation harder as I had abruptly gone on annual leave and when I came back many of my colleagues had no idea what had happened and I was asked how my holiday was. I also found it really hard being asked by HR for a medical certificate as I had to use sick leave - I wasn't sick, it wasn't a cold!
Experiencing a miscarriage is such a damaging process – you're not only navigating the emotional pain but also the physical pain. One in four is the statistic, but you feel so alone and we shouldn't have to be. We need to normalise the conversation.
The scariest part is after – Do we try again? What if it happens again? The journey doesn't just stop the day you miscarry – there's more after and it's so important to get all the support you can.
October 15 is International Pregnancy and Infant Loss Remembrance Day.

Reach out to our 24/7 support line on 1300 308 307 or visit our support library

This year to acknowledge International Pregnancy and Infant Loss Remembrance Day we are sharing the moments of silence affecting bereaved parents to encourage conversation about pregnancy and infant loss for the month of October.