The sixth annual Sunshine Beach Run, held at the beautiful City Beach on 19 February, was bigger and better than ever with more than 1,100 participants raising more than $100,000 for Red Nose.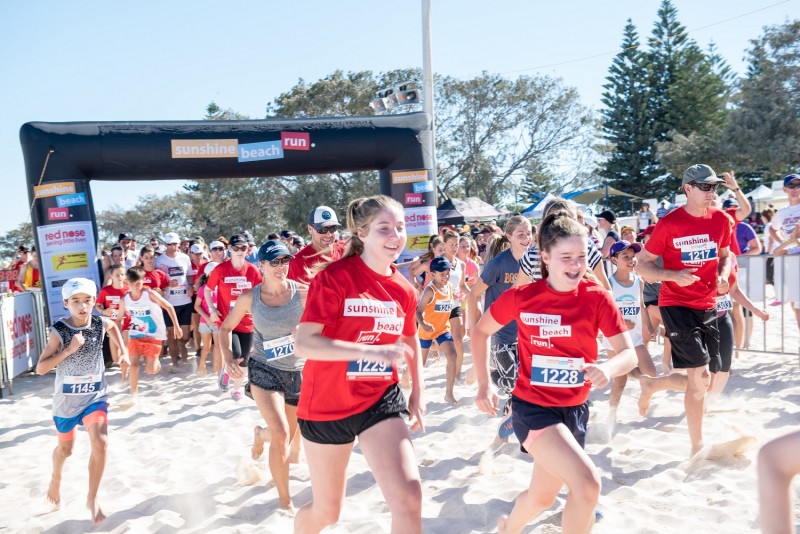 Founded in 2012 by West Coast Eagles physiotherapist Chris Perkin after the loss of his son Jake and wife Cindy, the Sunshine Beach Run is a great day out where bereaved families and friends come together to remember their loved ones and raise some much-appreciated funds for Red Nose.
After crossing our fingers for good weather after an unusual period of storms and humidity, we were blessed with a perfect sunny day out at the beach. Families, teams, men, women and children all came down and spent a fantastic morning out in the sun. Event ambassadors included West Coast Eagles Marc LeCras and Mattt Priddis, professional boxer Renae Wauhop, 96FM's Carmen and Fitzi and our community ambassadors Lauren and Rob Movick, Suzanne Kuuse and Jane Sutherland who all donated their time to help make this year's event a great success.
Events kicked off with a Celebrity Sprint race, which was kindly announced by sports broadcaster Adrian Barich. Participants Gabby Murphy (City of Perth SLSC), Peter Robertson (ELITE pb), Brenton Mizen (Athletics WA and St James' Anglican School), Dennis Teale (BOQ Floreat), Nick Reid (North Beach Football Club), Rupert (The Pamphleteers) and Josh Houlden (Scarborough Amateur Football Club) all slogged it out in the sand for the Perkin Memorial trophy. It was certainly a photo finish with Brenton and Nick diving over the line and being named joint winners!
Race participants then warmed up with Adelle of Body Jungle with a fantastic aerobic session before taking on a 1km, 3km or 5km walk/run. Meanwhile, spectators were treated to a flag demonstration from the Perth City Surf Life Saving Club and delicious snacks from Rendezvous Hotel's pop-up café and Delish Ice. The family fun zone was packed with happy children lining up for the bouncy castle, water slide, face painting and balloon animals. There were special appearances from Royal Life Saving's Dippy the Duck and Red Nose's own Sid, who had a great time dancing in the warm ups and giving out high-fives.
The presentation ceremonies saw Carmen and Fitzi give away prizes galore with race place winners, winners of the largest teams, highest fundraisers, raffles, spot prizes and even a children's dance competition! A new addition to the event was the Mylee Manning Award of Recognition, which was presented by the Manning family to inaugural winner, Ian Bassett. Ian has done an amazing job fundraising for, and generally supporting, Red Nose for many years and we thank both Ian and the Mannings for everything they do for us.
Thank you to everyone who ran, walked, or just came to watch and be a part of this wonderful event. We'd like to say a massive thank you to all our sponsors and supporters for helping us make the day happen. Another big thank you to all our amazing fundraisers who raised more than $20,000 alone. A very special thank you to all of our hardworking volunteers who kept everything running smoothly!
Don't forget to check out the Sunshine Beach Run Facebook page at https://www.facebook.com/SunshineBeachRun and tag yourself in the photos!
Sponsors
Gold Sponsors
The Phamphleteers
Silver Sponsors
Acton Real Estate
Bronze Sponsors
BOQ
Royal Life Saving Society
Buggy Buddys
Venue Sponsors
The Town of Cambridge
Supplier Sponsors
Rendezvous Hotel Scarborough
City Beach Travel and Cruise
Body Logic Physiotherapy
Brooks
Discus
Multi Sport Australia
Perth Face Painting Company
Aussie Farmers Direct
Uptempo
Mailmakers
Acqua Panna