During Reconciliation Week 2021 we were proud to launch our Reconciliation Action Plan.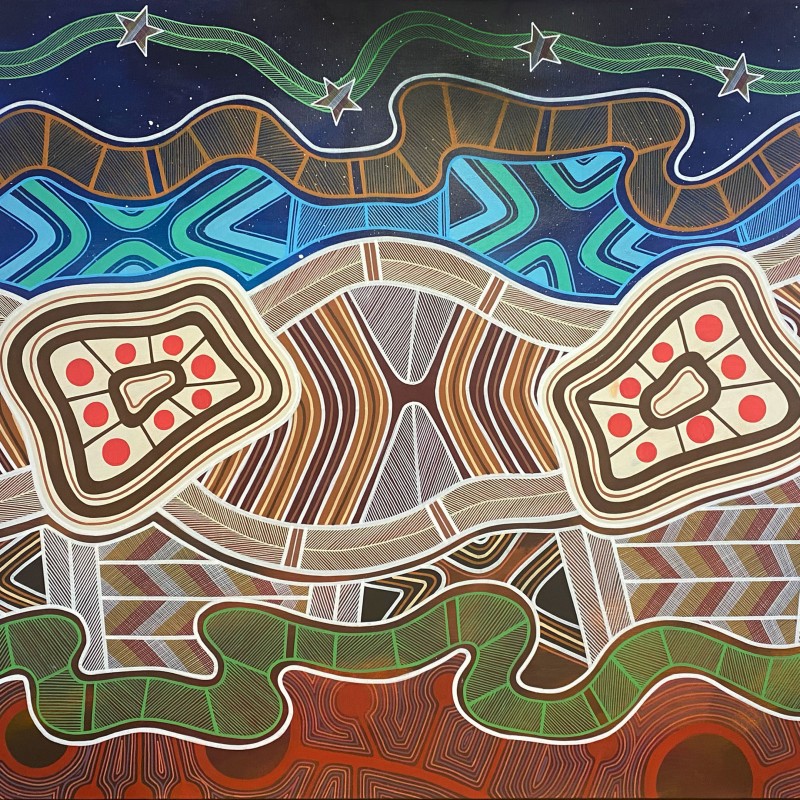 This is just the first step in an ambitious plan that we hope will deepen and develop further opportunities within our services to improve outcomes for Aboriginal and Torres
Strait Islander peoples and communities. During Safe Sleep Week in March 2022, we launched our Safe Sleep for Bubs brochure, which was adapted in consultation with community and included an Artwork commissioned from wonderful artist Tom Day.
This Artwork is part of the action plan and was commissioned to build relationships and trust within community. Artist Tom Day created the beautiful piece 'Harry.'


Artist's Statement
The night sky is glittering with stars representative of our babies lost but a monument to their spirits.
My brother Harrison is there also.
The two circles are us, the community that grieves and remembers our loved ones. Our paths leading to each other providing love, comfort and resilience to each other. They also represent the two areas of Red Nose's work: prevention/education and bereavement support.
The red circles are to represent Red Nose, identifiable across the nation. They are coupled together to represent the Red Nose family and strength that comes from family.
Across this artwork is countless lines and designs. Each line represents us, the families who've lost a loved one.
But by being together we carry on. We never forget them but continue living to honour them.
This painting is for us all, both Indigenous and non - Indigenous who've been touched by our loss. I want it to signify our strength, our struggles, our resilience but most importantly our connection to each other.
The painting is titled Harry in honour of my brother who we lost 30 years ago. I often think about what would have been but I know he is with me always. So, in a way this is my monument to him also.
TOM DAY 3rd
Gunditjmara
Yorta Yorta
Wemba Wemba