Red Nose is pleased to be partnering with VTech for another three years.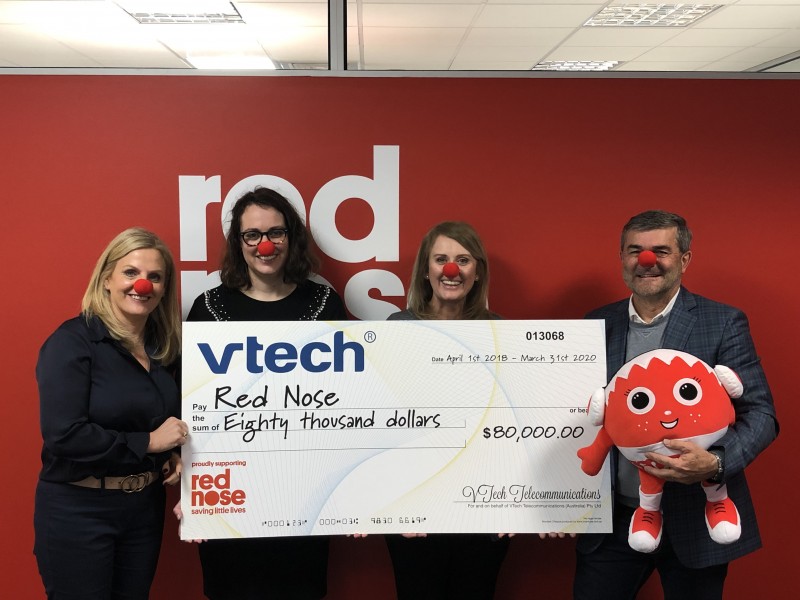 The electronic manufacturing services provider is the world's largest manufacturer of cordless phones, baby monitors and electronics.

Red Nose has partnered with VTech since 2015. In that time, VTech has provided a total of $185,000 in funding to Red Nose Australia to support vital safe sleeping education, research and bereavement support services. The funds are donated from a percentage of VTech product sales.

Last month, VTech Managing Director Mark Franklin visited Red Nose Australia, presenting CEO Keren Ludski; General Manager Fundraising & Marketing Amy Johnston; and National Partnerships Manager Lisa Box, with a cheque for $80,000.

"Our partners are integral to supporting the work we do, and we can't thank VTech enough for their support," Ms Ludski said.

"VTech is a company that is committed to raising awareness and education about safe sleeping in the community, and we look forward to the next three years."

VTech Managing Director Mark Franklin said: "VTech is very proud to be able to support such a worthy and deserving organisation that provides new and expectant parents with safe sleep education and counselling for bereaved families.

"The fact that our funds directly help support these programs is amazing and we are so happy to be part of the Red Nose family.

"We have long recognised the importance of safe sleeping practices and design and develop every one of our baby monitor products with this in mind.

"We have a responsibility to ensure that at the very minimum our products deliver the highest standard across compliance, regulatory and usability."

To celebrate this announcement, Red Nose Australia is giving away two VTech Full Colour Video & Audio Monitors valued at $150 each. To be in the running, like and share the VTech post appearing on our Facebook (facebook.com/RedNoseAust) page and Instagram page (@rednoseaustralia) by midnight AEDT Friday 20 September 2019.