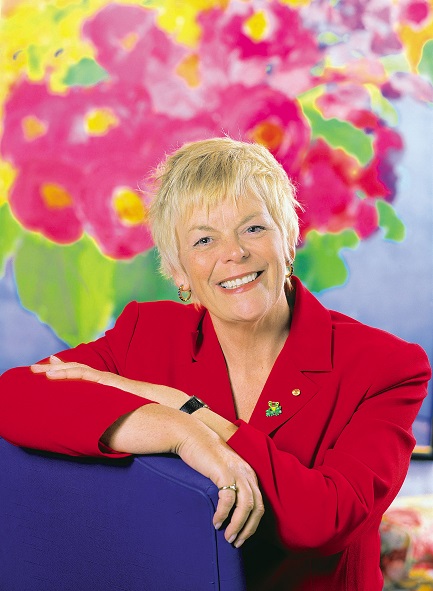 Kaarene Noelle Fitzgerald AC commenced the formation of the Sudden Infant Death Research Foundation Inc the day following the death of her son Glenn on July 10, 1977. As a result of this personal tragedy, Kaarene worked constantly and tirelessly to develop the Foundation into a vital and vibrant organisation.
From 1977 to 1981 Kaarene worked as a volunteer before gaining a small government grant which resulted in her position becoming salaried.
She was responsible for changing the perception of SIDS from one of suspicion to one of understanding the phenomenon as an unsolved medical problem.
She was also responsible for developing a direct referral system involving the Foundation, the Health Department, State Coroner's Office, Ambulance Service, and hospitals.
In 1982 Kaarene received third national Scotties Achievement Award made annually to the woman who has made the most outstanding achievements and changes in her own life or helped others around her. Kaarene was selected from 836 entrants.
Reducing the Risk, a community health program for Victorian health professionals and parents regarding the factors that reduce the risk of SIDS, was commenced in 1990.
Under Kaarene's guidance the Foundation piloted a program based in the Barwon region working with families of children who die suddenly and unexpectedly from causes other than SIDS. Prior to this service being available, these families did not receive any outreach counselling or ongoing support. Today, this service is available to all families in Australia whose children die suddenly and unexpectedly regardless of cause.
With the development of SIDS organisations in other states and territories, liaison was forged and eventually led to the formation of the National SIDS Council of Australia in 1986. As a director and executive member of the Council, Kaarene was intimately involved with all aspects of its development and ongoing work.
When the Red Nose Day campaign was initiated nationally in 1988, it was Kaarene who had the foresight and initiative to encourage the other member organisations of the National SIDS Council of Australia to use this unique method of fundraising.
As a co-founder of SIDS International, Kaarene was the inaugural secretary and then chairman of the group from 1989 to 1992.
Kaarene was also the inaugural chair of the Global Strategy Task Force, a body liaising with international researchers developing strategies for solving the problem of SIDS.
Kaarene chaired and organised one international and four national conferences and worked as a program consultant for many other conferences held throughout Australia and internationally.
In 1999 Kaarene was awarded a Companion in the Order of Australia (AC) in the Australia Day Honours List "For service to the community through commitment and support for Australian medical research into Sudden Infant Death Syndrome (SIDS) and in coordination of worldwide efforts to develop research and educational strategies to reduce sudden death in infancy."
Co-workers described Kaarene as "inspirational, innovative, energetic and a unique woman with great vision".
Kaarene died after a formidable battle with cancer on Saturday May 24, 2003 at Cabrini Palliative Care in Armadale with her loving family around her.