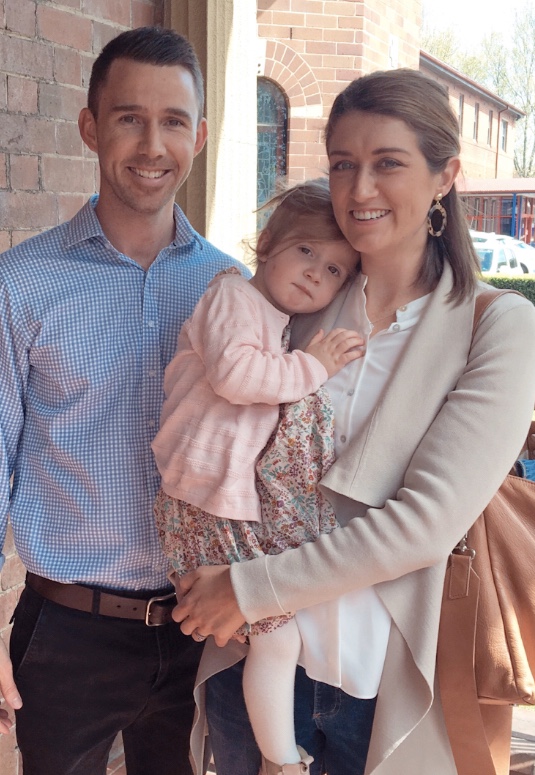 My husband Trent and I have two beautiful daughters. Our first daughter is Nina Alise Royan, who was stillborn at full term on 13 April 2015. Our second daughter Bonnie was born 15 March 2017 and she is now almost three years old.
My long awaited pregnancy with Nina had gone smoothly and Trent and I were excitedly awaiting the arrival of our first child.
I was 39+1 weeks pregnant when I woke and became concerned when I had not felt my normally active baby move. After only a couple of hours, we headed up to the hospital.
Although we had anxiously gone to be checked out, we never expected the devastating news that was about to come – news from the midwife and obstetrician that they were unable to find Nina's heartbeat. She had sadly passed away.
We were in complete shock.
The news was overwhelming, and hard to sink in. We could not believe that this could happen to us and that we made it all the way to full term only to lose our daughter.
The realisation then sunk in that not only would I be delivering my daughter stillborn the following day, that I would be delivering her on my birthday. A cruel twist of fate that in time has proven to create a very special connection between Nina and I – that we will forever share our birthdays.
Nina was born at Newcastle Private Hospital, and in such an awful situation we were comforted by how supportive the staff were. They organised for the Hunter Red Nose Staff to come and take moulds of Nina's hands and feet as a part of the 'Memory Collation Castings Program'.
Taking the moulds is something we would have never thought of doing, and will be eternally grateful for the hospital staff for recommending it and to the Hunter Office for creating the precious castings.
We now have the most beautiful and life like moulds that we will treasure forever.
I met two Red Nose team members when Nina's moulds were being done. I found this so comforting, as one of them had such a similar situation to mine and in the midst of the initial shock and grief it really helped to realise that you are not the only one who has been in this situation.
The Hunter Memory Collation Program was vital in my recovery, not only providing me with my treasured moulds, but because it's what also got me thought the door at Red Nose.
I'm not sure that I would have initially reached out for ongoing support if it hadn't been for the experience of getting the castings done. A month after Nina passed away, I received a call from Red Nose that my moulds were ready to be collected.
What I thought would be a quick drop in turned into over an hour of talking to the Red Nose staff and realising just how overwhelmed with grief I was.
I then took the offer of ongoing counselling support with counsellor Moira that I am so grateful for. Moira provided me with much needed support in order to help me navigate my way through my grief and eventually return to work.
I continued to keep in touch with the ladies at the Hunter Red Nose office, especially when anxiously pregnant with our second daughter Bonnie in 2017 who is now almost 3.
I got involved in volunteering for Red Nose Day and attended the yearly memorial service. Late in 2018, I was asked by Red Nose to be become a Peer Supporter. I was so pleased to get involved in this way as I felt that it was a wonderful opportunity to start giving back to others some of the wonderful support I had received.
Being a Peer Supporter means that I can now help Red Nose team member Shellie with the Memory Collation Castings Program this year.
I am a diagnostic radiographer with over 10 years' experience at a large trauma hospital. During my professional career, I have been exposed to performing forensic X-rays on stillborn babies for post mortem purposes. This unique experience alongside with my connection with Red Nose meant this was an area I felt I could assist with.
It means so much to be able to help provide grieving families with the beautiful hand and feet casts that they can treasure and take home to keep forever, in honour of my beautiful daughter Nina.
Trent and I will never completely understand how our daughter Nina passed away at full term. It is believed it was a possible cord injury but we will never have a definite answer.
It is shocking to realise just how common stillbirth is and that over many decades the stillbirth rate remains unchanged, even as we head into 2020.
We feel passionate that this has to change and we are grateful that Red Nose's is funding research to better understand and reduce future stillbirths so that other families do not have to go through the heartbreak of losing a child.
5 December is celebrated around the world as International Volunteer Day. It is an opportunity for us to acknowledge and say thank you to the many thousands of volunteers like Skye who give their time and talents to make the work on Red Nose possible. Thank you!
Red Nose Grief and Loss provides free, specialised support for anybody impacted by the death of a child. Call our 24/7 Support Line on 1300 308 307 or visit rednosegriefandloss.org.au