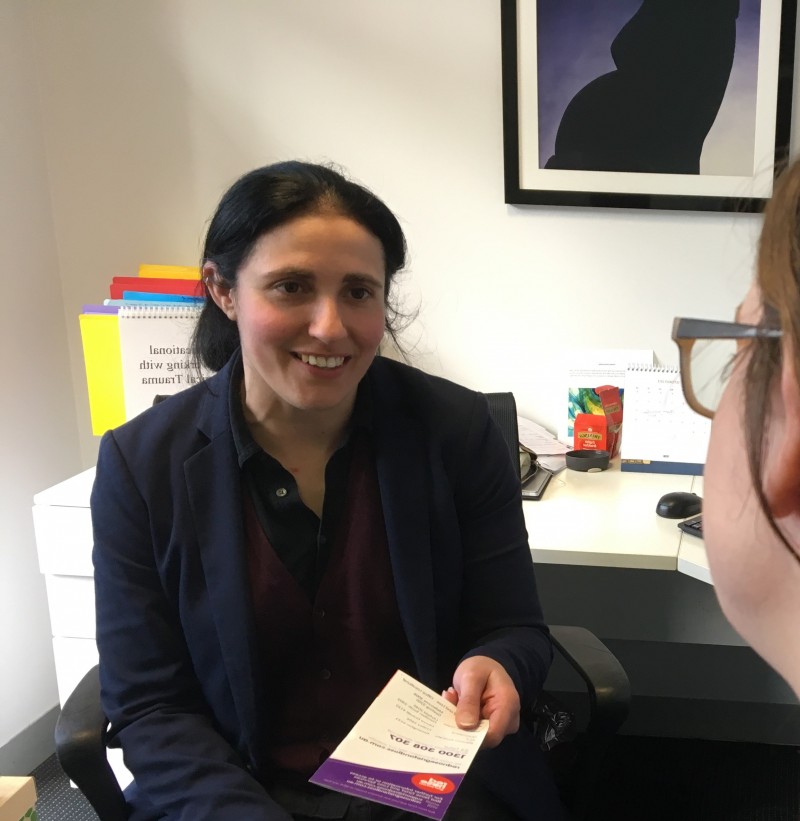 I am the Bereavement Clinical Services Manager at Red Nose, and I have been privileged to work in the Grief and Loss space for more than 10 years.
I started working with children and adolescents, and now work with children as young as four and adults as young as 80.
As a Grief and Loss Counsellor, I have long known about the important services Red Nose provides to the many families who have experienced the devastating and sudden death of their child.
But since joining the Red Nose team earlier this year, I can now see firsthand the impact of these services on the lives of so many families.
As a counsellor, it is a privileged position to be in, sitting alongside someone who is willing to sit with you in the darkest moments in their life. To be alongside someone as they begin an incredibly difficult journey.
More and more we are beginning to understand that bereavement counselling is a highly specialised field. While grief is a natural human response, we talk a lot about it being as individual as a fingerprint.
But what makes Red Nose's bereavement support services unique, is that we connect bereaved families to qualified counsellors, who have the specific skills and training to provide this specialised support for families who have lost a child.
And importantly, this support is given, free of charge, for as long as it is needed.
There are many misconceptions about how a person should grieve, which can cause them to question their emotions and reactions.
As a counsellor, I help families understand the many ways grief can be expressed.
Finding ways to safely share strong emotions, and develop strategies which can help them integrate the loss into their lives – because with grief, it never really leaves you.
And as many people within the Red Nose community know, the journey is about creating a new 'normal'. Because the person they were before is no longer the person they are now.
The families who walk through our doors are not simply clients, they become our community, our tribe, and they are at the heart of everything we do at Red Nose.
We travel together with them on a journey – a journey that they could never possibly have imagined they would have to take.
Guiding them through the darkness and leading them the through the twists and turns that grief throws at them.
Counselling can help families experience the emotions they never thought they would be able feel again…like joy, happiness, peace.
But travelling on that journey isn't easy for anyone involved, and the compassion and care that our bereavement counsellors extend each day can be tough for them too.
And that's why I talk with our counselling team about self-care, and believe it is so important, because when they are well, they have the emotional capacity to hold the space for families and do that well.
It is like the oxygen mask on the plane. You have to put it on yourself first before you can safely assist others.
So with our team, we talk a lot about ensuring we are grounded in ourselves, so they can then open up a space that allows them to be fully present with parents.
There are a lot of practitioners out there who offer grief and loss support, but Red Nose provides free bereavement support service where professional counsellors work with families who have lost a child.
This is important because bereavement counselling is a highly specialised field, which is different to depression and other mental health conditions. We want to make sure everyone affected by the death of a child gets the right support as they navigate their grief.
For me, one of the most important things that differentiates Red Nose from other organisations is the death that we work with in terms of children. This type of loss is one of the most difficult.
You should never lose a child. It's just not the order of how life should work.
One of the most common things our families talk about is their struggle to integrate back into their communities and workplaces.
It's almost like they are creating a new normality following the loss of a baby or child, because the person they were before is no longer the person they are now.
I often talk to families about how to ask for help – and how to accept help, which can often be difficult to do.
Most family, friends, colleagues and even strangers want to do the right thing, or say the right thing, but they don't know how to do that.
As exhausting as it can be for the bereaved family, sometimes it can be helpful for them to give those people guidance around what they need in that time – because no family should have to navigate the path of grief alone.
That's why I'm so passionate about working with bereaved families, and championing education and advocacy for them within the broader community.
In reality when we work with a family, we only get to see them for an hour once a week or fortnight. But the majority of their time is spent out in the community and in their workplace.

And that's why it's so important for our team to give them the tools they need to cope, as well as helping to educate their networks of support – so that family, friends and colleagues know how they can help bereaved families feel safe and supported, and avoid loneliness and isolation.
Grief never really leaves you. It ebbs and flows for a lifetime – but working with an experienced grief and loss counsellor, like the team at Red Nose, can help families find light in the darkest moments.
October is International Pregnancy and Infant Loss Awareness Month, an important time for those who have been impacted by the loss of a baby or child.
For bereaved families, it's an opportunity to start a conversation about their precious child, to let people know that it's ok to talk about their child – because they love to talk about her child, just like any other parent.
It also helps to educate and raise awareness in the community about pregnancy and infant loss. Not everyone who has lost a child will seek counselling, but they will need that support from their family, friends and from within their communities.
By raising awareness, and speaking openly and honestly with each other, we can reduce the stigma and darkness of grief, and make families feel safe and supported.
Red Nose grief and Loss provides free, specialised support for anybody impacted by the death of a child. Call our 24/7 Support line on 1300 308 307 or visit rednosegriefandloss.org.au


Help families in need
During October, we are raising funds to ensure our bereavement support services can continue on 24 hours a day, 7 days a week, free of charge, so no family has to go through the pain of losing their child alone.
Your caring donation today will help keep our services open and free for anyone who needs us, and help families rebuild their lives after all hope has been lost.