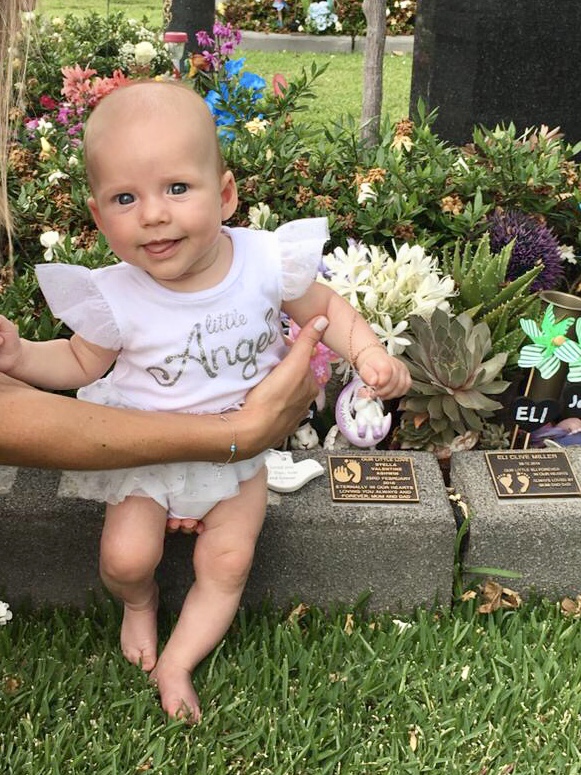 ** some readers may find this story upsetting **
For Alicia and husband Tyler, their pregnancy was perfect. Everything was going really well and their doctor was consistently happy with the progress.
When Alicia was 35 weeks pregnant, she had a busy weekend seeing friends and celebrating a birthday.
"It was a hot Sunday in February and I was in the car coming home and realised I hadn't felt the baby move in some time," Alicia says "I thought the baby may have been resting after a busy day."
Once they arrived home, they did everything you are told to do to get the baby moving, but became concerned when this did not work.
Alicia and Tyler called their hospital, and were told to come in.
"Everything had been going to well, so we were worried, but thought everything would be ok once we arrived at the hospital," Alicia says.
At the hospital, their medical team couldn't find a heartbeat. Alicia and Tyler were told their baby had died. It was so sudden and without warning.
"There is nothing that can prepare you for being told your baby has died, it is heart wrenching and shocking, and your world as you know it is ripped out from underneath you." Alicia says "We went home from the hospital that night unable to sleep, we were in complete shock."
The next morning Alicia and Tyler returned to the hospital to be induced. "The first thing our doctor said to us when she saw us that morning was that we would probably never find out why Stella had passed," Alicia says "That's a very hard thing to live with, becoming the statistic for the unknown cause."
"It was a natural birth, but the physical pain of childbirth was nothing compared with the ongoing heartache you feel after" explains Alicia "The physical pain disappears quickly and you are left with a broken heart."
"For me, giving birth was the easy part, but living each day with the sadness is the ongoing torture. To leave hospital without your new baby is horrible. We loved and missed her from the moment we met her."
Alicia and Tyler's beautiful baby girl was born in the early hours the following morning and they named her Stella Valentine, coincidently meaning star.
Following Stella's birth, Alicia and Tyler were able to spend time with her in the hospital.
"We were very fortunate that our families, parents and siblings were able to visit us and meet Stella. We took photos of the family with Stella and today they are some of my most treasured memories."
"We are very grateful for that time in hospital with Stella but we will always want what we can't have, and that is simply more time."
In the months that followed Stella's death, Alicia started to receive counselling through Red Nose.
"People often say it can be tricky to find the right counsellor, but I clicked with Rebecca straight away. She was so lovely and understanding and taught me so much about my grief. By the time our sessions came around each time, I would be desperate to talk to her, knowing I always walked away feeling much lighter after each session," she says.
"She taught me that my grief and love can sit side by side to one another."
"Everyone at Red Nose that I came to meet were so welcoming. I realised that I was a part of a club that no one wanted to be in, yet I had met some really great people as a result of that."
Three and a half years on, Alicia and Tyler are parents to a cheeky and beautiful 2 year old, Harper, who knows her sister "lives in the stars".
"I would give anything to change the outcome of what happened to Stella, but having her is one of our most proud moments, and we wouldn't change meeting her for anything."
"She has taught us to be grateful every day for Harper. I love watching her grow, explore and learn new things. I always wonder whether Stella would have been similar, would they have looked similar?" Alicia says.
"It is a good day for me when I get to tell someone new about Stella. I am so proud to have two beautiful girls, one in my arms and one forever in my heart."
With the time that has passed, the same question continues to haunt her parents "Why? Why did this happen to our beautiful Stella?'
Red Nose Grief and Loss provides free, specialised support for anybody impacted by the death of a child. Call our 24/7 Support Line on 1300 308 307 or visit rednosegriefandloss.org.au