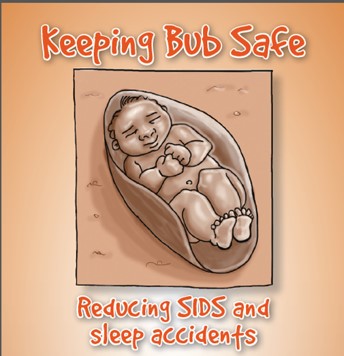 Thank you to the West Australian Aboriginal community members who helped develop and support the RROSIAC program.
Our Red Nose office in Western Australia offer an Aboriginal specific safe sleeping program designed to educated families about Sudden Infant Death Syndrome (SIDS) and Sudden unexpected Death in Infancy (SUDI). Education is tailored to raise awareness of infant mortality and to explain the sleeping recommendations with a strong focus on prevention of SIDS/SUDI/sleep accidents.
UPSKILLING- Students, Professionals & childcare centres
A cultural and clinical delivery of SIDS and SUDI evidence-based information. Identifying risks associated around sleep accidents and education on what is safe and what is unsafe for a baby. As well as an awareness of safety products and what is recommended by Red Nose.
For more information about this program, email education@rednose.org.au.
Download the RROSIAC brochure.

PROGRAM PARTNERS
Red Nose works in partnership with the following organisations to deliver the RROSIAC program:
Coolabaroo Child Care Service and Aboriginal Early Years Service
(Moorditch Gurlongga Assoc Inc.)
Phone: 9459 3868
Address: 73 Parkside Dve Thornlie
Email: childcare@coolabaroo.com.au
Website: http://coolabaroo.com.au
Phone: 9377 7922
Aboriginal Parent Support Service
Address: Meerilinga Children and Family Centre 106 Amazon Dve Beechboro
Email: apss@meerilinga.org.au
Website: www.meerilinga.org.au
Phone: 9458 0522
Arche Health (Formerly the Bentley Armadale Medicare Local Aboriginal Health Care Programs)
Address: Unit 4, 1140 Albany Hwy Bentley
Email: aht@archehealth.com.au
Website: www.archehealth.com.au
Phone: 9368 9308
Ngala Indigenous Parenting Service
Address: 26 Railway Pde Midland
Email: IPS@ngala.com.au
Website: www.ngala.com.au
Phone: 9417 2372
South Lake Ottey Family and Neighbourhood Centre
Address: 2A South Lake Drive South Lake
Email: otteyfam@bigpond.net.au
Website: https://www.facebook.com/OtteyCentre
Phone:9278 9924
Moort Boodjari Mia (Formerly known as: Aboriginal Maternity Group Practice)
Address: Midland Wednesday Clinic ,Department of Health, 18 Helena Street, Midland
Email:mbm@sjog.org.au
Phone: 6330 5400
Mobile: 0406 880 142
Women's Health & Family Service
Address: 227 Newcastle St Northbridge
Email: info@whfs.org.au
Website: www.whfs.org.au
Phone: 9421 3888
Fax: 6330 5499
Derbarl Yerrigan Health Service
Address: 156 Wittenoom St, East Perth WA 6004

Phone: 9591 2025
Babbingur Mia South Coastal Aboriginal Health Services
Fax: 9591 1860
Address: 61 Council Avenue, Rockingham WA 6168