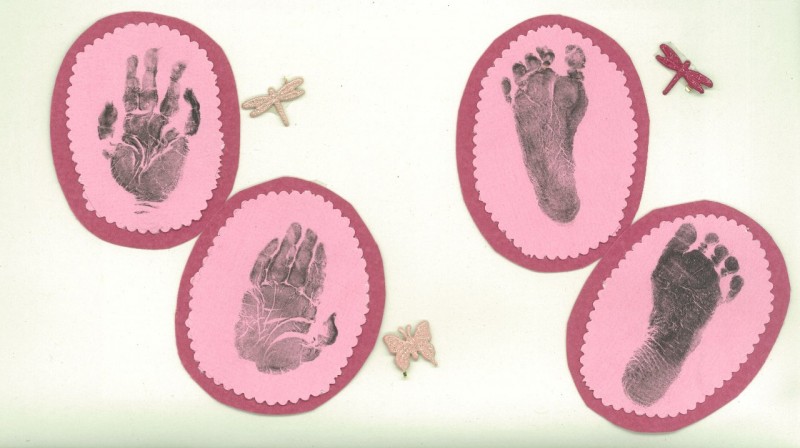 "Abigail was our long awaited for second baby.
"I fell pregnant really quickly with my first baby (Sienna, who is now 7 years old) - she was the stock-standard 40 week pregnancy.
"When we decided to get pregnant again, it took longer and it wasn't easy like the first time. We had just started the pre-IVF stuff, like tracking ovulation to help us out, when we fell pregnant with Abigail.
"I found out I was having a girl, and I can still remember how we were joking with the sonographer, as my hubby was saying, 'I know it's a boy".
Everything was fine up until that point
"We weren't concerned with anything, and our doctors weren't concerned with anything.
"In January I came down with a virus and I ended up in hospital. The hospital doctors said Abigail was fine, it was just me who was sick.
"I was just hitting the 23 week mark and I was getting ready to go to work when I noticed there was blood, which there never was with my first pregnancy. I panicked and headed straight to hospital after dropping Sienna off to day-care.
"When I arrived at hospital they found there was very little to no fluid around Abby.
"I guess this was the start of a week that felt really weird. She still had a heartbeat and I could still feel her moving around, but it hadn't really sunk in that everything may not be OK.
"During this week we met an Angel on Earth – Obstetrician Dr Ken Tan. Dr Tan was the first person to tell us straight out what this meant for Abby, and that was when it really hit that we were in for a really scary ride. She wasn't even 24 weeks.
"We were taken to Liverpool Hospital as there were no NICU beds available in Canberra.
We still thought everything would be OK
"When we got to Liverpool, we thought she would be born early and she'd have health risks to battle that come with a very premature birth, and we were really focused on preparing for that battle.
"The hospital staff were doing observations quite regularly, which was good because that really helped with my anxiety. At the suggestion of one of the nurses I recorded Abby's heartbeat during one of the observation sessions. This sound file is still on my phone to this day.
"At around two in the morning on 25 January, they came to do their checks and they couldn't find her.
"The room was very silent and I kind-of knew before they said it, 'I'm sorry there's no heartbeat'.
I felt like I was having an out of body experience
"It was like I was looking down on myself and the room. I remember wondering where the strange noise was coming from, when I realised it was me making a weird, wailing sound.
"Abby ended up being born just after midnight on the 26th of January. When she was born, I didn't quite know what to expect.
"They asked us if we wanted to look at her. I knew I wanted to look at her and hold her, but I just didn't know what she would look like.
"When I saw her, she was so perfect, she had her sister's nose. I remember making a comment that again I didn't get a look-in at all, that she looked exactly like her sister, who looks like her dad.
"It was hard to try and fit in a lifetime of cuddles in a short time. I just kept talking to her, telling her all about her sister, singing Twinkle Twinkle Little Star to her.
"We got to pick out an outfit for her, we put her in a little dress. I still have the booties and the tiny, tiny beanie she wore. They are in a frame at home. I remember the staff doing all the usual things you do after birth, like take her measurements and weigh her.
It was a horrible, horrible feeling leaving the hospital without her
"We came home to Canberra straight away. I didn't want to stay in hospital any longer.
"It was horrible having to leave her behind. It was the strangest feeling not walking out of hospital with a baby in my arms.
"We were given an Angel Memory Bear and it went everywhere with me. I got really protective with it. John, my husband would ask if he could look at it and I couldn't put it down. It was the only thing I had to hold on to that was hers.
"A week later, we did a memorial service with just close family so Sienna could be involved. She was only 2-and-a-half at the time, but she's a cluey kid, so she knew something wasn't right.
"We had Abby cremated, and when we got her ashes home, I took her around and showed her everything. I showed her where her nursey was, and her big sister's bedroom. I showed her our family photo wall, where there was a space on the wall for her photo.
I realised I needed someone to talk to
"I reached out to a lady I used to work with who had lost a child. I didn't know what was normal or 'right' anymore. I felt guilty if I had a good day, like I couldn't laugh because my daughter died.
"She put me in touch with Red Nose and a group of ladies that she had met through the organisation. It was a lifeline because I was in a safe space where I could ask the questions I needed answered.
"Unless you have been through it, you can't really understand. People have the right intentions, but often don't know what to say. And, if they say the wrong thing, even if they don't mean it, it can really hurt you.
"Red Nose's 24/7 Support Line was a lifesaver for me the first few months. Because they did the observation checks with Abby around 2am, I was struggling to get to sleep. Night was hard for me.
"As good as my husband was a supporting me, he was also going through this, and he was grieving differently.
"The death of a child puts a massive strain on relationships. For me, I shut down, I'd cry for hours, or I'd be on the couch not able to move; whereas my husband just wanted to keep busy, go back to work, and keep things running. We were polar opposites.
Red Nose helped us
"Red Nose gave my husband a space where he could talk and meet other dads. For us as a couple, they helped us understand that grieving differently was OK, and it was OK for John to want to go back to work, and it was OK for me not to want to go back to work.
"I will be forever grateful to Red Nose for this, and also to the group of ladies I met.
"Going to Red Nose's remembrance service the first year was something I won't ever forget. We still have the message on the card we wrote for Abby; and we still have the flower we were given, although it's dried now. For us, these things are a tangible piece of Abby that we will have forever.
"We do something every January 26 to remember her. We have a birthday party – a picnic where we had her memorial, we get little cupcakes and we sing happy birthday.
"Sienna loves to release a balloon for Abby – and we always get two balloons – one for Sienna to keep until it deflates, and one we let go for Abby.
"I always have Gerberas in the house, which are the flowers we had at Abby's memorial. They always help. You have days where life is OK, but then days when it just hits you - there's often no rhyme or reason to it. It happened to me two weeks ago – it was like a sucker punch from nowhere, so I went and brought some Gerberas to take home.
We have grown so much from losing her and going through what we did.
"When we were ready to try again, we went through one round of IVF which was unsuccessful, then I fell pregnant naturally, with James. Our wonderful Angel on Earth, Dr Ken Tan who helped us with Abby and was there for us afterward, was our Angel again for James.
"With James, my membrane ruptured again, same as it did with Abby, only this time I felt it and knew what had happened.
"Dr Ken Tan was there the entire time, and again we knew we would everything we could to make sure everything would be OK.
James was born very early, at 28 weeks, in December.
"He's not a replacement for Abby, he's a different being and he will grow up knowing all about his sister.
"James was still in the hospital on what would have been Abby's third birthday, but my husband was determined he wouldn't miss out on the birthday party, so he arranged for an oxygen tank so we could wheel James outside.
"The group of ladies I met through Red Nose were a huge support for me, visiting me in hospital, and answering my questions. They helped keep my anxiety in check and helped me understand why I was feeling what I was feeling.
It will be five years in January
"It's almost been five years, which seems like a long time, but in some ways it really isn't. She would be starting school.
"Each year we do a fundraiser in honour of Abby, to raise funds for Red Nose and to give back to the organisation that helped us.
"Whenever we do family portraits we make sure all our children are in them – Sienna, James and Abby's teddy, and this means the world to us. People will look at the picture, and go, 'oh look Sienna has her teddy', but we know it is Abby.
Feel what you are feeling
"If I could say anything to other mums going through this now, I'd say, 'just feel it. Feel what you are feeling and go with what feels right to you. This grief, it's a tough, horrible feeling, but if you need to scream from the rooftops, then scream from the roof tops.
"And even though you have friends and family who help you, seek out support from organisations who know how to help and can put you in touch with other parents who have gone through this.
"And try to make memories, even though you may not want people to come in and take photos or do castings. These are the things you want to hold on to after. It may feel strange, but allow this to happen, because you need the photos and the memories of this special little part of your family."
Red Nose Grief and Loss provides free, specialised support for anybody impacted by the death of a child. Call our 24/7 Support Line on 1300 308 307 or visit rednosegriefandloss.org.au