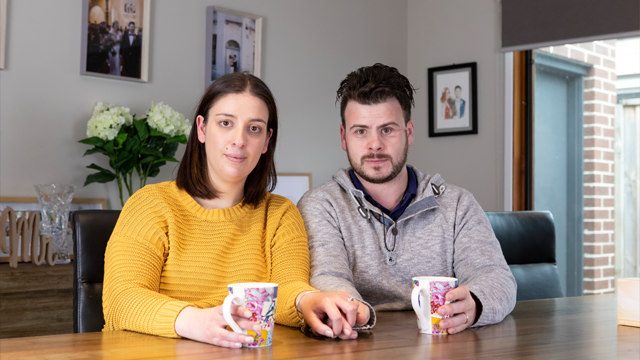 School teachers Kayla and Chris Borg had been married for six months when they found out they were pregnant.
They were excited to be starting their family and the next chapter of their lives together.
Kayla says it was a cruisy pregnancy.
"Everything was going fine. We were pretty carefree, especially once we ticked off the 12 week mark," Kayla says. "Once we got past that milestone, we were just happy and excited about what was to come."
"Grace would have been our first daughter," says Chris. "It was a routine pregnancy until one day it wasn't."
At their 20 week scan, they received the news that no parent should ever have to hear – there was no heartbeat.
Their baby did not survive.
A few days later, Kayla gave birth to Grace Maree Borg. Grace was born still on 11 May 2019.
Kayla says that after it happened, there was this emptiness – emptiness of knowing things weren't going to work out the way they wanted them to.
"Leading up to and throughout the pregnancy, all you can think about is what they'll be like when they grow up," explains proud dad, Chris.
"When it's taken away, it's just so unfair – all the firsts we and Grace will miss."
"First day of school… taking her to sport… teaching her to play a musical instrument".
"We've been robbed of all of those things – that's what stillbirth does," explains Chris.
"Everything that Grace is going to miss – this should have been her first Christmas".
"The hardest thing is not knowing why – that's the first question and the ongoing question. Why did it happen? What did we do wrong? Not being to get an answer to this is so hard."
But Chris says you can't stop bad things from happening in life, it's just part of the journey.
After it happened, Kayla and Chris were supported by families and friends as well as by Red Nose.
"We felt some comfort just knowing that Red Nose was there for us, and that we didn't have to go through this heartache alone."
Kayla says that listening to stories of other parents who have suffered a similar loss has made it feel like a less lonely journey.
"You are never alone," says Kayla. "There are so many people out there willing to help, listen and connect."
"My advice for other families is to make sure you take the time to look after yourselves, but also to connect and talk to others."
"Talking about your child is important too," Kayla says. "Telling people our story has helped us to heal and to ensure that Grace's legacy is honoured."
Chris says they remember Grace in little ways.
"We have a special place set up in our home, with some reminders of Grace that help us to think about her, and her grandparents, Mick and Jo, created a special garden in her memory on the family property in Flowerdale."
"If we go on to have other children, they will know Grace," says Kayla. "She will always be part of our family."
"We are sharing our story to help Red Nose raise more funds for research so we can help reach the goal of a future where no child dies suddenly or unexpectedly during pregnancy, infancy or childhood," Chris explains.
"Although Grace never got to see what the world had to offer her, she is loved by all of her family and her legacy lives on in their hearts and actions," says Chris.
Red Nose Grief and Loss is here for anyone affected by the death of a baby or child. Call our 24/7 Support Line on 1300 308 307 or visit rednosegriefandloss.org.au.
Fund research today – because every family deserves a lifetime of happy memories.