This study aims to inform and support the ongoing implementation of best-practice bereavement support services at Red Nose.
Project Lead: Associate Professor Fran Boyle
Host Institution: The University of Queensland
Duration: 18 months
Funded amount: $99,606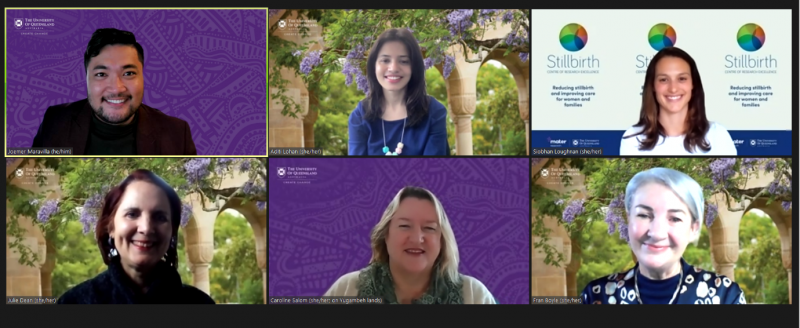 Evidence from the literature, consultation with parents and service providers, and review of existing Red Nose data will inform understanding of crucial touchpoints in the parent service journey. The research methods will identify opportunities to enhance service design, implementation, and evaluation.
Meet the Team
The project will be conducted by a multi-disciplinary team whose members are nationally and internationally recognised in health services research and perinatal bereavement care and who are passionate about ensuring the best possible care for parents who experience the devastating experience of the death of a baby or child. Based at The University of Queensland's (UQ) Institute for Social Science Research (ISSR), the team brings to the project a combination of skills and experience in research, policy and practice engagement in the health and social sectors, and advocacy for bereaved parents and other groups with complex psychosocial needs. Members of the team also bring to the project their own lived experiences of pregnancy and infant loss. Team members are also part of the Australian Centre for Research Excellence in Stillbirth (Stillbirth CRE).
Associate Professor Fran Boyle, the project lead, is a social scientist and health services researcher with a background in public health and psychology. She co-leads the Stillbirth CRE's Care after Stillbirth program and is committed to improving outcomes for women and families through the implementation and evaluation of best practice parent-centred perinatal bereavement care in hospital and community settings.

Dr Julie Dean: a social scientist and registered psychologist whose research expertise includes supporting families experiencing perinatal loss.

Dr Siobhan Loughnan: an early career researcher with the Stillbirth CRE with a background in eMental Health, perinatal psychology and cancer care, her work focuses on ways to help optimise and implement best practice
bereavement care around the time of stillbirth and neonatal death, and in subsequent pregnancies.

Dr Aditi Lohan: an early career researcher with a strong interest in perinatal bereavement care as well as in parenting, couple and child relationships; developmental disabilities; early intervention and evidence-based interventions.

Associate Professor Caroline Salom: an evaluation specialist with a substantive focus on mental health and alcohol and drug use issues and associated health and social conditions.

Dr Joemer Maravilla: a health epidemiologist and former nurse with a special interest in maternal health and specific expertise in the advanced quantitative analysis for the study of health interventions and outcomes.