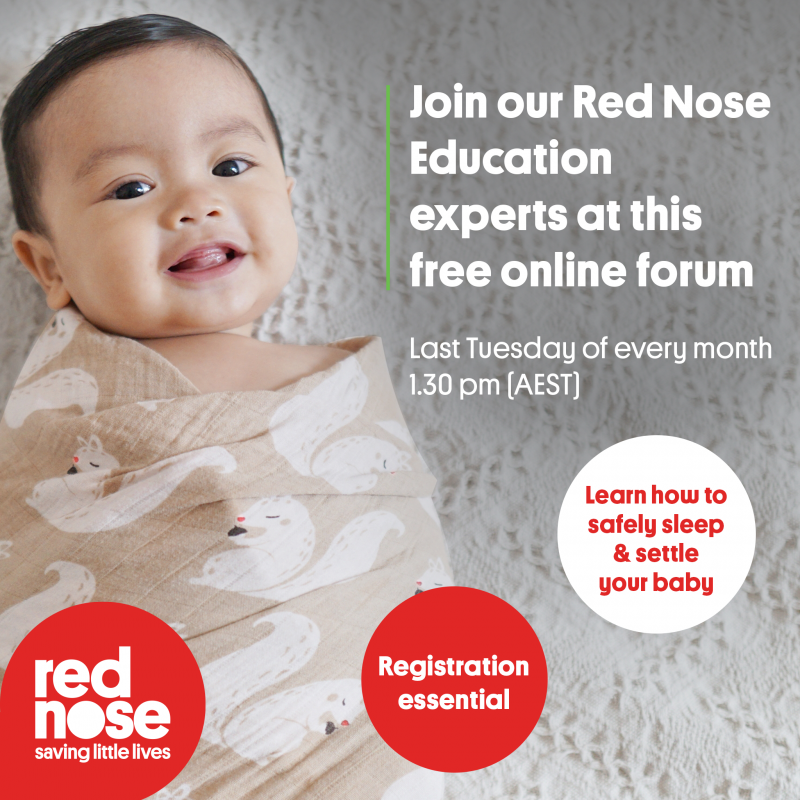 When

27 September – 27 December 2022
Join our Safe Sleep Experts online to learn about Red Nose's safe sleep recommendations, settling and other relevant topics. Along with other new parents, you'll be able to tune into our discussions, ask endless questions and find out about available resources to assist you with the care of your baby.
The sessions are held on the last Tuesday of each month at 1:30pm (AEST/AEDT). All you need to do is complete the registration form below to attend, and prior to the event date, we will send a ZOOM link.
Upcoming Dates & Parent Forum Topics
| | |
| --- | --- |
| 27th September | Swaddling, rolling and bassinet use |
| 25th October | Safe Settling & Comforters |
| 29th November | Overheating & SIDS, Temperature for Summer, covers for pram |
| 28th February 2023 | Safer Pregnancy & Safe Nursery |
| 28th March 2023 | Safe sleep and settling |
| 25th April 2023 | Swaddling, rolling and bassinet use. |
| 30th May 2023 | Safe Settling & Comforters |
| 27th June 2023 | Overheating & SIDS, Temperature for Winter, hats and heaters |
| 25th July 2023 | Safer Pregnancy & Safe Nursery |
| 29th August 2023 | Safe sleep and settling |
| 26th September 2023 | Swaddling, rolling and bassinet use. |
| 31st October 2023 | Safe Settling & Comforters |
| 28th November 2023 | Overheating & SIDS, Temperature for Summer, covers for pram |