As part of a new ACCC education initiative on inclined baby products, Red Nose is warning parents to please never use these products to help a baby sleep.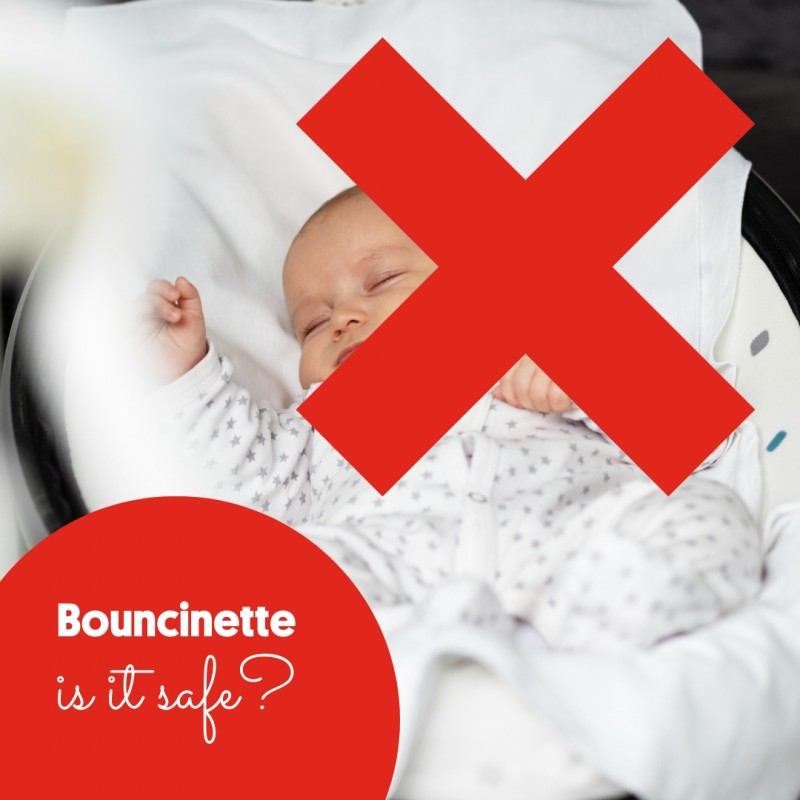 Inclined baby products are often marketed as 'baby sleepers,' 'rockers' or 'bouncers,' with many claiming that they may help settle babies and ease the pain and discomfort associated with reflux. However, these products can potentially increase the risk of sudden unexpected infant death as a baby's head can tilt forward, resulting in their chin resting on their chest and potentially compressing and obstructing the airway.
Some inclined products also have padded sides that contribute to the risk of suffocation or asphyxiation if the baby turns their face into the padding or rolls over in the device. Soft surfaces can obstruct the baby's airway causing suffocation or allow exhaled air to build up around the mouth and nose, resulting in "rebreathing" of carbon dioxide, which can be fatal.  
Red Nose urges parents to reconsider using inclined baby products and to please never use these products to help a baby sleep.   
"Red Nose Australia has long been urging Australian families to reconsider the use of bouncinetts and inclined surfaces for sleeping. We are very excited to have the ACCC join us to amplify this message."
Said Keren Ludski – Red Nose CEO
Red Nose strongly recommends that parents and caregivers follow the six safe sleep recommendations to reduce the risk of sudden infant death in babies or infants.  
The evidence-based six safe sleep recommendations are: 
Always place baby on their back to sleep. 
Keep baby's face and head uncovered. 
Keep baby smoke-free, before and after birth. 
Have a safe sleeping environment night and day. Ensure you have a mattress that is firm, clean and flat with no loose blankets, soft bedding, toys, pillows, or bumpers. 
Sleep baby in their own safe sleep space in the parent or caregiver's room for the first 6 months. 
Breastfeed baby if possible.
Parents and carers can visit babyproductsafety.gov.au for the full guide of latest, most reliable information on best practices to keep their baby safe and on unsafe products.
The Red Nose Safe Sleep Advice Line is available on 1300 998 698 (Monday to Friday, 9am to 5pm) where parents and caregivers can speak to sleep educators and be given up-to-date, safe sleep advice. 
Quotes from Tiffany Fryett, Senior Education Officer, Red Nose Australia
 "Babies have proportionately large heavy heads in relation to their body, and thick short necks. By placing a baby to sleep in an inclined position there's a greater risk of babies' heads rolling forward into a chin-to-chest position, which can increase the risk of suffocation as the airway becomes compressed and obstructed. For this reason, babies should be placed on their backs to sleep with their face and head uncovered. 

"The Red Nose safe sleep recommendations are all research and evidence-based and have helped to reduce the incidence of SIDS in Australia by 80 percent since 1989. 

"If you use a bouncer to entertain your little one, ensure you can always see them, that they are within arm's reach and if your baby looks like they are going to fall asleep, move them to a safe sleep space. 

"If parents need support in creating a safe sleep environment, or advice around following the Red Nose safe sleep recommendations, we encourage them to call our free Red Nose Safe Sleep Advice Line on 1300 998 698 to speak with our sleep educators." 
* Breastfeed baby, when possible. Breastfeeding has been shown to reduce the risk of sudden infant death.

Learn more about Red Nose Safe Sleeping Recommendations here.
What is a safe sleeping environment for your baby? Learn more here.
Visit the babyproductsafety.gov.au website here.
For interviews: Rhiannon Contin I 0448 368 203 | rhiannoncontin@rednose.org.au