Ariana Kim, Red Nose PR Specialist and Mum to Ollie, Audrey, Harvey, Owen and Ashton shares her story of loss and how Red Nose helped her and her husband Andy.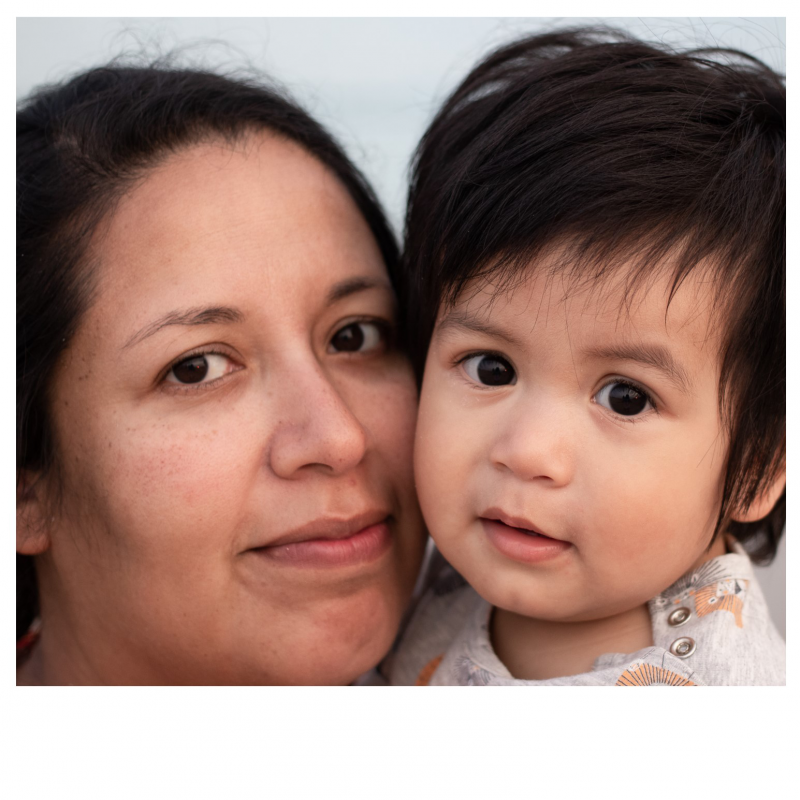 To all the beautiful Red Nose supporters out there, I want to say thank you.
From deep within my heart, I thank you for standing by the great work that Red Nose does in supporting parents and families in their greatest time of need.
My husband Andy and I, were able to receive support in a way that we never thought we would ever need, or knew existed. And it's thanks to the generosity of Red Nose supporters that families, like mine, are able to start healing from the unbelievably sad loss of their child.
I will never forget the day I held my beautiful baby girl in my arms and gently kissed her forehead for the first, and last, time. I remember that heart-shattering day like it was yesterday.
A Mystery Condition Leads to Heartbreak
I was just 20 weeks into my pregnancy when I began to have dizzy spells. I'd stand up normally and suddenly blackout, then wake up again within seconds.
I had no idea this would be the beginning of my heartbreaking goodbye to my precious baby girl.
As a bereaved mother, I know all too well the pain, sorrow and disbelief of losing a child.
Perhaps child loss is part of your own story? Or maybe you are one of the thousands of grandparents, siblings, aunts, uncles and friends closely impacted by a devastating loss.
At Red Nose, we have listened to so many stories from families and the tragedy of little lives cut short. We know how important it is to have someone there to help parents and family members through the darkest days of grief.
We're committed to providing first-class bereavement support to anyone impacted by the loss of a baby or child, for any reason.
It's thanks to you, our supporters, that Red Nose's 24/7 Support Line, a free service, can continue to help parents and support them through their grief.
No one should have to go through the unimaginable horror of losing a child. But if they do, you can make sure Red Nose is always there to support them.
I didn't know it at the time, but the dizzy spells I felt were actually mini strokes caused by blood clots in one of my legs and in my placenta.
I had an undetected autoimmune condition, called Antiphospholipid Syndrome (APS), which was causing the strokes. Not only can APS cause blood clots, but it also meant I was at high risk of miscarriage and stillbirth.
I'd never even heard of APS.
Then, at just over 23 weeks, I felt strong waves of pain in my lower back. And I just knew something wasn't quite right.
My baby was still kicking healthily at regular intervals, so I didn't think she was in danger. But as a first-time mum, I was being cautious and went straight to an emergency room just in case.
At the hospital, I found out that my back pain was a symptom of eclampsia, a severe complication of preeclampsia.
I was right to be worried.
My blood pressure was very high and a test showed my organs were failing…the only way to save both me and the baby was to deliver that day.
An Impossible Choice
My husband Andy and I were told that I wouldn't be able to carry our baby to full term.
But a premature delivery meant my beautiful baby would suffer because of lack of oxygen and nutrients. If she did manage to survive, there would be brain damage and our longed-for baby girl would not have the life we'd always imagined.
The doctors told us it would be our choice whether she would be resuscitated.
Suddenly, we were faced with making a heartbreaking, almost impossible choice that had no hopeful outcome.
Facing that choice is a harrowing experience. Regardless of what you decide, you feel guilt. It's a no-win situation.
Early the next morning, that impossible choice was taken away when our baby daughter, Ollie, weighing just 350 grams, was born still.
While my story may be tragic, unfortunately, it's not unique.

That's why we are so grateful for your generosity. You're helping to ensure parents and families receive the care and support they need to navigate through their grief after the loss of a baby or child.
Every day in Australia, nine babies continue to die suddenly and unexpectedly. That's nine little lives cut short. And nine families forever changed. Every single day.
Finding others who have experienced something similar can bring so much comfort to grieving families – and those who can understand and listen without pity or judgement can make all the difference.
Red Nose's bereavement support services include a 24-hour Grief and Loss support line, peer support and one-on-one counselling. And thanks to your generosity, each is offered free of charge and for as long they needed.
There are also services available to help parents return to work or even join support groups to help each other along their journey of grief.
My Treasured Baby
When the time came to deliver Ollie, I suddenly felt this rush and she slid out of the birth canal. Right into my hands. She was so incredibly tiny and just seemed like she was asleep.
I was in so much shock. I remember just crying to my midwife that I had no clothes for her. That's when she told me about the Treasured Babies Program.
Run completely by volunteers, Treasured Babies offers handmade items to dress precious stillborn babies, giving parents and families a chance to make their babies as comfortable as possible while they say their goodbyes.
I spent three special days with my baby girl, choosing clothes for her and making the most of our time together. I picked a white little gown, little booties and a blanket. I also took some imprints of her tiny hands and feet, and photos, just as we would if she was born any other way.
As a final goodbye, I held her and kissed her forehead. Then they took her away.
The whole time, it felt like I was having an out-of-body experience, like I was watching what was happening instead of being the one going through it.
Those few days passed by so quickly and I didn't take any of it in at the time. But now, I have these precious memories and keepsakes to cherish forever.
Everybody grieves differently. But what we all have in common is that it stays with you forever, you never get over it.
We're so thankful for your ongoing help for families by ensuring a network of Grief and Loss Services are always available, free of charge. Thank you so much!
Due to the risks associated with my APS, I was told it would be too dangerous to ever try for another baby, and to consider surrogacy and adoption instead.
But I didn't want to give up on my dream of expanding my family. I felt like someone took something away from me. I was only 29 years old at the time and I just couldn't accept that I couldn't have children.
I found an obstetrician that specialised in high-risk pregnancies and thankfully I was able to have four healthy children: Audrey, 9, Harvey, 7, Owen, 3, and Ashton, 2.
Having a girl after losing a girl helped in a way. It felt like we were meant to have a girl in our lives.
The People Behind 'Treasured Babies'
My journey came full circle last year, when I started a new job as a PR Specialist at Red Nose. My first day was just two days after what would have been Ollie's 11th birthday on April 30, so it felt extra special to me.
When I met the team, they had no idea that I'd lost a baby myself. Though many that work at Red Nose also have lived experience.
But it was the day I met Cindy, who runs the Treasured Babies Program, that felt extra-special. It was only then that I realised it was actually Red Nose helping me through my darkest days.
Being able to thank her was so special. It gave me such a sense of relief — it truly was meant to be.
Now, I get to spend my days working for a cause that is incredibly close to my heart. And with important supporters like you!
Together, we will continue to:
End the agony – by funding life-changing research to uncover the reason why 3,200 children in Australia die suddenly and unexpectedly during pregnancy, infancy or childhood, every year
Prevent the pain – by turning our research findings into public health education campaigns that inform all Australian parents and help save little lives.
Heal the heartbreak – by continuing to support every single person that has been impacted by the death of a child, through a range of free services that ensures they get the support they need.
From the bottom of my heart, I want to thank you for generously supporting Red Nose. Your support means so much to grieving families just like mine, at those times when they need it most.
The heart-shattering pain of losing a child suddenly and unexpectedly stays with you forever. That's why we need your ongoing support to ensure our Grief and Loss Services are always available, free of charge for families who need them.

Please give generously today, so we can support every family who needs us. DONATE NOW >
If this story has brought back any difficult memories, please know that we are here for you. Our free Grief and Loss Support Line is available 24/7 if you need extra support – call us now on 1300 308 307.