"Miscarriage is common, but I found that having gone through it twice this year that other people only now share their experience with me."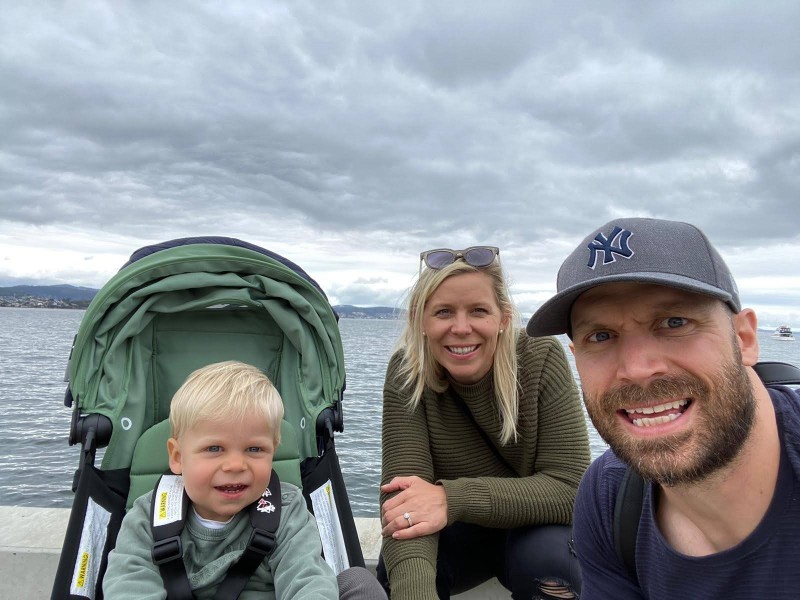 2021 has been an incredibly difficult year for many people, particularly for those in Sydney, where I live with my beautiful husband Ian, and our energetic two-year-old son, Ellis.
Millions of people around me have been enduring hardship related to the pandemic. Lockdown, job losses, home schooling challenges - which I know well, being a teacher - and even the death of loved ones. With the community so focused on COVID, it's easy to forget about other things that break hearts – like miscarriage.
This year, our family has endured two devastating losses.
In March, I miscarried at 6/7 weeks. It was terrible and very strange experience. As it was still early in my pregnancy, I hadn't shared the news with people, and then when the unthinkable happened, I stayed silent. This was hard. No one knew why I was off work. No one knew the hurt I was feeling returning to work.
I soon fell pregnant again, and did what many consider the norm and only shared my pregnancy news after my 13-week scan. Everything was going well and it was time to share with the world our news of joy. Our baby girl was on her way.
The weeks leading up to this were some of the hardest. I suffered from terrible morning sickness and needed people to help me. I told lies about having different sicknesses, when I was really just pregnant! After finally reaching the 'safe time' to talk, I did.
But then, at 15 weeks, I went into hospital with some spotting. It was there that my water broke and I went into labour, delivering my own baby. I held her in my own hands. She was absolutely perfect. The midwife we had at the hospital was outstanding and looked after us all, incredibly. We were able to keep our baby girl with us as long as we needed to. Our midwife then took some hand and foot prints of our baby and has placed them in a special book. She also took some photos – I am not able to look at these yet, but my husband has. She put them in an envelope for later.
Going home in lockdown, following the ordeal was tough. No one could come and see us, take our toddler off our hands or just even give us a hug. In some ways, it made my husband and I rely on each other for support (not a bad thing), but not having the 'village' physically around us for support was very challenging.
When I saw the theme for PAIL this year was silence, it made me reflect on how infrequently I'd heard stories about miscarriage. Those conversations were incredibly rare – too rare when you think about the fact that 1 in 4 pregnancies end in miscarriage in Australia today. But I do notice that now when I tell people about my miscarriages, they will share their own miscarriage experiences in return.
Some people, of course, are not ready to share their stories. But for those who are, Pregnancy and Infant Loss awareness month in October, including International Pregnancy and Infant Loss Remembrance Day on 15 October, is an important time.
Pregnancy & Infant Loss Remembrance Day is a day to stop and appreciate the memories you have of your little one. Whether it be a scan, a cuddle or even a feeling you have when you think of your little one, today is about acknowledging those memories. A time for me to tell our story. During my miscarriage I suffered the unimaginable, losing my child. My son lost his sister, my husband lost his daughter and I lost my tiny baby girl.
October 15 is International Pregnancy and Infant Loss Remembrance Day.

Reach out to our 24/7 support line on 1300 308 307 or visit our support library

This year to acknowledge International Pregnancy and Infant Loss Remembrance Day we are sharing the moments of silence affecting bereaved parents to encourage conversation about pregnancy and infant loss for the month of October.