This pandemic is affecting all of us, in ways none of us could have imagined.
I wanted to take this opportunity to thank you for your ongoing support and to update you on how Red Nose continues to adapt and provide uninterrupted support for families across the country.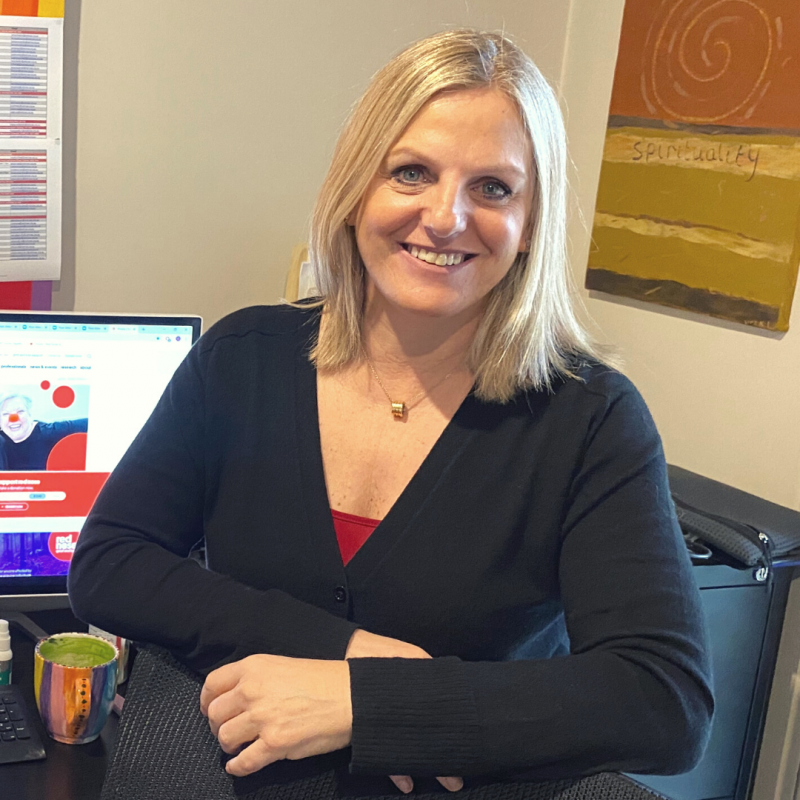 Throughout this crisis, the health and safety of our staff, clients, and community members has been our highest priority.
As you know our offices have been closed since mid-March and our team continues to work from home today. We have used every resource and skill available to adapt to remote working to continue delivering all of our support and education either online or via phone.
Our 24/7 Grief and Loss Support Line continues to operate as usual, providing free, 24/7 support for anyone impacted by the death of a baby or child on 1300 308 307.
Our Safe Sleep Advice Hub has also continued to operate, but it has been a struggle to keep it open every day as we face very challenging economic conditions.
We are grateful for the support of some local and state governments – and of course the enduring love, support and donations from our wonderful Red Nose community.
Without our incredible family of supporters, we may have needed to close our doors and turn away families in their time of need.
Unfortunately, this crisis has put enormous pressure on our finances and we were forced to make some very challenging decisions.
By late March we had cut all expenditure not directly related to our ability to provide services for families – so we could direct all our resources into getting through this crisis together.
And while we focused on keeping our core support services continuing uninterrupted, we also saw a significant increase in the number of calls for help.
Calls to our Grief and Loss Support Line increased by over 40 percent. Some of the calls I've taken from extremely distressed parents are just heartbreaking. They are saying:
"I feel so helpless and out of control at the moment. This virus is bringing up all my fears and anxiety again. I don't know how to manage all of this"
"I can't believe this is happening right now. I am due to give birth to my rainbow baby and am terrified that my husband won't be able to be there with me. I can't do this on my own."
As a bereaved mum who had her own rainbow daughter, I know that with the immense joy of having my daughter also came immense fear and anxiety. I couldn't have got through those early days without the support of Red Nose.
Our Safe Sleep education team is also supporting more parents than ever before receiving 30 percent more calls for help than usual.
Many new parents are struggling with feelings of anxiety, and every week we take calls from more and more highly distressed parents saying things like:
"It's scary having a baby in the middle of a pandemic. I only want to do what's right for my baby, but I'm so scared I'll lose her."
"I'm feeling so isolated at home, no one can visit me, not even my Maternal Health nurse, how do I know if I'm doing it properly?"
We know that evidence-based safe sleep and pregnancy advice saves little lives. It directly helps parents keep their babies safe – and over the last 30 years, has helped to reduce SIDS by 85 percent.
I know you'll agree that we can't let one single call for help go unanswered.
And so far, thanks to your generous support, we have been there for every family that reached out for help.
But the need continues, and I need your ongoing support now more than ever.
If you haven't yet had the chance to make your tax deductible donation, know there is still time to send it in before 30 June and make a tax deduction you can be truly proud of.
You can donate online here, or call me on 1300 998 698.
I promise to make every donation count, and I commit to keeping you updated on what is happening as you help us pull through this crisis and bring care and comfort to anxious families when they need it most.
To those who have been able to make a donation to see us through this crisis – thank you. Your incredible support means the world to parents – you're their lifeline, and I thank you again for your generosity.
Whether you made a donation, shared one of our posts on social media, encouraged a friend to call the Grief and Loss Support Line, or simply sent us some love – you have made an amazing impact.
Our community is stronger today, because of you. Thank you from the bottom of my heart.