Edwina, one of our wonderful peer support volunteers, joined Red Nose shortly after the birth of her third child, Elodie.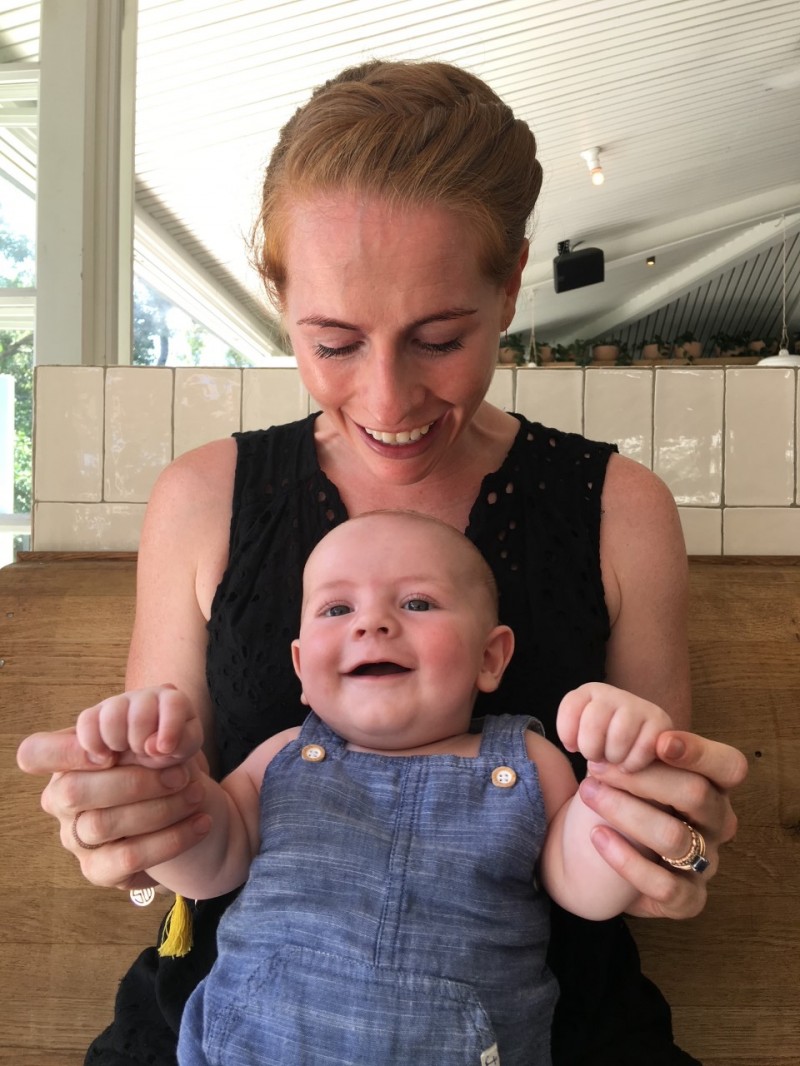 On the day Elodie was born, a midwife asked for a huge favour.
In the same hospital, a family had lost their baby at 37 weeks a few days before.
The midwife at the hospital knew that Edwina had lost her first son Sebby and instinctively understood that if anyone were willing to help this family, it would be Edwina.
After spending time with their still baby, the family had asked if they could hold another baby, a living one. Edwina and her family were more than happy to allow them some time with Elodie.
This moment created a beautiful friendship between the two families and made Edwina realise that she wanted to support other families through the worst days of their lives. It made her think, 'how am I not doing this?' And from here, she joined the Sands and Red Nose peer support team.
Sebastian, Sebby, The Seb was a beautiful boy who bought love and light and expressive eyebrows to anyone lucky enough to stumble into his orbit.
He appeared healthy and well until he started having seizures. Sadly, he had a rare genetic condition. So rare that only one other identified child in Australia has the same condition. Sebby was not expected to die, even after discovering his condition, but he did when he was ten months.
Edwina thinks that the death of a child changes you as a person. 'You're a different person; you're a better listener.'
These differences give her, and other peer support workers like her a better insight and ability to connect with families who call our support line.
People often call when they don't think they will get through this, but Edwina says
'I know they will get through it.'
'Friends and family often say the worst things, but someone who has been through a similar thing can empathise better. For the caller, knowing that someone else has been through it and is still functioning helps.'
Edwina says it is the tone change of a phone call that she loves the most about being a peer support worker. The caller will often be floundering, almost hyperventilating and sobbing when they first call, but by the end of the conversation, they know they just have to get through one day, a few more hours, then they can sleep.
Before I started 'I asked my trainer, how do you know when the call is over? I was told 'you'll know,' and it's true. You just know.'
Before considering becoming a peer support worker, Edwina advises,
'Don't rush into it with your own grief. I couldn't have done this in the first year. It would feel too close. But once you recognise your pain is love, then you can offer love to other people. And that is definitely worthwhile.'
Edwina has also shared her story with Mamamia which you can read here.
If you need help, you can call our 24/7 bereavement support line on 1300 308 307.
__________________________________________________________________________________________________________________
Edwina was also featured on The Glimmer Podcast by Dr Ashleigh Smith. This podcast is for fellow grieving families who have suffered pregnancy loss - miscarriage's, stillbirth or neonatal death.
The mission of this podcast is to assist you to come through this cruel twist of fate, with as much psychological fortitude, compassion for yourself and connection with others as possible, using wisdom, knowledge and insights sourced from interviewing experts and specialists in the fields commonly accessed by grieving mothers.
Check out their episode here and more about the podcast here: "Who can you talk to about baby-loss? This episode is all about managing tricky conversations with family and friends, and the free support available from the Red-Nose support line"
__________________________________________________________________________________________________________________
Red Nose Peer Support workers
Red Nose and Sands Peer Support workers like Edwina are specially trained to support bereaved families across losses - from early miscarriage to losing a baby or child.