Launching this Sunday 5 February 2023, the Red Nose MusselRowers, will be the first ever all-female rowing team to attempt to cross one of the most treacherous bodies of water in Australia - the Bass Strait.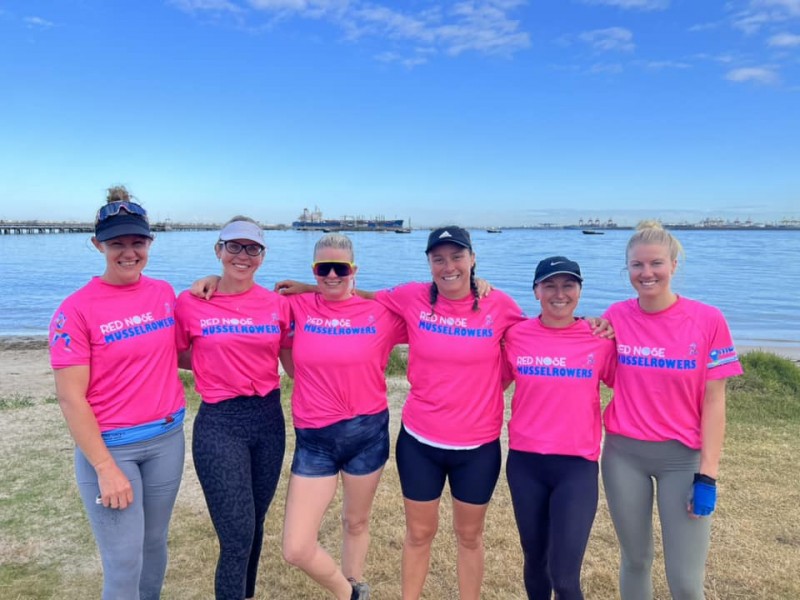 The crew will be travelling more than 320 kms from Port Welshpool in South Gippsland, Victoria to Musselroe Bay in Tasmania.
This tremendous journey will take six full days of rowing, ranging from 40 to 70 kms per day in very challenging conditions to help raise funds for Red Nose Australia.
All funds raised will support life-saving research and provide bereavement support services for grief-stricken families after the loss of a pregnancy or child.
The oarsome all-female crew collectively have over 100 years of experience in both marathon and sprint rowing, but nothing like what is to come when they set sail this February.
For many months, the crew have been training hard, at the gym and in the boat, to give themselves the best opportunity to cross the Bass Strait.
Crew member, Shanon Small says, 'This trip is not for the faint-hearted and the those who have put up their hands to take on the challenge are experienced in long distance ocean rowing. We've had good days and bad days of training but the adventure and challenge of crossing the Bass Strait is something we will never forget.'
'We have taken on this challenge in the hope of raising funds for Red Nose, to help them provide support to bereaved families who have lost a pregnancy or child," said Michelle Cottington, one of theMusselRowers.
Show your support of the Red Nose MusselRowers by donating and leaving a message for the crew here
You can also live track their progress and follow on their journey by visiting their Facebook page
nbsp;
MEDIA CONTACT: Ariana Kim / 0420 905 007 / arianakim@rednose.org.au