The arrival of our other babies has not replaced Mia. She will always be our first born baby and will always be a part of our family story.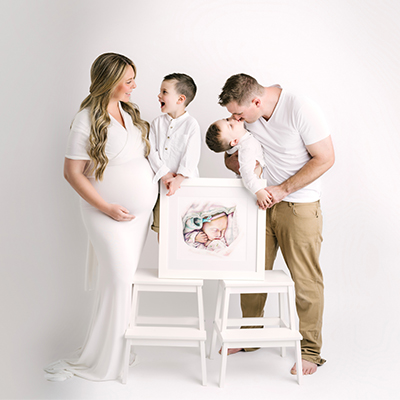 Gabe and I have been married for 8 years this year. Mia was our first baby. After an umbilical cord accident, she was born still.
On the first of June in 2017, I noticed reduced movement and went to the hospital to check everything was ok. This is when we learned that Mia had died in utero. We then went home for two days before returning to hospital where I was induced and Mia was born. It will be 6 years ago the 4 of June. It was an incredibly emotional 18-hour long labour.
Since Mia died, we have welcomed two beautiful boys who are currently aged 4 and 2. Our 4th baby is due early August this year!
Pregnancy After Loss is hard! We were very fortunate enough to be linked in with the Pregnancy After Loss (PALS Support group through The Mater Hospital.) It is here we made some lifelong connections and friendships with families also navigating pregnancy after loss.
As if Pregnancy After Loss was not stressful enough for our second baby, we had the added complications of hyperemesis gravidarum, melanoma and gestational diabetes. With incredible support, I delivered my first baby boy via planned caesarean in February 2019.
My second pregnancy after loss was still difficult but less stressful as I was now able to trust that I was able to carry and deliver a healthy live baby. Our second son was delivered via planned caesarean two years later in March 2021.
I wish I could say that my current pregnancy is easier, but it is still so challenging. I am experiencing Hyperemesis Gravidarum, so I am still vomiting daily. I have gestational diabetes which is extra challenging to manage when I can't keep food down regularly. Even going through that, I have my two young boys to look after, but we are managing. This time anxiety is less but I am noticing as we approach Mia's birthday, that it is starting to creep up again. I do feel more equipped on how to manage it.
The only added challenge this pregnancy that I haven't had with other pregnancies is how to manage my children's worry about my current pregnancy. Especially my 4 year old. He does ask questions but the hardest one to answer has been "how do you know this baby isn't going to die like Mia? It was very hard initially but now I say to him "I don't know darling, I worry about that too and that's ok. That's why we see our Doctor regularly to make sure baby is ok." We remind him that each time he gets on his bike he doesn't know he's not going to fall off but he always wears his helmet just in case. He seems to have really understood it's something out of our control and it's ok to worry. He knows he can talk to us about things that are worrying him and we encourage him to ask questions. He did come along to a recent OB appointment and I think that helped seeing the ultrasound and having a light hearted chat with our OB. He was too young to really understand when I was pregnant with our 2 year old so it's just something I didn't expect this time.
We know a lot of people often try for another baby after a loss. We made the decision to wait a year before considering another baby. We wanted to give my body time to heal, allow us the space to grieve and get through the first year of firsts. We also wanted to wait for Mia's autopsy and other results as we knew that that these results could inform us how future pregnancies would be impacted. We know other families who didn't wait, this is a very personal decision for each family.
Things we did that were helpful
For our subsequent pregnancies we've had a large support network of health professionals who we trust and feet comfortable with. We've also had more regular appointments especially at the end of the pregnancy around the same gestation we lost Mia.
Being open and honest with friends and family about what we needed from them helped us so much. Everyone wanted to help but they often don't know how, but they are willing to take guidance.
We reminded everyone that we still want to talk about Mia, she will always be our first born and having another baby will not replace her. People were scared to mention her in case they upset us but it is quite the opposite. We feel if people stop acknowledging her that would make it harder for us to cope, especially when carrying her sibling. Us giving permission for people to continue to say her name around us helped others to feel comfortable doing so.
We found it helpful finding out the gender early in our later pregnancies. It's a personal decision but for us knowing it was a different gender, we did find eased some anxiety. We also thought we would need time to adjust to the idea of it being same gender.
Pregnancy after loss is certainly an emotional rollercoaster with conflicting emotions often at the same time. Grieving the loss of Mia yet so excited, happy yet terrified for the arrival of her sibling. This often was then accompanied by feelings of guilt. It was exhausting. Allowing ourselves to feel all the emotions was important.
I found meditation helpful. I would do a guided pregnancy after loss meditation using the insight timer app daily. I would often would do this before each ultrasound because ultrasounds were a huge anxiety trigger.
A few times we went up to the hospital for CTG to check baby was ok. Calling in advance to let them know we were coming in and informing the midwives of our history prior to arrival was helpful. We were always met with such kindness and never were made to feel like we were a burden on the service.
Spending time nurturing our relationship was very important. We made sure we had time together and doing things on our own that "filled our cups". It was really important for Gabe to have time out surfing. That was his "meditation" time. This of course has been harder to achieve this pregnancy with less time flexibility working full time and having two young children to look after with a pregnant wife with hyperemesis who needs him home more often. It can be tough on relationships but we think our relationship is now stronger than ever.
Being prepared for uninvited conversations. I received many questions and comments from people that were well intended but can come across as insensitive. Often these caught me off guard but it helped almost expecting them and reminding myself people don't know what to say and they definitely don't mean to upset you. Being prepared with how much information you want to share I think will help these difficult moments.
One of the hardest questions from strangers was "first baby?" I lied in the beginning because I didn't know what to say then felt guilt for hours after that I hadn't acknowledged Mia. My rehearsed response now is "no 4th baby" their next question might be "how old are they?" and I respond "Mia would have been 6 this year, 4, 2 and my 4th arriving very soon". Some people will ask more questions but that's usually it.
Another personal decision is whether you decide to keep the belongings you purchased for your baby that died. We decided returning all the large items like bassinet, pram and rocking chair was the best decision for us. The shop we returned everything to was so understanding. It was outside their return policy time frame but they were incredibly supportive. With her clothes we decided to gift special pieces to friends and family who had baby girls which was really special for both them and us. We did keep a few pieces that we have used with the boys like baby blankets and sleep suits.
Deciding when to buy baby items again was a tough decision because we didn't really have a milestone in pregnancy that we found was a "safe" time to do so. We ended up lay-buying everything and purchasing very last minute. We started slowly putting baby items around the house and gradually built up to the big stuff. This has been easier with each pregnancy.
Things we do to keep Mia's memory alive and "give back" which has helped us heal
We light her urn tea light candle every evening
We had a portrait drawing of our favourite photo that we hang proudly on display in our dining room. We love it when people come into our home and always acknowledge it.
We had hand and foot print moulds and prints done in the hospital when Mia was born. These we keep in our bedroom.
Every Christmas our family gifts Mia a Christmas decoration for our Christmas tree. Our tree is filled with beautiful decorations chosen for our little girl. We love this!
We attend the annual Christmas Service of Remembrance, Consolation and Hope.
Attending Annual Mother's Day service for Bereaved Families at our birthing hospital.
Have the opportunity to be involved in providing various Educational Opportunities to Health Professionals Mia's story.
Have the opportunity to share Mias story at various Pregnancy After Loss forums speaking to other bereaved parents as they navigate their own pregnancy after loss journey.
Participate in fundraising opportunities
Have the opportunity to be involved in providing various Educational Opportunities to Health Professionals by sharing our experience

Each year we celebrate her birthday by taking a family trip to a new destination and we dedicate the year to something new. Last year, the year of 5 was dedicated to Volunteer work. This is when I joined the Red Nose Bereavement Support Line and the Red nose Footprints team. This is something I am very passionate about and I will continue to do this work for many years to come. So many opportunities have come up for me being a part of an incredibly supportive team of people.
Her birthday is 4/6/17 – this year she would have started school, so we have started donating money to various charities and dedicated this year to supporting disadvantaged children with their education.
Help fund research, support families and save little lives