Matthew Frank Stefanish-Smith was born on 25th September 2019. Then at only two months old, we lost our little sunshine to SIDS. My name is Jess and this is my story.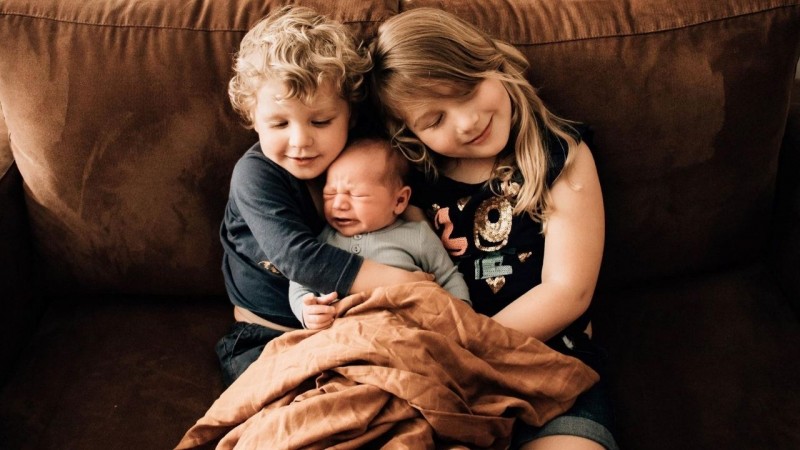 Matthew is our third child and my husband Rob and I knew we were pregnant with him from the very start!
It felt like such a long pregnancy but one filled with excitement and anticipation.
After a healthy pregnancy and birth, Matthew was born on the 25th September – the same day as Uncle Brad.
We named our beautiful little boy after my Uncle Matt and my Father Frank.
From the very beginning, Matthew's older siblings Sara and Josef were absolutely besotted with their new little brother. They had nicknamed him "Sunshine" while I was pregnant.
Then, after a regular bedtime routine, I woke up in the middle of the night and noticed Matthew looked a little strange in his cot.
He had stopped breathing.
Despite our immediate CPR and the efforts of ambulance officers, our Matthew didn't make it.
He was only here for a brief time but has made such an impact on our lives.
Red Nose has supported our small and extended family through the most harrowing experience one could imagine.
We were referred by the social worker at Forensic medicine and we've had counselling and called the 24/7 Support Line too.
Through grief counselling they have helped us by validating our feelings, and confront the endless "what if" questions.
We have worked with the nurturing Moira, who has gone above and beyond to support our broken hearts.
I am so grateful for the support given to us - it's helping us find a way to move forward.
We are truly blessed to be surrounded by kind, loving and supportive family and friends.
We have had so many generous people gift us prints of our professional newborn photos, baubles with Matthew's name for the Christmas tree, yellow candles, handmade trinkets, angel statues, art work and anything with sunflowers on it.
We also think of Matthew any time his song's come on - "Here comes the sun" by The Beatles, "You Are My Sunshine" by Johnny Cash and "To Love Somebody" by the Bee Gees.
A friend also gave Sara and Josef each a little yellow bear with a sun on its tummy, so the children have their own 'Sunshine Bear' to remember him.
We also have a 'Matty Bear'. While Jojo (Josef) and I were out shopping, he chose a teddy to give Matthew when he was born.
A few weeks after Matthew had passed, I was doing the washing and one of his little suits was in the basket. His bear was on my bed and I simply knew he had to wear it.
I have Matthew's name tattooed along with an elephant holding a sunflower.
We have also painted our front door yellow!
Our journey of grief is still ongoing and there are many challenges.
Guiding our children through their emotions and understandings.
Working through feelings of confusion and guilt. Feeling stuck as life keeps moving forward.
Celebrating birthdays and holidays yet your heart is missing a person.
Being kind and lenient to yourself and being compassionate and understanding to your partner because they grieve differently.
The most heart breaking thing I have found in my journey is that this affects more people we know than what we realise.
I have had so many friends, colleagues and acquaintances that have their own story and my heart aches.
What is worse, is that we are not the last family that will be affected.
My advice to other families is to do what you feel comfortable with.
Reach out. You are not alone.
There are so many people around you, and even people that you don't know, who are there to love and support you through this time.
This year will be our first Red Nose Day as bereaved parents.
For as long as we can remember, there has always been Red Nose Day.
We have always donated where possible and bought the signature red nose.
My husband and I are also part of the "original" Wiggles fan group and grew up knowing the Wiggles as Red Nose Ambassadors.
This Red Nose Day we will be wearing our red noses as we host a morning tea to raise funds in memory of Matthew.
I know that every dollar we raise helps bring us closer to reducing stillbirth and SIDS and helps provide vital support for families like mine.
Red Nose Grief and Loss 24/7 Support Line 1300 308 307.